Wecome
This is the one-stop shop for literacy and school leaders.

Find all of the information needed about how to start rolling out the Seven Steps at your school.
Is your school team is already Seven Steps trained, there's still more for you to explore to take writing success to the next level.
Next step for Seven Steppers >
Seven Steps…
an engaging approach to transform
writing in your school
As educators, we know lifelong learning is vital for the school community.
The Seven Steps journey is designed to equip your school with training, resources
and a framework to create a student-centred, growth-focused learning experience
that's fun and collaborative!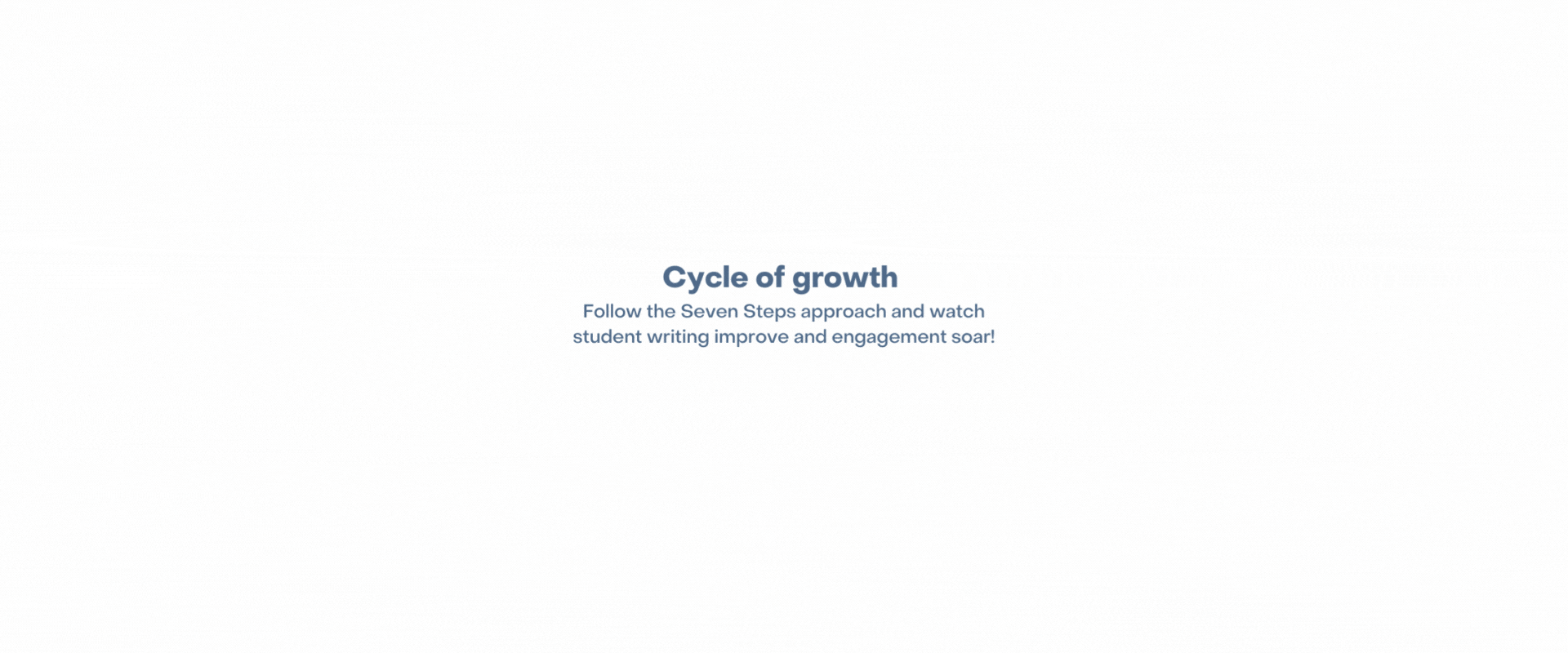 ♥ ♥ ♥ ♥ ♥
Best practice pedagogy paired with
award-winning training
"We absolutely love this program. It has transformed writing in our school.
My teachers are actually excited about teaching writing now
and we love your Teacher Hub resources so much. Thank you."
Deb Featherby, Nazareth Catholic College (SA)

Outcomes
Become a Seven Steps School and implement a framework for teaching writing that…
Creates fun and engaging writing classrooms that students love
Increases student engagement
Builds a common language for your students and teachers in writing
Saves lesson planning and research time
Inspires passionate teaching
Develops writing lessons that encourage collaboration and verbalisation
Improves writing results
Promotes a cycle of growth with award-winning resources
School results
A whole school approach makes the greatest impact
Read or listen to these stories from real principals, literacy leaders and other school leaders who have implemented the Seven Steps in their schools around Australia.
'I am able to see success in the implementation of the Seven Steps across the whole school – we have seen improvement in student writing and in our writing culture. Students are excited about writing!'
Primary Curriculum Leader
'Marking NAPLAN this year, the Seven Steps flair in students' writing was certainly noticeable. I could pick the Sizzling Starts with Show, Don't Tell. I just wish there were more of them!'
Teaching/Learning Coordinator
We absolutely love this program. It has transformed writing in our school. My teachers are actually excited about teaching writing now and we love your Teacher Hub resource so much. Thank you.
Literacy Leader/Coordinator
Seven Steps to Writing Success is one of the best professional learning activities my staff have been involved in.

I'm still hearing a buzz about the Seven Steps in the staff room and we're seeing tangible results in student writing.

Cindy Gardiner,  Principal
Bilgola Plateau Public School
What underpins the Seven Steps?
The Seven Steps are based on best-practice pedagogy and supported by years of educational research. Learn about the principles that underpin the Seven Steps.
Getting started
Along with an engaging and practical workshop for your school, your teachers will be fully supported with award-winning online and print classroom resources!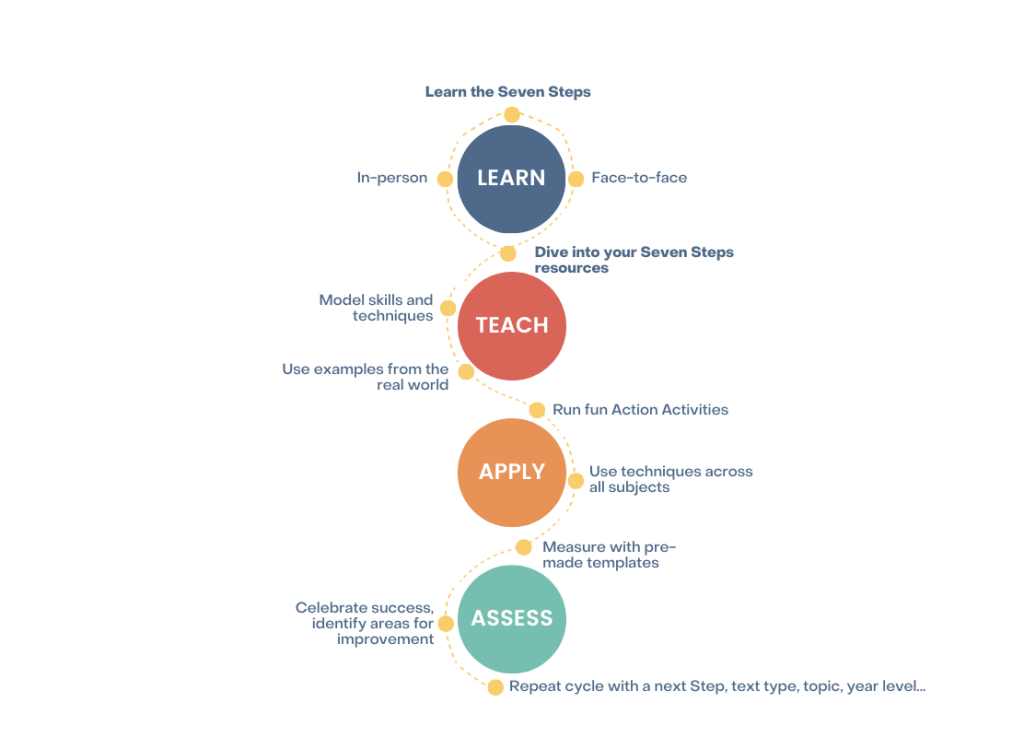 Training
Eye-opening, engaging and practical
When teachers are inspired, amazing things happen.
Workshop One is our flagship and award-winning training experience, it'll spark real change in your school through a curriculum-aligned and evidence-backed approach to transform writing for life!
Learn in-person or online at our engaging and interactive workshops.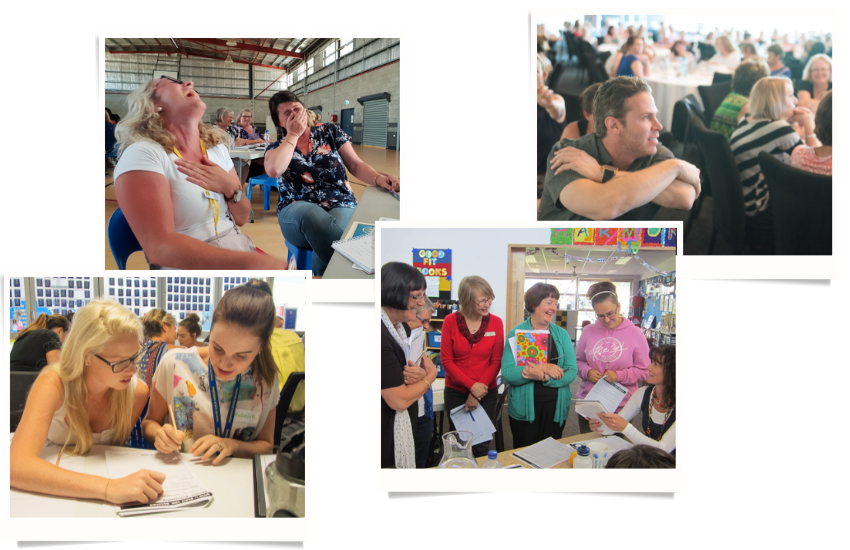 Resources
Award-winning teaching resources
Learn, teach, apply and assess with ease alongside Seven Steps' Teacher Hub and Writing Manuals.
Designed by educators for educators, your school will have the support to develop implementation plans, build a common language and continuously improve student writing.
Our resources are available for print or digital versions and come with a school licence to ensure every staff member has the support they need.
Frequently asked questions
Does Seven Steps align with the Australian or State Curriculum?
Our focus at Seven Steps is on the creation of great writing. Every education jurisdiction in Australia considers writing extremely important, and all educators want students to become the best communicators they can be.
Each state and territory expects its students to write narrative, persuasive and informative texts, to get plenty of practice, and to learn to communicate in written, verbal and visual means. The Seven Steps strongly support these aims, with a focus on students practising the component steps of writing in an accessible way – sometimes in words, sometimes in verbal and visual language.
Do the Seven Steps address or improve spelling and grammar?
While Seven Steps doesn't specifically have a spelling and grammar course or series, we've seen vast improvements in all areas of writing when teaching the Seven Steps.
We thought Carly Brien (a Year 7 teacher from Henry Kendall High School) summed it up nicely:
'I really think that the students' spelling, grammar and punctuation improve because they are spending so much more time just writing! Usually students don't write in such volume like in Seven Steps and that has made all the difference.'
Are the Seven Steps helpful for Indigenous or ESL students?
There are quite a few Seven Steps schools with a high percentage of Indigenous or EAL students who have achieved great success with the Seven Steps.
One of the loveliest stories came from a school that told us they scheduled their Seven Steps activities first thing in the morning every day. And yes, their literacy scores went up, but the fascinating outcome they did not expect was that their truancy rate halved!
Does Seven Steps cover analytical writing?
Our resources do not currently cover how to use the Seven Steps to write analytical essays responding to prompts about novels, films, poetry and other cultural productions such as art. We do touch on techniques such as compare and contrast in our new Informative Writing Manual, but not in the context or depth that would be required when teaching analytical writing with Year 9 and 10 students.
How do we use Seven Steps with other writing programs?
Unlike many other programs, Seven Steps focuses on the authorial, big picture skills of planning and drafting a text. We focus on the creative, fun side of writing in a structured way that teaches students critical thinking strategies about writing: what to say, how to say it, when to make certain decisions, and how to engage and hold a reader's attention.
You can slip the short, fun Seven Steps activities into your weekly writing program, or you can use it with complementary programs that focus on other aspects of literacy, such as sentence structure, grammar and spelling.
The Australian Curriculum and every state curriculum or syllabus require students to learn both authorial and secretarial skills with the aim of being clear, competent communicators. The Seven Steps improve students' authorial writing skills – and you can be confident that our approach fits with other programs as well as meeting the curriculum.
For more information, see the following blog post: Seven Steps and the Australian Curriculum