Check out these Teacher Hub Resources
Implementation
A collection of resources to help you implement the Seven Steps in your classroom or school, including:
Scope and Sequence Overview
Implementation Action Plans
Lists of Exemplars by Year Level
Implementation Q&As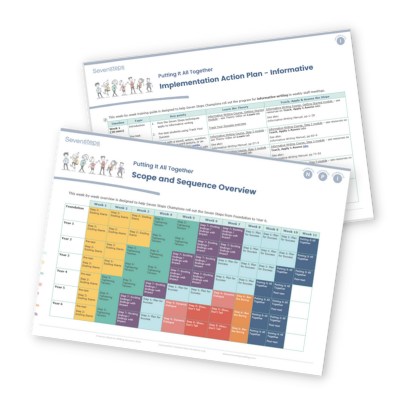 Classroom Practice Videos
These videos, presented by teachers, show Seven Steps activities in action and demonstrate how to adapt them to suit your needs. A great starting point for staff discussions or to show your own students.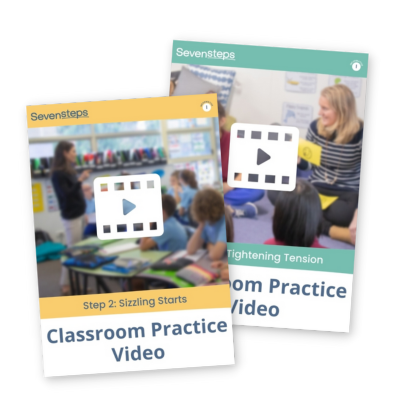 Classroom PowerPoints
Our most popular resources! Editable PowerPoints to help you introduce the key concepts for each Step. Lesson notes are provided to support and inspire you when delivering these lessons.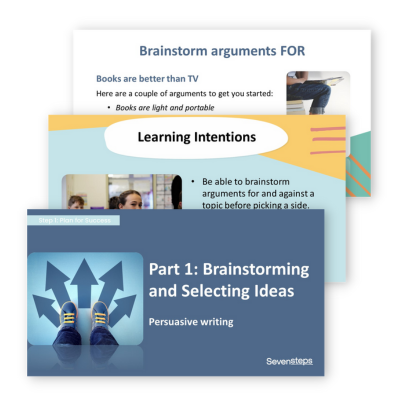 Writing Samples and Exemplars
Model what great writing looks like with this collection of professional and student writing. Includes annotated and before and after samples to share with your students.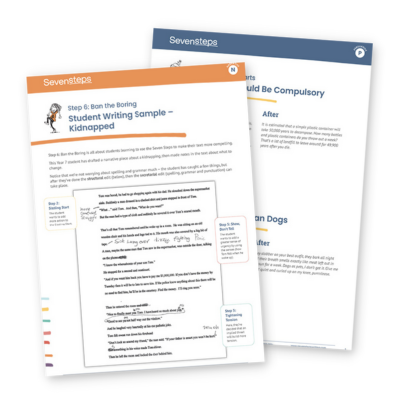 Action Activities and Writing Challenges
Fun and engaging classroom activities to practise the techniques and build students' muscle memory. Hands-on learning for every Step, text type and ability level at your fingertips!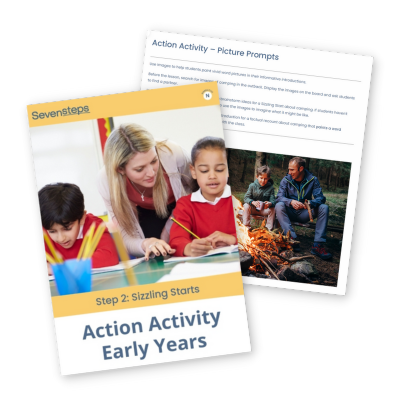 Writing Prompts
Prompts! Prompts and more prompts! Our extensive collection of writing prompts are designed to get students' creative juices flowing and give them regular writing practice. These downloadable resources include teaching notes with supporting activities and information.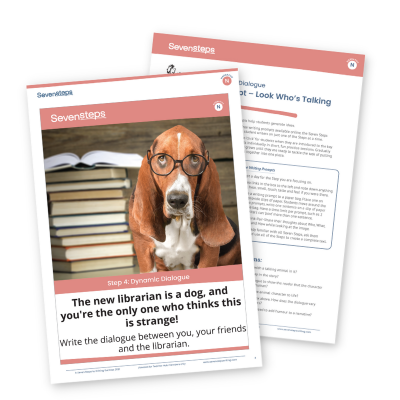 Assessment
A range of formative and summative assessment tools, including
Feedback rubrics
Marking guides
Track Your Success tools
Student certificates and self-assessment rubrics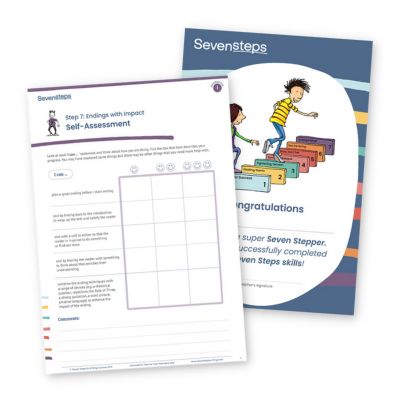 Theory Videos
Short videos presented by Seven Steps creator, Jen McVeity, explaining the key concepts behind each Step. These videos can be used to refresh your knowledge of the techniques.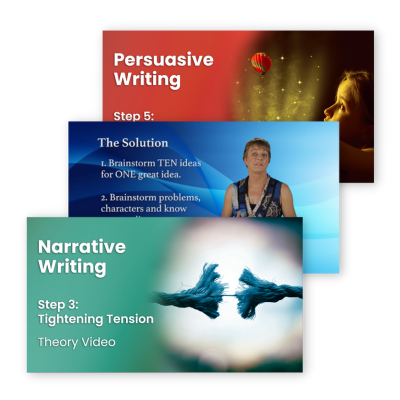 Expert Insights
Short interviews with expert writers about how they use the Seven Steps. Watch the videos as a class and use the accompanying discussion questions to explore the expert insights in more detail.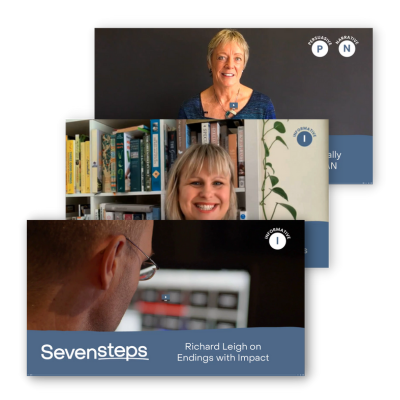 Lesson Plans
Sample Lesson Plans for each Step demonstrating how to teach the Seven Steps using the gradual release model (I Do, We Do, you Do). Each lesson includes learning intentions, success criteria and relevant links to the Australian Curriculum.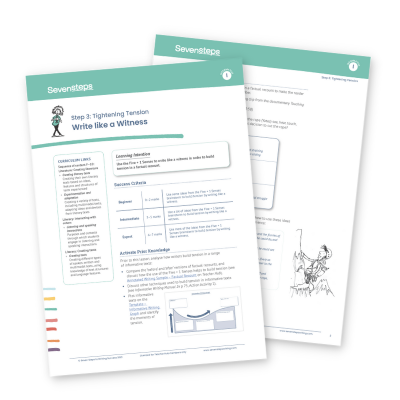 Text and Video Lists
Racking your brain for exemplar texts to captivate your students? These text lists will help you model the Seven Steps techniques across a range of media and age groups.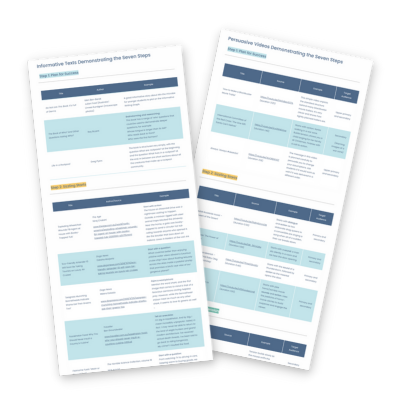 Story Graphs and Writing Graphs
Demonstrate the basic structure of texts with these writing graph collections. Consolidate their understanding by plotting other texts and their own texts on the writing graph templates.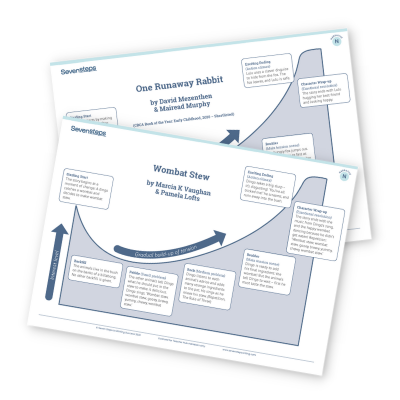 Game Cards
Use these writing games to boost engagement and put students' skills to the test.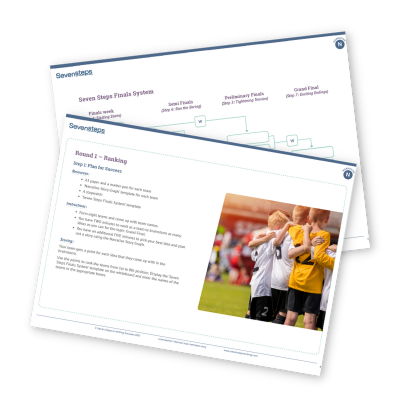 Templates
Scaffold student learning with these editable writing templates. They can be used digitally or printed for your students and adapted for your lessons.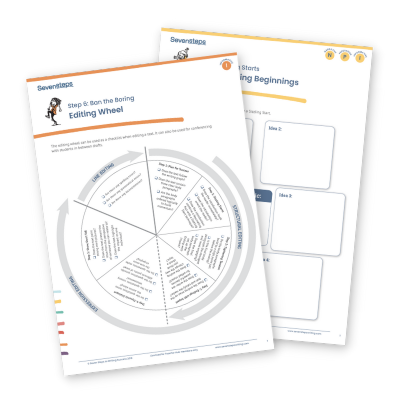 Parent Tips
Keep parents involved and informed on what their children are learning with these Step-specific information sheets including writing tips and activities.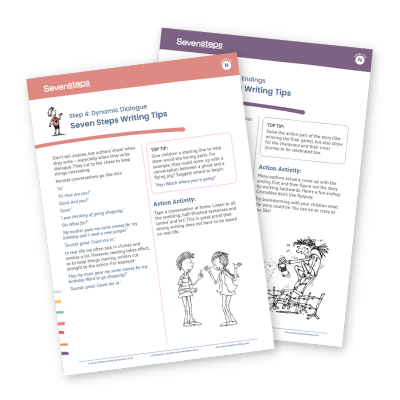 Posters
Inspire your students with printable Seven Steps posters for your classroom.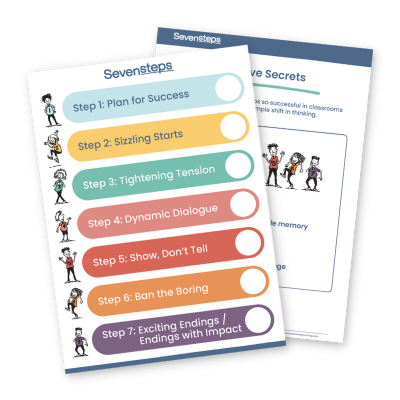 Activity Lists
Fun, practical writing activities for each Step based on a theme or media type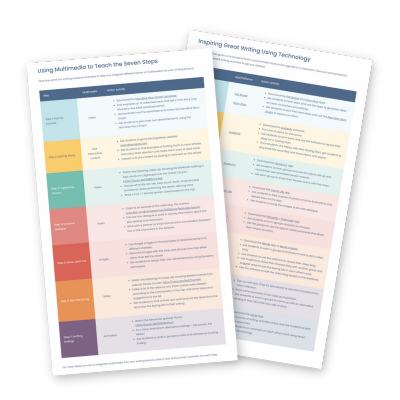 Glossary
Introduce a range of narrative techniques and structures alongside the Seven Steps techniques to further enhance students' authorial writing skills.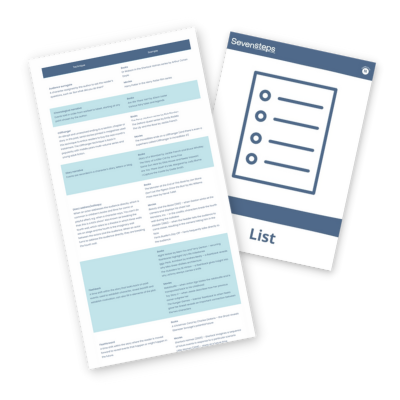 Looking for more?
There are over 600 resources waiting for you on Teacher Hub with an Essentials account!
Want to learn more about Teacher Hub accounts and how to get access to all these fantastic resources?
Eager to try these great resources out for yourself?
Explore over 250 of our award-winning resources in the Resource Library. No payment details required – just 14 days of the ultimate teaching tool!