What is informative writing?
Informative writing classifies, describes and gives factual information about people, animals, things or phenomena … but it doesn't have to be boring!
With the right techniques, an informative text can engage the reader, make them laugh or cry, and keep them on the edge of their seat – all while conveying information about a topic.
'Creative non-fiction writers do not make things up; they make ideas and information that already exist more interesting and often more accessible.'
– Lee Gutkind
The umbrella of informative writing is vast and widely varied. It includes texts such as news articles, factual recounts, non-fiction books, posters and infographics, documentaries and biographies.
How do you teach students to write a great informative text?
It's not as hard as you think!
If you wanted to teach someone a new language, would you start by asking them to have a conversation? Or would you teach them vocabulary, pronunciation and common phrases, letting them practise before they build up to full sentences? The latter approach is what will help any new learner to improve and become proficient over time.
Teaching your students to write an informative piece involves training them to think like authors. You'll need to help them understand what great informative writing looks like and the skills writers use to create the biggest impact.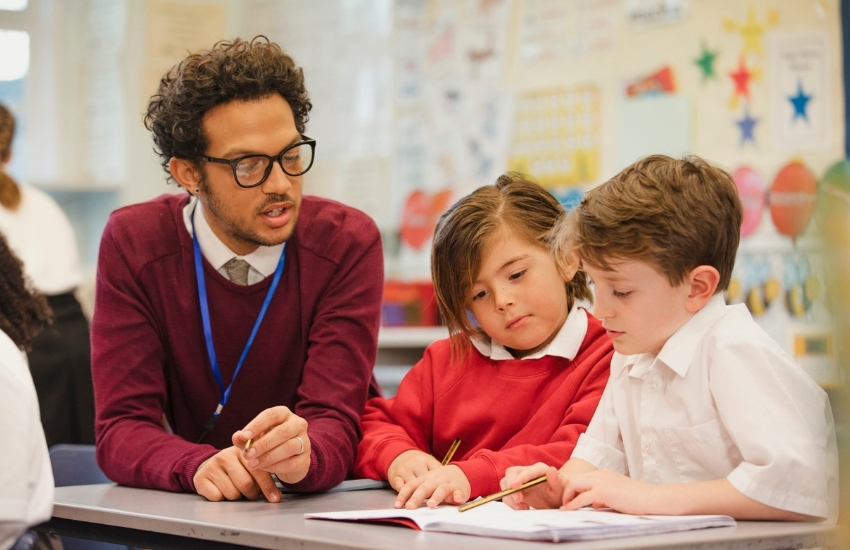 Break down writing
Break down writing into bite-sized chunks. The key is to keep it simple, keep it fun and keep repeating it.
The Seven Steps does this by breaking down writing into seven key techniques that professional authors use (learn about each Step).
It's vital when teaching these techniques that you practise them separately. We call this chunking and it's one of the Five Secrets to great writing. Chunking helps to ensure the learning intention for each writing lesson is clear and focuses on a specific Step or skill for students to improve.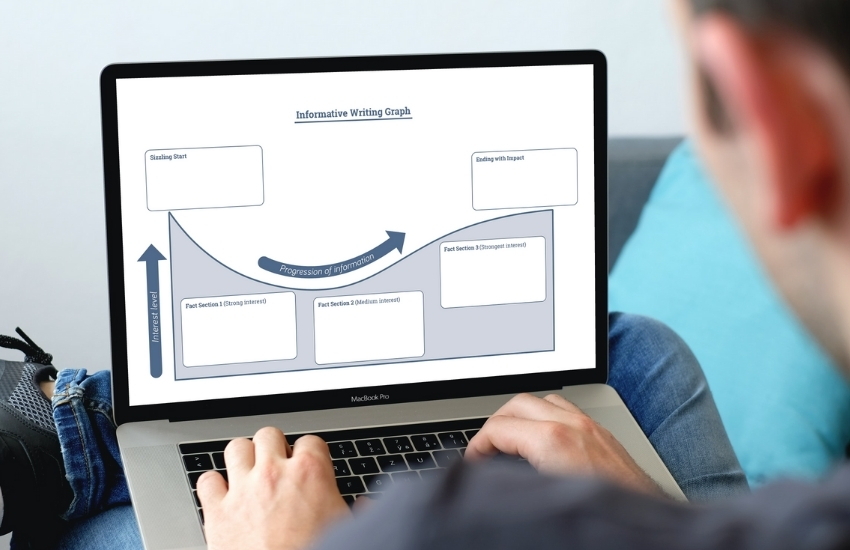 Teach the basic structure of informative texts
You can't build a car if you don't know the parts that make the whole. It's the same with writing.
Did you know that most popular informative texts follow a similar structure? Understanding this basic structure will improve your students' informative writing by giving them a framework around which to build their texts.
Learn more about the foundations of story structure at Workshop One: Seven Steps to Transform Writing, before covering informative writing in more detail at Workshop Two: Putting It All Together.
The best way to learn is by seeing examples, and the good news is that there are examples everywhere, including articles and websites, advertisements, documentaries, and even TikTok videos. Immerse your students in a range of different informative texts.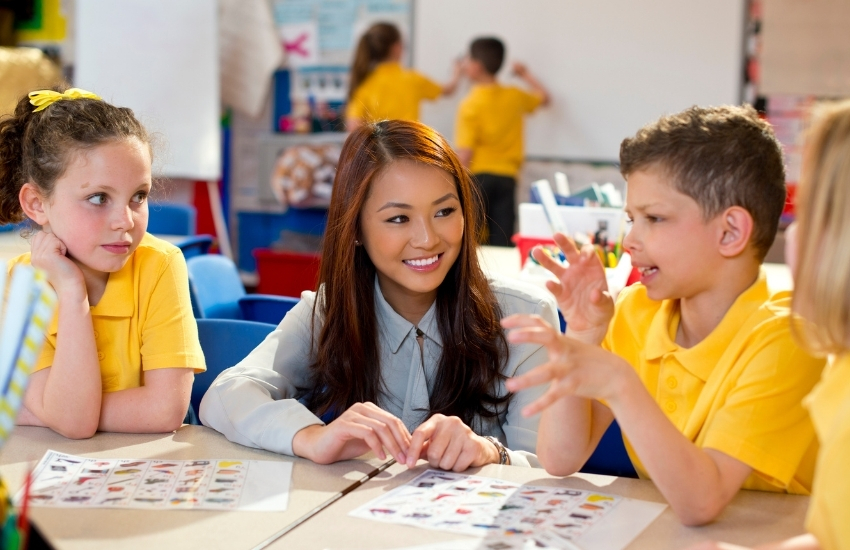 Teach students to think first, write second
Once students understand the basic structure of an informative text, explicitly teach them how to plan before they start writing. Give them a topic and help them to brainstorm research questions so they can identify what to write about and find the most interesting facts.
To create an original and engaging piece, students need to have LOTS of ideas. Teach students that their first idea is rarely their best idea because it is the one everyone else thinks of – brainstorm 10 ideas to get one great idea.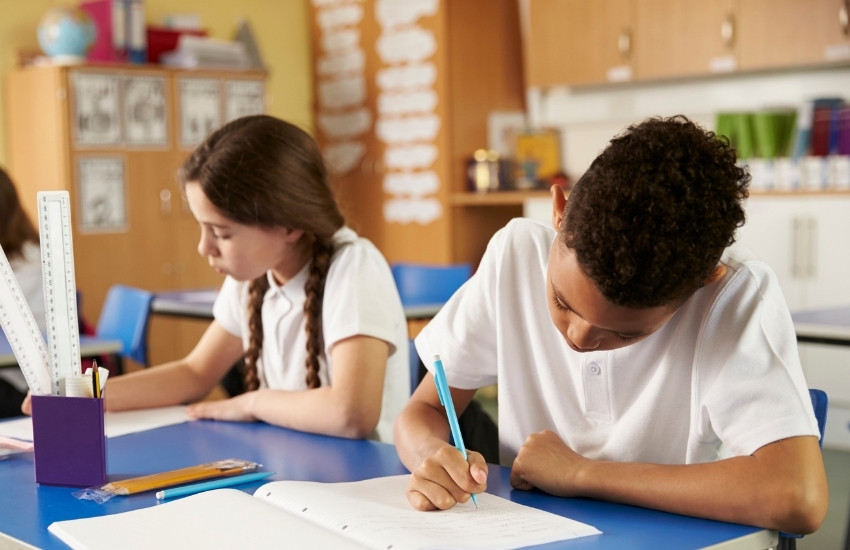 Practise every day!
Another secret to great writing is that repetition builds muscle memory. Just like working out at the gym, the more you train, the stronger your muscles get. The more your students practise using the techniques, the better their informative writing will become.
Whether it's a full lesson or five minutes first thing in the morning, never underestimate the power of repeatedly and consistently practising writing skills.
For fun, simple, daily writing exercises, check out the Seven Steps Informative Writing Prompts.
Informative Writing Resources
Explore more! Make informative writing fun with these great Seven Steps classroom resources.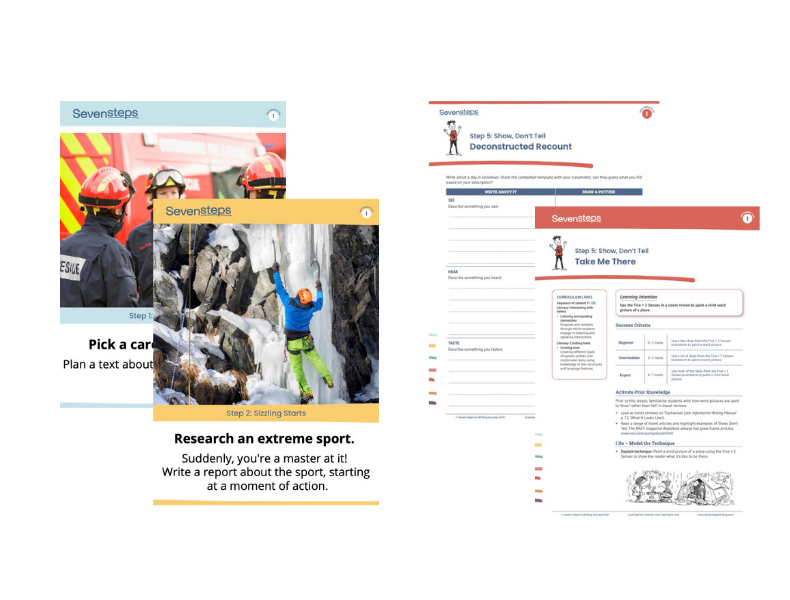 Planning for informative writing
Explore ready-made resources and discover how to teach the key concepts behind each Step.
Writing samples and exemplars
See the difference the Seven Steps can make with student samples and discover how professionals use the Seven Steps techniques in informative texts.
Informative picture writing prompts
Fun and quick writing practice to develop your students' writing one technique at a time.
Want to try Step 2: Sizzling Starts in your classroom tomorrow? 
You can! Follow the link below and head to our guide to transforming your students' introductions.
Master the art of persuasion
Teach your students how to write persuasive texts that engage and inspire.
Create powerful storytellers
Teach your students how to write engaging stories and narratives.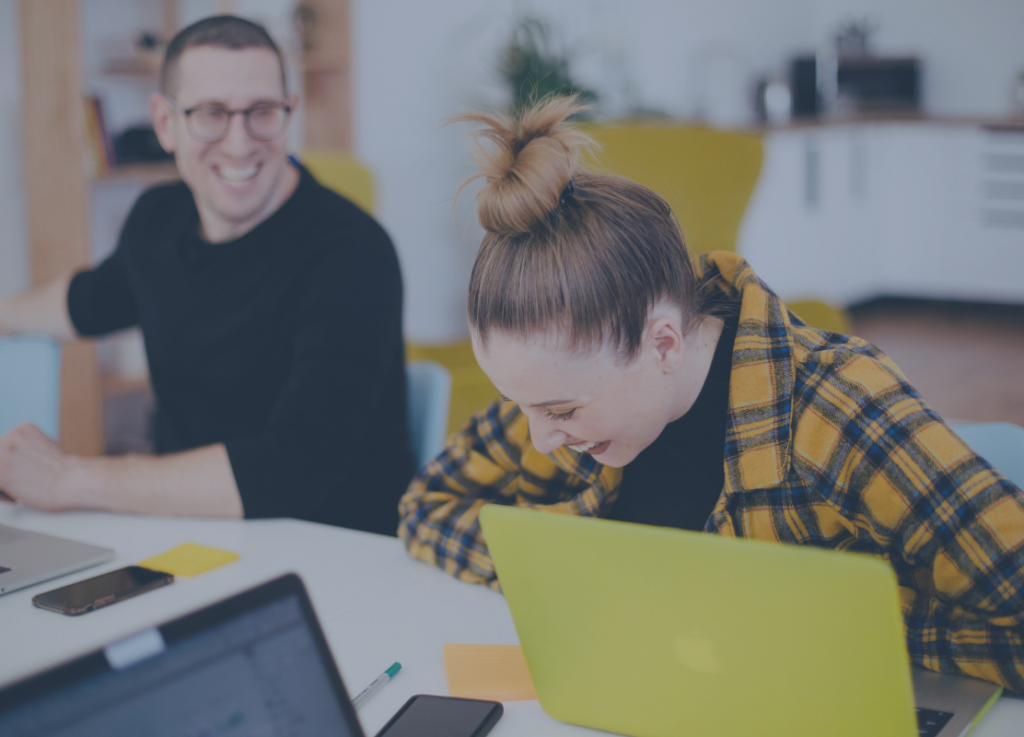 School Packages
Become a Seven Steps school
Training and resources to transform student engagement and writing data.