'The new Persuasive Writing Manual is nothing short of brilliant.'

Teaching manuals
Save time, maximise student learning and access your Step-by-Step guides to writing success with the Seven Steps Tool Kit.
'Fantastic! A wonderful resource for teaching writing in the classroom. Hands-on, practical and time-efficient activities to take back to the classroom to engage students in writing.'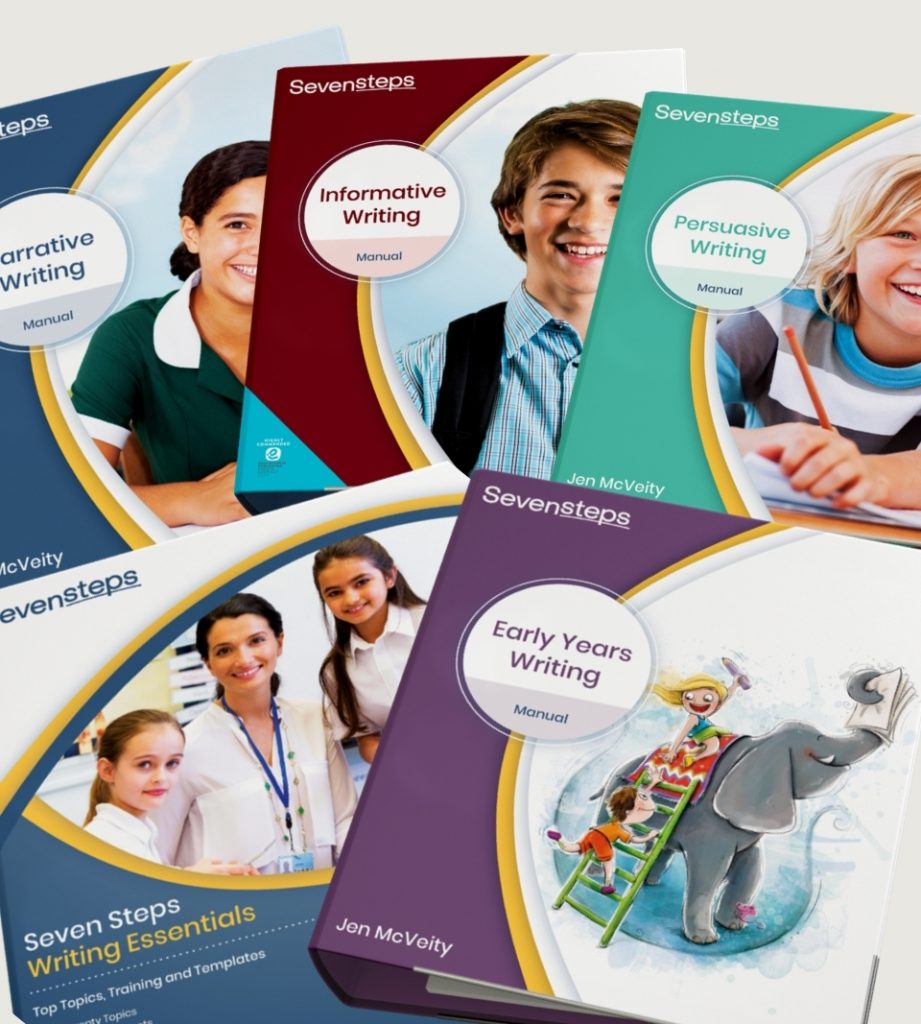 Resources for your classroom
Comprehensive teaching manuals
Designed to meet the needs of Seven Steps teachers, these writing manuals are full of time-saving and engaging classroom resources.Transform students' narrative, persuasive and informative writing, as well as providing additional support for beginner writers with a specialised Early Years Manual. Includes digital files for your whole school.
Ultimate Resource Bundle
Save 20% when you bundle with Teacher Hub
Simply add the School Subscription bundle option at check-out.
Teacher Hub
Complete your resource library with the ultimate online support tool for teaching writing.
Sign up to Teacher Hub and gain on-demand access to everything you need to learn, teach, apply and assess the Seven Steps.
With in-depth online writing courses and over 500 simple and effective activities, resources and videos at your fingertips, Teacher Hub can make lesson planning quick and easy!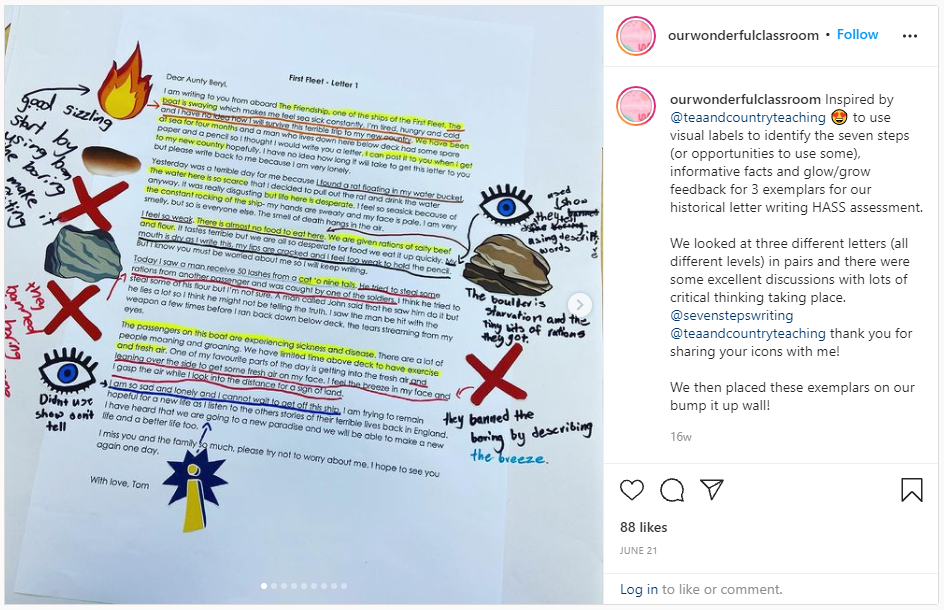 Inspired by @teaandcountryteaching to use visual labels to identify the Seven Steps (or opportunities to use some), informative facts and glow/grow feedback for 3 exemplars for our historical writing HASS assessment.
We looked at three different letters (all different levels) and there were some excellent discussions with lots of critical thinking taking place.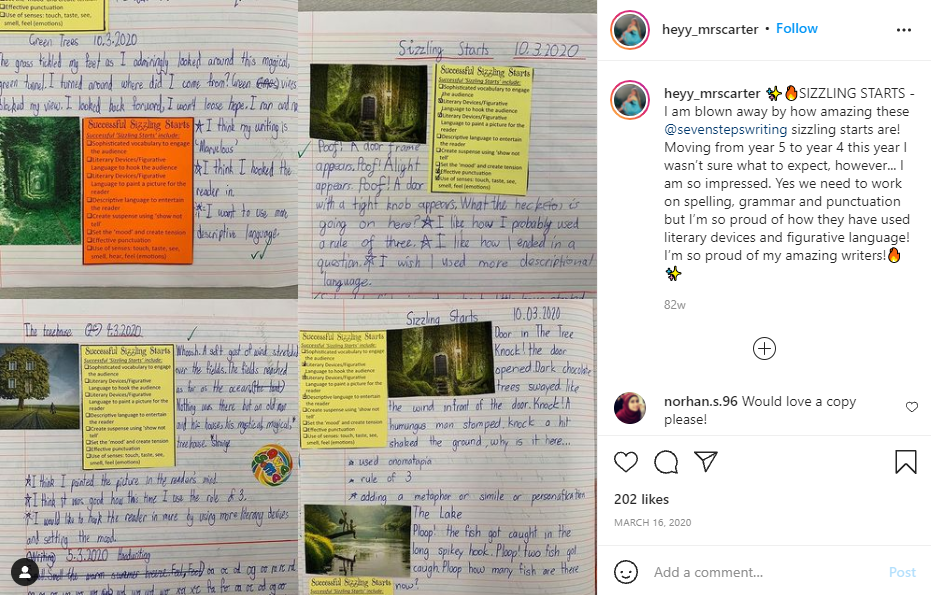 I am blown away by how amazing these @sevenstepswriting sizzling starts are! Moving from year 5 to year 4 this year I wasn't sure what to expect, however … I am so impressed. Yes we need to work on spelling, grammar and punctuation but I'm so proud of how they have used literary devices and figurative language! I'm so proud of my amazing writers.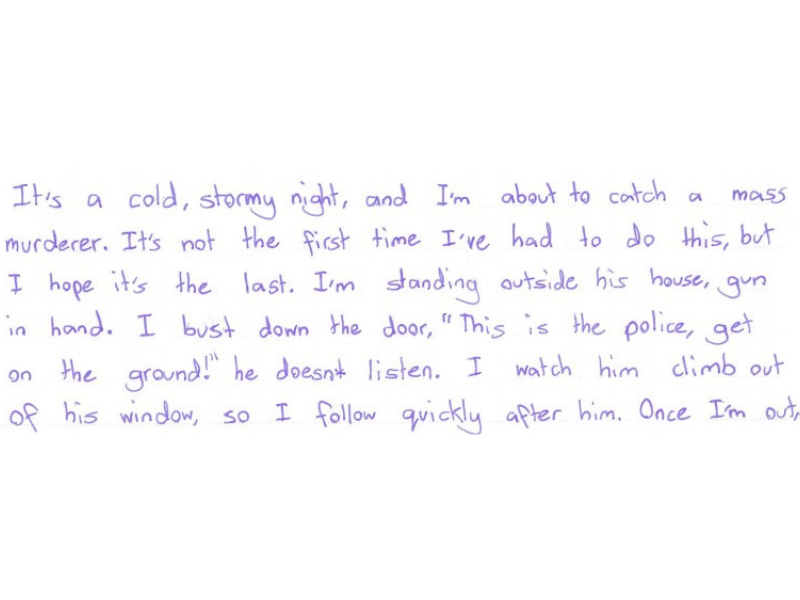 It's a cold, stormy night, and I'm about to catch a mass murderer. It's not the first time I've had to do this, but I hope it's the last. I'm standing outside his house, gun in hand. I bust down the door, 'This is the police, get on the ground!' he doesn't listen. I watch him climb out of his widow, so I follow quickly after him.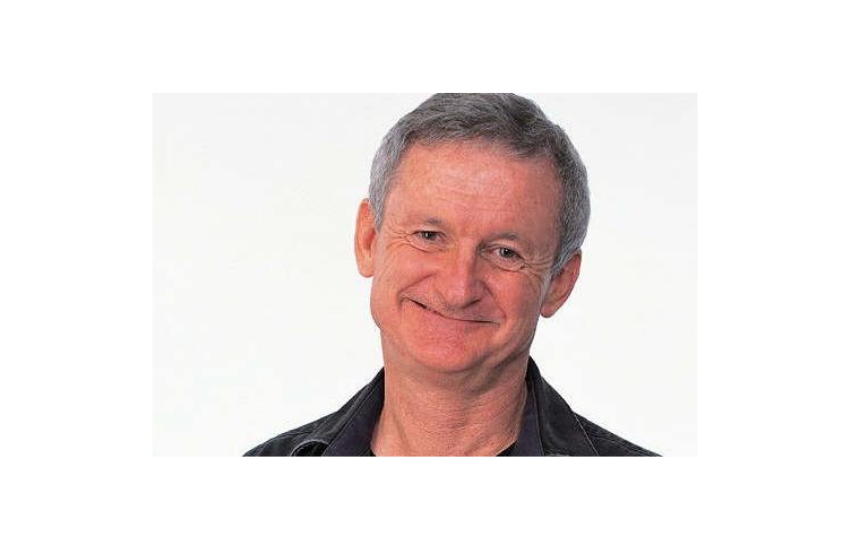 It is the ability to put ourselves in the place of another that makes us truly human. This is why stories are so important.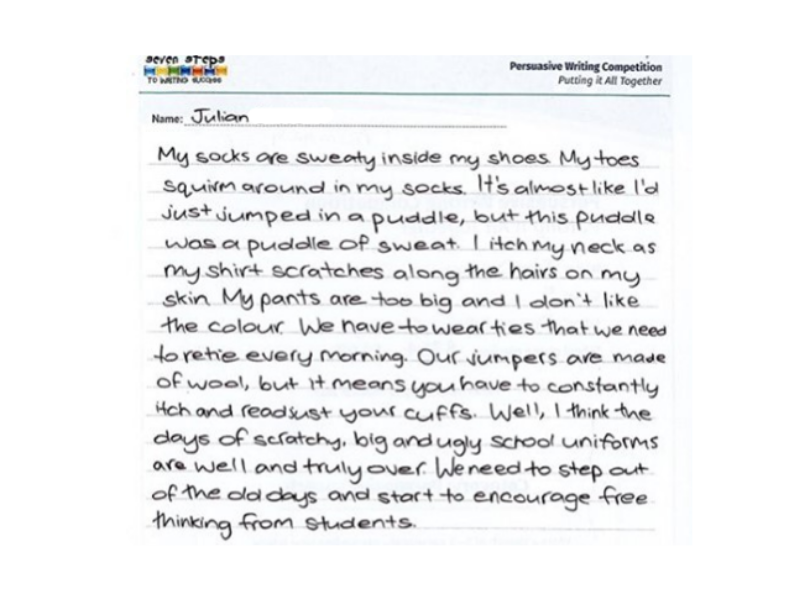 My socks are sweaty inside my shoes. My toes squirm around inside my socks. It's almost like I'd just jumped in a puddle, but this puddle was a puddle of sweat. I itch my neck as my shirt scratches along the hairs on my skin. My pants are too big and I don't like the colour. We have to wear ties that we need to retie every morning. Our jumpers are made of wool, but it means you have to constantly itch and readjust your cuffs. Well, I think the days of scratchy, big and ugly school uniforms are well and truly over. We need to step out of the old days and start to encourage free thinking from students.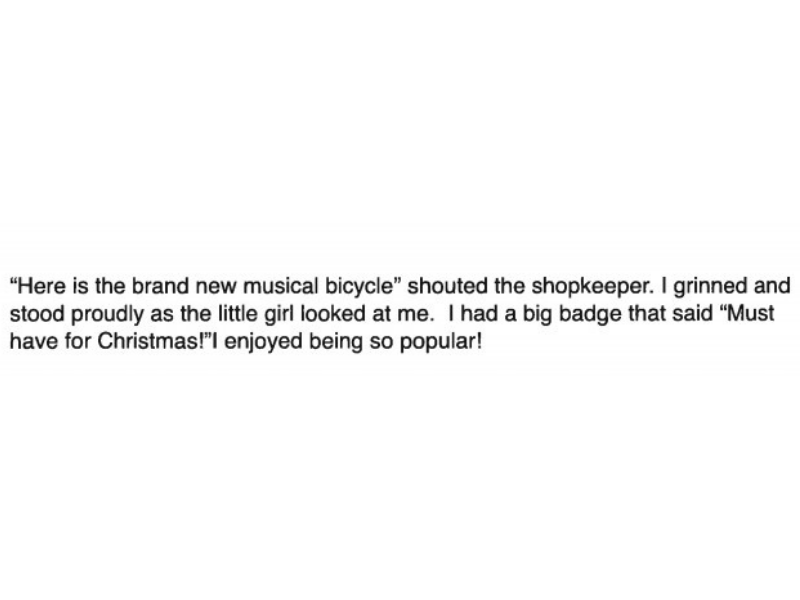 'Here is the brand new musical bicycle' shouted the shopkeeper. I grinned and stood proudly as the little girl looked at me. I had a big badge that said 'Must have for Christmas!' I enjoyed being so popular!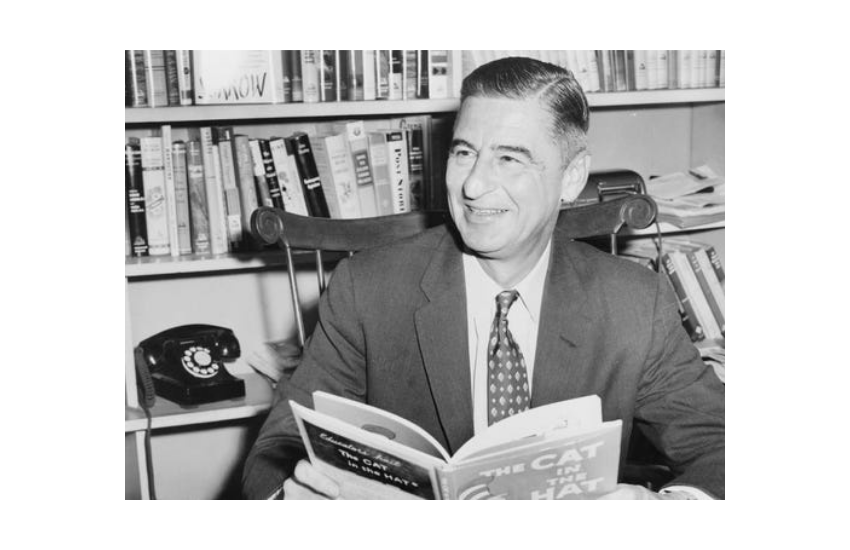 So the writer who breeds more words than he needs is making a chore for the reader who reads.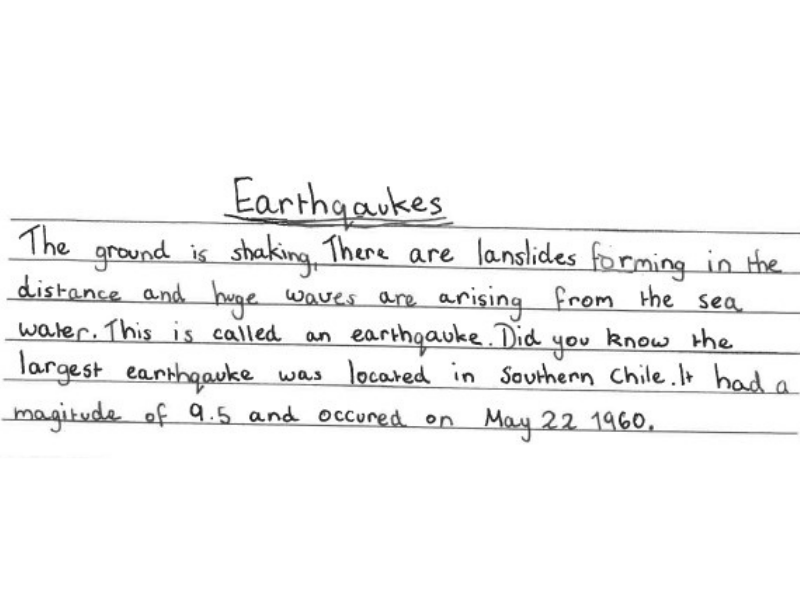 The ground is shaking, there are landslides forming in the distance and huge waves are arising from the sea water. This is called an earthquake. Did you know the largest earthquake was located in Southern Chile. It had a magnitude of 9.5 and occurred on May 22 1960.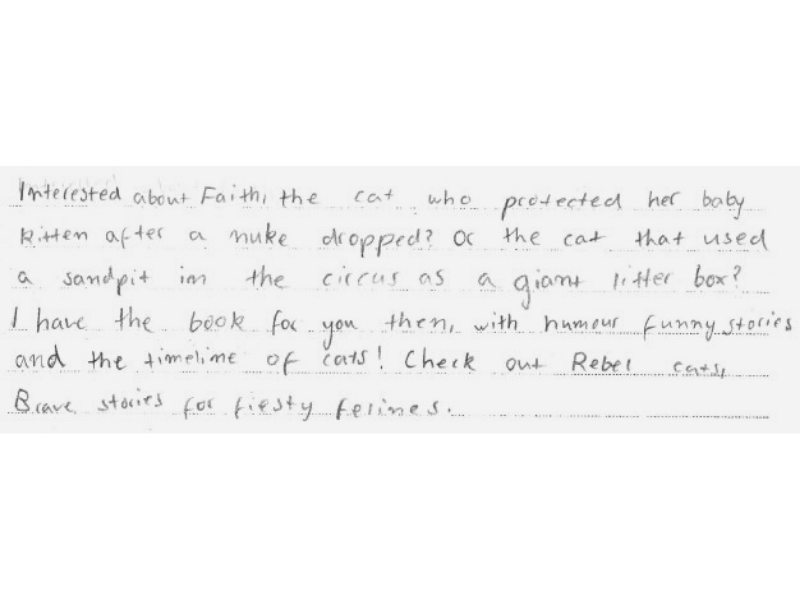 Interested about Faith, the cat who protected her baby kitten after a nuke dropped? Or the cat that used a sandpit in the circus as a giant litter box? I have the book for you then, with humour, funny stories and the timeline of cats! Check out Rebel Cats: Brave Stories for Feisty Felines.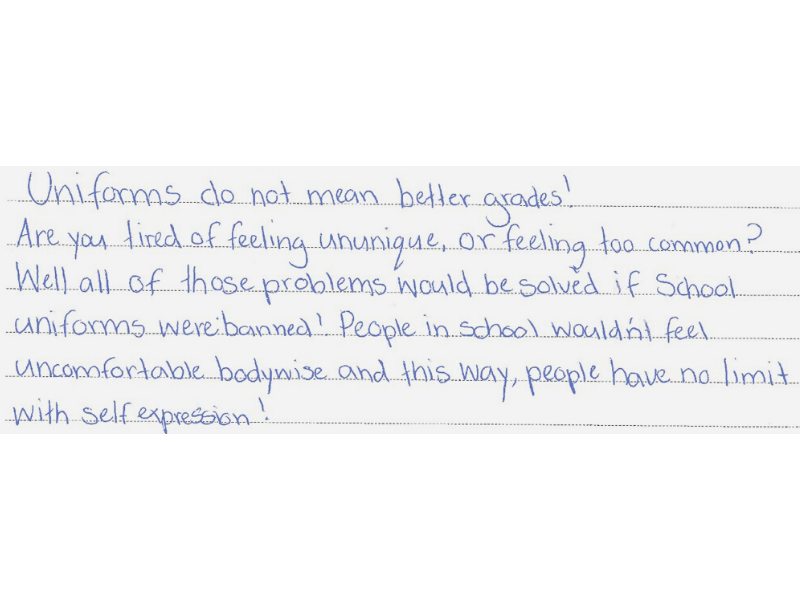 Uniforms do not mean better grades!
Are you tired of feeling ununique, or feeling too common? Well all of those problems would be solved if school uniforms were banned! People in school wouldn't feel uncomfortable bodywise and this way, people have no limit with self expression!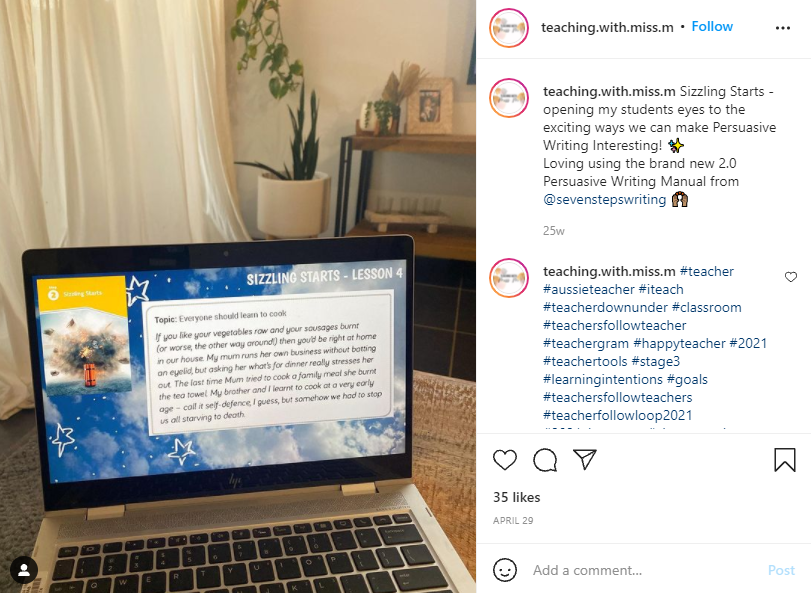 Sizzling Starts – opening up my students' eyes to the exciting ways we can make Persuasive Writing interesting! Loving using the brand new 2.0 Persuasive Writing Manual from @sevenstepswriting.
Frequently asked questions
What is the Seven Steps Tool Kit?
The Seven Steps Tool Kit is designed to equip you and your school with the key tools and resources for implementing what you've learnt from your Seven Steps Workshop. Key theory and Top Techniques, along with the classic Action Activities, are all initiators to get you thinking about what's possible in a Seven Steps classroom. Think of it as a getting started kit unlike any other.
The Tool Kit for Primary Schools includes all five of the Seven Steps writing manuals – Narrative, Persuasive (new edition), Informative, Early Years and Writing Essentials.
The Tool Kit – Standard contains all of the above except the Early Years Writing Manual. However, even for older year levels, the Early Years manual can be used for students who need the extra support.
Explore the Tool Kits and manuals on this page – navigate to 'Tool Kits' or 'Individual Manuals' using the menu above, and click the information icon in the top right of the images to see more details.
Are there any discounts available for the Tool Kit?
Yes indeed!
Workshop participants – save 20%
If you order within two weeks of attending a workshop, you can save at least 20% off your Tool Kit! You can find the coupon code in the emails you received before and after the event, or in the brochure inside your workshop pack.
Bundle with Teacher Hub and save up to 40%!
Bundle a Teacher Hub School Subscription with a Seven Steps Tool Kit and save at least 20% (over 40% if you've recently attended training!). Order the bundle above, or contact our office to give you a hand on (03) 9521 8439.
Buy multiple Tool Kits and save
If you buy more than one Tool Kit in the same order, you will save 40% off the second and subsequent Tool Kits. You don't need a coupon for this – simply add them to your cart and the discount will be applied automatically.
Are there any discounts available for individual manuals?
Yes! 
If you buy more than one of the same manual in an order, you will save 25% off the second and subsequent manuals. You don't need a coupon for this – simply add them to your cart and the discount will be applied automatically.
How is Teacher Hub different from the Seven Steps Tool Kit and manuals?
While Teacher Hub contains everything you and your school needs to unlock the power of the Seven Steps, our Tool Kits and writing manuals offer another option for teachers who prefer printed resources.
One of the most important things when implementing change in a school is to make it simple for each and every teacher. The manuals offer a way for those who prefer to quickly find resources, activities and lessons from a hard-copy book or binder. However, these resources are specifically designed to supplement the Seven Steps training or theory videos, rather than providing further development for teachers.
We're also dedicated to providing valuable content to our members. As an online platform, Teacher Hub allows us more flexibility in providing great content and staying up to date. As we continue to try, test and discover what resources teachers like, we will continue to develop more and more of those resources for Seven Steps Teacher Hub.
What is your refund policy?
It is important to us that you are delighted with your Seven Steps purchase! We therefore offer a money-back guarantee on almost all products and services.
If you're not happy with your Seven Steps product, please email or call us within 30 days of purchase. If we are unable to resolve the issue or further assist you, we will process a refund upon timely receipt of the unopened products. Refunds will be processed promptly and payment made by the same method that you used to make the order.
All refunds are made in accordance with the Australian Consumer Protection Act and at the discretion of Seven Steps to Writing Success. Our full terms and conditions can be found here.
How long until I receive my order?
Expected standard delivery across Australia is within three weeks from the date of order. Express delivery is usually within one week from the date of order, particularly if you are in or close to a capital city.
Sometimes we find the resources have been delivered but they're held up in your school's main office, so you may want to check there to be sure they haven't already arrived!
If your order still hasn't been delivered after three weeks, please give our office a call on (03) 9521 8439 so we can figure out what's gone wrong.
Do you offer special prices for CRTs?
We know CRTs often have to pay for their own teaching resources, without any support from schools. So we like to try to help where we can. Contact our office on (03) 9521 8439 or email [email protected] and we can chat!
Can't find what you're looking for?
Fill out our 'contact us form on our website here and one of our friendly Steven Steps team members will be in contact.
Alternatively, you can contact our office on (03) 9521 8439 or email [email protected].
Start transforming student writing! Try Teacher Hub for free.
Access Teacher Hub for 14 Days!