Are you ready to transform your students into passionate storytellers?
Teach your students how to apply the Seven Steps techniques in their narrative writing with this Step-by-Step guide.
Completely re-written in 2022
The Seven Steps Narrative Writing Manual is jam-packed with more practical, time-saving classroom resources.
It makes planning and implementing the Seven Steps just as fun as learning it!
Downloadable digital version
The second edition comes with a digital copy that can be accessed through Teacher Hub. Upload it to your school intranet for easy access!
It includes bookmarks and hyperlinks making it easy to navigate to quickly find what you need.
Love the student exemplars – students don't just want examples from 'adults/published books' they want to know kids their age can also find success. They also love seeing how younger and older students progress as well.
Teacher and Seven Steps presenter
Save 20%
when you buy multiple copies of the Narrative Writing Manual in the same order. Or upgrade to a Tool Kit for Primary Schools and save $74.55!
The new Narrative Writing Manual includes:
extensive theory for all the Seven Steps techniques

fun, flexible, curriculum aligned writing activities and templates

over 100 differentiated writing topics, plus picture writing prompts

exemplars and annotated writing samples

an Australian Curriculum Matrix
an Eight-Week Starter Plan

a Putting It All Together Chapter

assessment resources including a Narrative Marking Rubric

NAPLAN and the Seven Steps.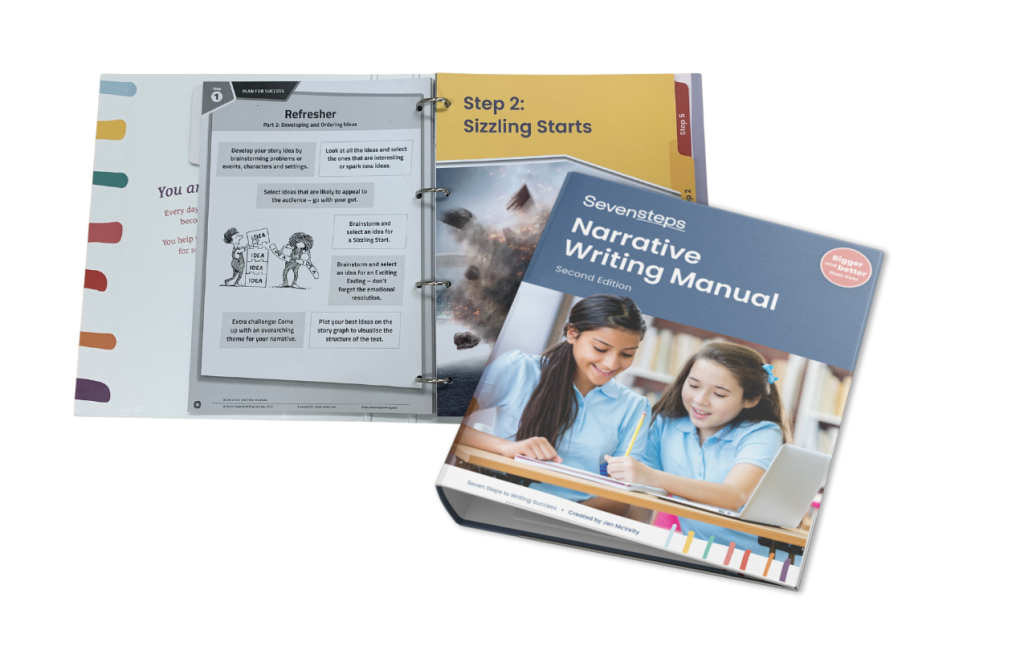 Simple and logical structure
Chapters organised by Step, so you can find what you need quickly. Each chapter includes:
Theory and exemplars

Annotated student writing samples

Action Activities

Templates

Top Twenty Topics

Writing Prompts

Text and Video Lists

Self-Assessment rubric

Refresher poster.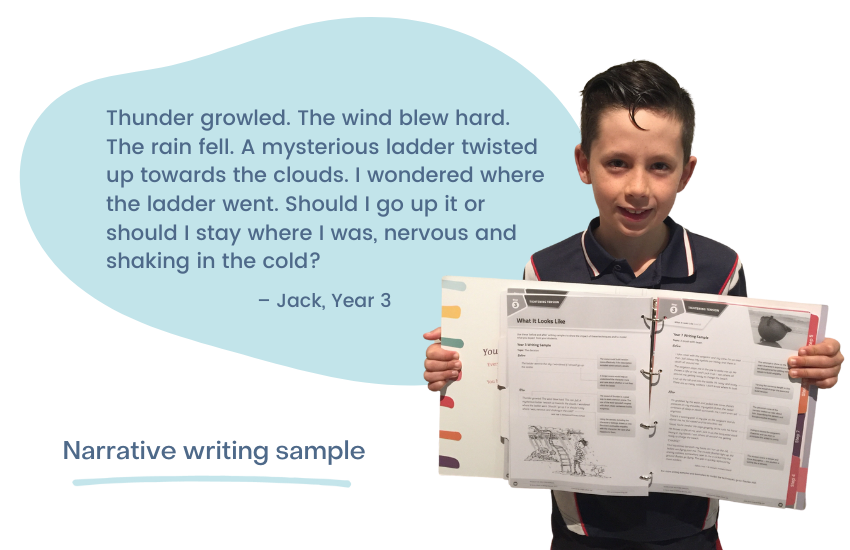 Teaching the techniques
Dive deep into the theory to learn the key techniques that underpin each Step. There are also ideas on how to take it further with more advanced writers, or students who are already familiar with the Seven Steps.
Then use the exemplars and annotated writing samples to show the impact of the Seven Steps techniques and to model what you expect from students.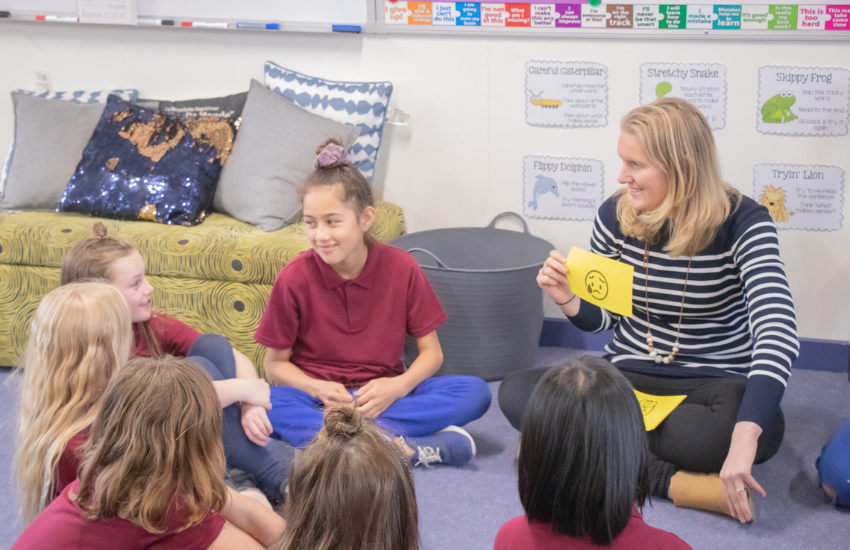 Curriculum-aligned writing activities
All of the activities are linked to the Australian Curriculum: English content descriptors. They progress from modelling and discussing the techniques (I do), to putting the techniques into practice in small groups (We do) and then alone (I do).
Your students will love the abundance of short, engaging Action Activities, templates and writing prompts that'll help consolidate their understanding of each Step, all whilst having fun.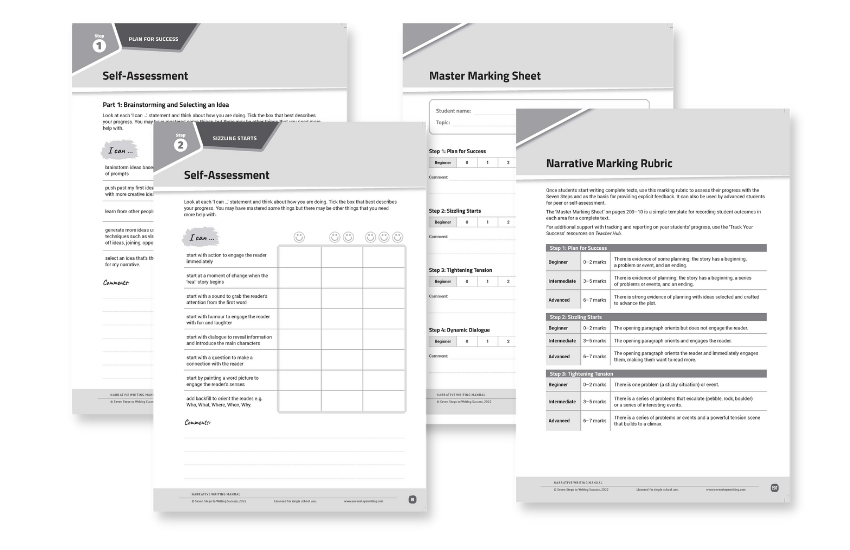 Assessment for learning
After teaching each Step, students can use the self-assessment rubrics to evaluate their own progress, and teachers can use them as the basis for conferencing with students. Find out what techniques they have mastered and what they need more help with before moving onto the next Step.
There are also a variety of formative and summative assessment resources and graded writing samples to help you provide feedback on students' writing and monitor their progress.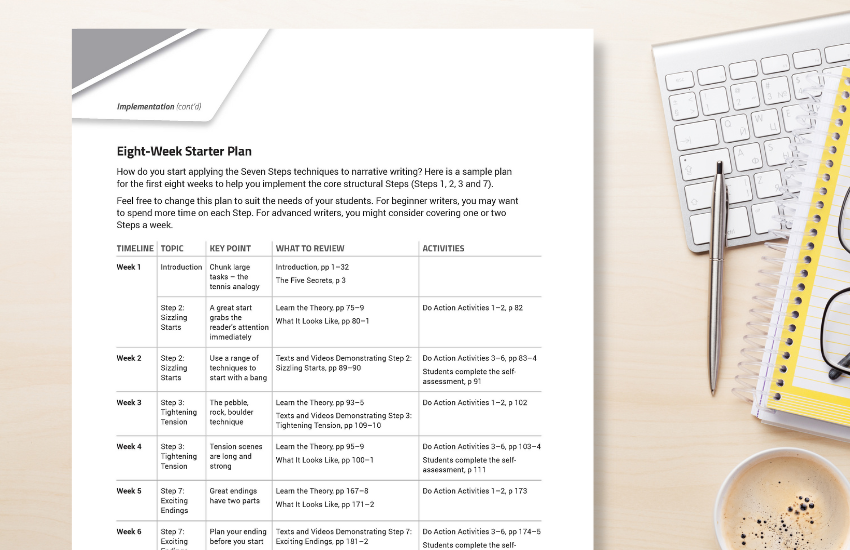 Implementation Advice
Getting started just got easier with our Eight-Week Starter Plan showing you how to implement the core structural Steps (Steps 1, 2, 3 and 7) using the resources in the manual. 
There are also answers to some frequently asked implementation questions, a curriculum matrix and a Step related guide to improving NAPLAN Writing results.
Purchase your Seven Steps Narrative Writing Manual
You can purchase our manuals separately or bundle them with a Seven Steps Tool Kit.
Find out more about our other writing manuals: Informative | Persuasive | Beginner Writers
Order multiple copies of the Narrative Writing Manual in the same order, and automatically save 20% on the second and subsequent copies. 
FAQs
How does the second edition Narrative Writing Manual differ from the first edition?
The second edition was released in June 2022. It has been completely re-written and rebranded with 4 x more content than the previous version. The new Step-by-Step structure saves you time and it has been packed with extra theory, exemplars, samples and more. The second edition has a brand new Putting It All Together chapter.
How do I access my digital manual?
Once you purchase your manual, you'll get an email to setup your free Teacher Hub account. From your Teacher Hub dashboard you'll find the 'Products' page. Your new manual will be available to download under the 'Purchased Products' section.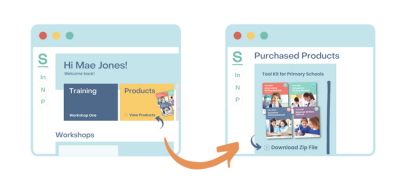 Do I need to complete a Seven Steps workshop before buying the Narrative Writing Manual?
Not anymore! The Narrative Writing Manual has a theory section for each Step so you can learn all of the techniques and then use the resources provided to roll out the Seven Steps in your classroom. We still recommend coming to our training, as nothing compares to our engaging and interactive workshops but if you'd like to test out the techniques in your classroom first then the manual will help you do that.
What is your refund policy?
It is important to us that you are delighted with your Seven Steps purchase! We therefore offer a money-back guarantee on almost all products and services.
If you're not happy with your Seven Steps product, please email or call us within 30 days of purchase. If we are unable to resolve the issue or further assist you, we will process a refund upon timely receipt of the unopened products. Refunds will be processed promptly via the same method that you used to make the order.
All refunds are made in accordance with the Australian Consumer Protection Act and at the discretion of Seven Steps to Writing Success. Our full terms and conditions can be found here.
How long until I receive my order?
Expected standard delivery across Australia is within three weeks from the date of order. Express delivery is usually within one week from the date of order, particularly if you are in or close to a capital city.
Sometimes we find the resources have been delivered but they're held up in your school's main office, so you may want to check there to be sure they haven't already arrived!
If your order still hasn't been delivered after three weeks, please give our office a call on (03) 9521 8439 so we can figure out what's gone wrong.
Do you offer special prices for CRTs?
We know CRTs often have to pay for their own teaching resources, without any support from schools, so we try to help where we can. Contact our office on (03) 9521 8439 or email [email protected] and we can chat!
What makes your manuals eco-friendly?
The manuals' internal pages are made with ecoStar+, an environmentally responsible paper made carbon neutral and is FSC Recycled certified. ecoStar+ is manufactured from 100% post-consumer recycled fibre in a process chlorine free environment under the ISO 14001 environmental management system.
The manual folders are carbon neutral 4D Ring Binders.
Our printers also use a vegetable-based ink.
Can't find what you're looking for?
Fill out our 'Contact us' form on our website here and one of our friendly Steven Steps team members will be in contact.
Alternatively, you can contact our office on (03) 9521 8439 or email [email protected]