'One of the best and most useful professional development [training] I have done in 30 years of teaching.'
Wattleview Primary School (VIC)
An inspiring workshop for teachers
Join over 41,500 educators transforming student writing and revolutionising writing classrooms.
'I can't express how passionate I am about the program. The results have been incredibly impressive as well as the impact on the children's skills and enthusiasm for writing.'
Dural Public School (NSW)
Become a Seven Steps teacher at Workshop One
Learn the simple and powerful secrets to transforming student writing, then be able to apply them the very next day!
Discover how fun and engaging writing can be using the Seven Steps skills and techniques.
Interested in a workshop for your school? Let us come to you!
View our School Packages.
Download brochure
Empower your students
Discover how to lead powerful writing lessons that inspire creativity, build confidence and help your students reach their full potential.
Get classroom-ready
Through fun, interactive activities, you'll experience the challenges that students face putting pen to paper. And be able to show them how to bust through them!
Build strong foundations
Develop writing lessons based on effective pedagogy that align with the Australian Curriculum – maximising collaboration, verbalisation and multimodal literacy.
Now includes Teacher Hub!
Workshop One includes a 3-month Essentials subscription to Teacher Hub – your online teaching platform. Enjoy unlimited access to over 500 writing resources including lesson plans, Classroom PowerPoints, writing samples, activities, templates and so much more!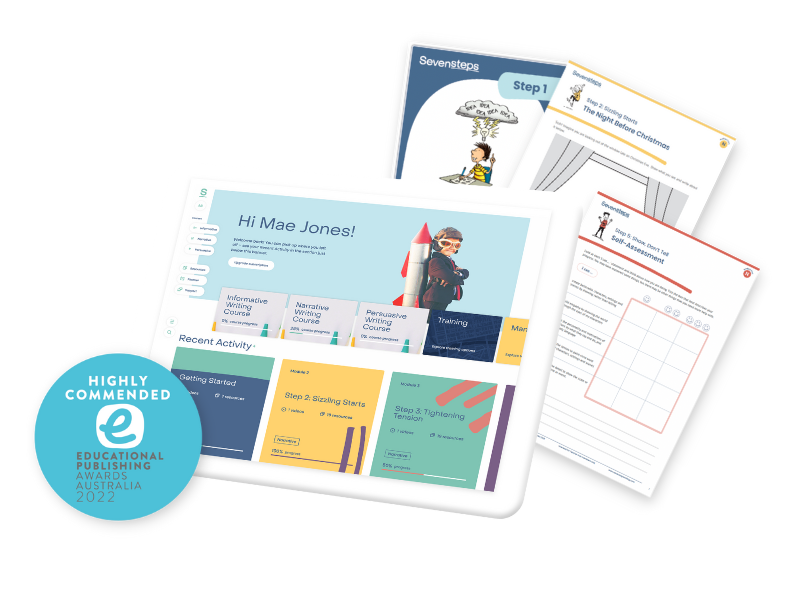 How would you like to learn the Seven Steps?
Learn face-to-face
A full day of learning, led by our experienced and engaging presenters. Includes a 3-month membership to Teacher Hub.
Learn online
Three live and interactive online sessions – run outside of school hours. Includes a 3-month membership to Teacher Hub.
Select a face-to-face
workshop session
Select three
workshop sessions
Please note that the workshop times listed below are Australian Eastern Daylight Time (AEDT). If you are NOT located in NSW, ACT, VIC or TAS, please adjust your calendar.
Select your first session
7 February 2023 - Tuesday
20 February 2023 - Monday
23 February 2023 - Thursday
Select your second session
22 February 2023 - Wednesday
9 February 2023 - Thursday
19 April 2023 - Wednesday
Select your third session
15 February 2023 - Wednesday
Select two more sessions (the dates must be after your first session)
Select one more session (the date must be after your second session)
FAQs
Is this Workshop accredited?
In NSW, Completing Workshop One (Online): Seven Steps to Transform Writing will contribute 6 hours (face-to-face) and 5 hours and 30 minutes  (online) of NSW Education Standards Authority (NESA) Accredited PD in the priority area of Delivery and Assessment of NSW Curriculum/EYLF addressing standard descriptors 2.5.2 from the Australian Professional Standards for Teachers towards maintaining Proficient Teacher Accreditation in NSW.
In South Australia, Seven Steps is a preferred supplier of literacy and numeracy professional learning services to the South Australian Department for Education.
Can a group of us from my school attend Workshop One together?
As you know as a teacher, the best way to learn is by doing! So Workshop One is an interactive session where you get to try the activities and be a student. We've been told many times that people get even more out of the day when they attend with colleagues.
For face-to-face workshops, simply book your teachers in. For online workshops, we definitely recommend doing it with fellow colleagues, but do require each participant to attend each Zoom session using their own device. It will ensure you all get the most out of the activities and the sessions. We also recommend using headphones, particularly if you are sitting in the same room as other participants.
I've already watched the Teacher Hub theory videos. Should I still attend Workshop One?
A great question! Here's the difference:
In Workshop One, you'll learn the overall theory and approach of each of the Seven Steps across all text types, plus powerful secrets for teaching great writing.
In the Teacher Hub online writing courses, you'll dive deeper into each text type, learning how to teach, apply and assess each Step and getting the resources to do so.
Workshop One and Teacher Hub offer different experiences and have a different focus, but both give great insights into the Seven Steps and will boost your teaching of writing significantly!
Who is Workshop One for?
For teachers! We're excited to share the Seven Steps with anyone who's passionate about writing. While the program is most useful for primary school and English teachers, we've also seen other teaching staff like science and history teachers attend.
Principals, heads of curriculum and any school leaders are also encouraged to come along and learn as much as they can about the Seven Steps. This will allow them to completely support their teaching staff when they need it.
However, please be aware that the licensing for the Workshop is for a classroom teacher to use with their students – it does not grant participants the right to train or coach others in their schools.
What professional standards does Workshop One cover?
Workshop One covers the following requirements in the Australian Professional Standards for Teachers:
Standard 1: Know students and how they learn. 1.2 (HA), 1.3 (P), 1.5 (P)
Standard 2: Know the content and how to teach it. 2.1 (P), 2.2 (HA), 2.5 (P), 2.6 (P)
Standard 3: Professional practice. 3.1 (P), 3.2 (P), 3.4 (P)
Standard 4: Create and maintain supportive and safe learning environments. 4.1 (P), 4.2 (P)
Standard 6: Engage in professional learning. 6.2 (P), 6.3 (P)
Are your online workshops replacing the face-to-face workshops?
Absolutely not!
However, we've worked really hard to ensure that the content from our Seven Steps Workshop has been transformed into an engaging, interactive, and practical training, just in an online delivery. On the plus side, it's in 3 short sessions (1 hr 45 min each) instead of one full day! It's convenient and budget-friendly – most sessions are run outside of school hours, so you shouldn't need a CRT to replace you!
We never underestimate the power of face-to-face teaching, and we know that, as teachers, you don't either. Just as there are advantages to online learning, there are many benefits of face-to-face: a day out of the classroom where you can focus on your professional learning; networking with other teachers; being in the room with your presenter; enjoying delicious catering and a nice setting!
So, both online and face-to-face Workshops give you the opportunity to learn the Seven Steps via engaging and practical training, but you choose the format that suits you best!
I'd love a copy of the PowerPoint presentation the presenter used at the workshop. Can I have a copy of the slides?
While we don't provide copies of the slides, your workshop handout is packed with theory, activities and templates, plus plenty of space to take notes during the session!
I've missed my online session; can I get the session recording?
We occasionally record our sessions for training purposes, but we don't make these recordings available. These specialist sessions rely heavily on interaction and discussion, and we want you to get the most out of them by attending live. If you can't make it to the session, please contact us to discuss rescheduling your booking.
If you're booked in for a session but can no longer attend, please let us know as soon as possible. There will be a $25 rebooking fee if you miss the session with less than 24 hours' notice.
I can't attend the session I've booked into. How do I change to a different one?
Just give us a call on 03 9521 8439 and we'll be happy to help you reschedule your booking. Please note that there may be gaps between sessions, so we can't guarantee that you'll be able to get in exactly when you were hoping to. But we'll do our best!
If you're booked in for a session but can no longer attend, please let us know as soon as possible. There will be a $25.00 rebooking fee if you miss the session without giving at least 24 hours' notice.
I went to the workshop and loved it. Can you come and deliver this workshop at my school?
Yes we can!
Become a Seven Steps school and give every teacher a clear framework to engage students and improve writing data! By training all your teachers together, you ensure that a consistent language and approach is happening school-wide. Students grow in confidence year after year.
And we offer flexibility! We can either come to your school for a full day of face-to-face training, or we can deliver it in three live and interactive online sessions at a time that suits you.
We can provide a package of training and resources for your whole school. Give us a call on 03 9521 8439 to discuss your needs, or learn more here. 
What are the technical requirements for attending Workshop One (Online)?
In order to ensure you have the best experience for your online workshop session, please ensure you have the following minimum system requirements:
A device (e.g. computer, laptop or tablet) with the Zoom app installed.
A reliable internet connection for video conferencing. More details >>
A webcam or HD webcam – built-in or USB plug-in
Headphones or computer speakers – to make sure you can clearly hear our presenters.
A microphone for your device – you'll be needing it when we run group activities.

If your device doesn't have a built-in microphone, you'll need a set of headphones with mic included.

Tip: Log in early to make sure you're set up correctly for your session.
I'm booked into Workshop One. When do I receive my Teacher Hub access?
As part of your Workshop One booking, you become a Teacher Hub Essentials member for 3 months! For face-to-face workshops, we start your 3-month membership the evening of your training. For online workshops, you'll receive your activation email following Session One of your workshop.
How can I bring what I've learnt at the workshop back to my entire school?
We know schools sometimes ask their teachers to attend professional development and then share it back with the wider team. Our tip: run an Action Activity with your colleagues and explain a little about the methodology in thinking. Sizzling Starts is always a fun place to start. Keep it small and specific.
Beyond that, trying to fully train your fellow teachers based on a single Workshop isn't really going to bring about lasting change. This is why the content from the Workshop is licensed to be used by those who attend and their students only.
A School Subscription to Teacher Hub is a great option to help share the Seven Steps with your school school. Learn more here.
We can also come and train your whole school in Workshop One or Workshop Two! Please contact us on 03 9521 8439 and we can chat through some potential solutions.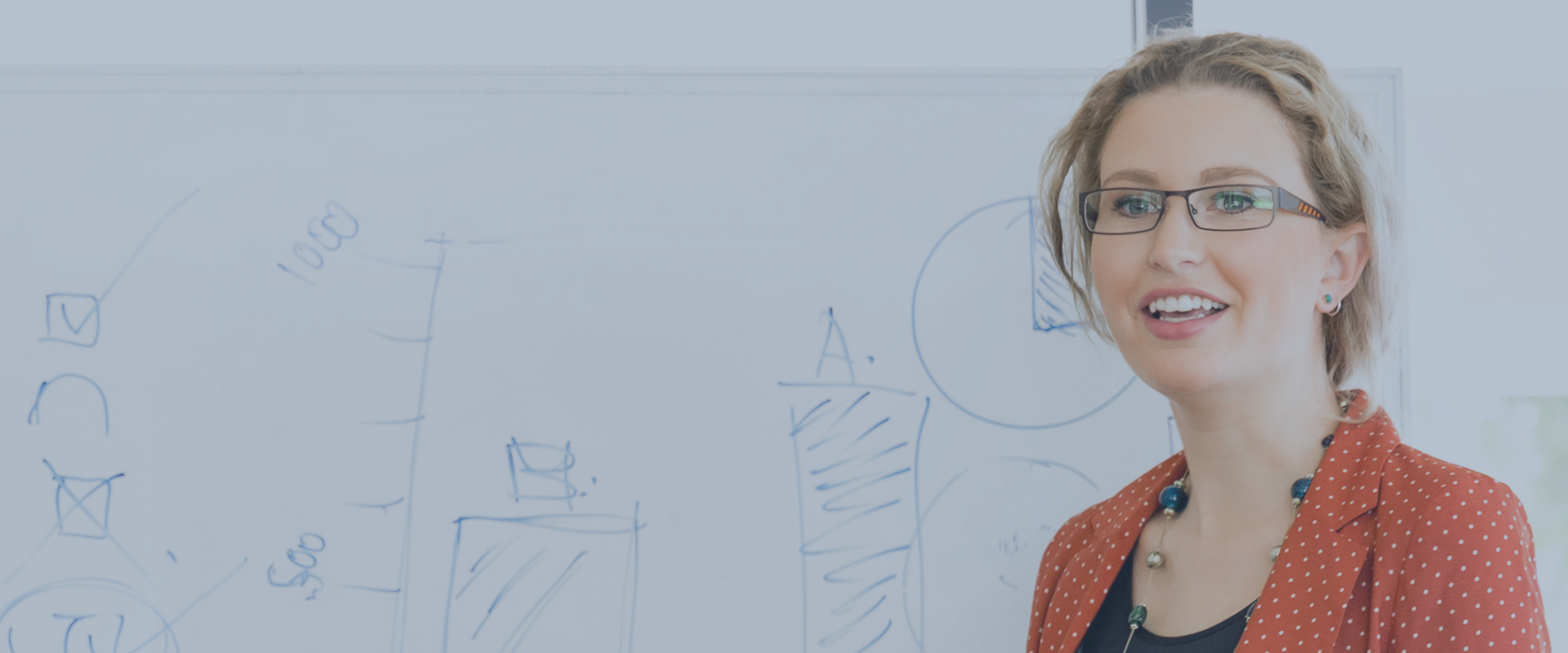 Train your whole school at once!
Our expert presenters can come to you ... either at your school or online!