Details
Date: Tuesday 10 October
Time: 4 pm (AEDT) | 6 pm (NZDT)
Duration: 45 minutes (includes a Q&A session)
How: Live on Zoom
Who is this webinar for?
Classroom teachers
School leaders
Literacy coordinators
Principals
Educators looking to improve student writing
What you'll learn:
Simple techniques to create a Sizzling Start that hooks the reader
Proven strategies to engage students (even reluctant ones!) and make writing lessons fun
About
What do Mission Impossible films, Andy Griffiths books and David Attenborough documentaries all do that makes them loved the world over?
They all begin with a white-hot Sizzling Start that hooks the audience.
In this fun hands-on webinar, learn the simple secrets to Sizzling Starts and how they can delight, intrigue and seize the reader's attention from the get-go.
Experience our popular Five Minute Fast Starts activity firsthand – designed to get students thinking and writing creatively at top speed.
You'll leave armed with a range of ideas and activities that you can use straightaway in your writing classroom – all it takes is a few minutes a day to turn those yawns and fizzles into inspiration and sizzles! Then, sit back and watch student engagement – and writing data – soar!
Presenter: Deb Larmer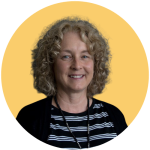 With close to 35 years of experience, Deb's taught every type of class in every style of school. And she's passionate about literacy. Since meeting Seven Steps creator Jen McVeity 8 years ago, Deb has been using the Seven Steps in her classrooms with amazing results. She is so proud of her students! And most importantly, they LOVE writing.
The power of a Sizzling Start
See what a few simple techniques can do to take students' writing from meh to marvellous!
Before …
Once there was a Tooth Fairy with a bad temper.
She always went out and…
After …
'Whaaaaat… Is that the fairy?' the little kid in the bed muttered.
'No!' said the Tooth Fairy. 'Be quiet. And keep your eyes shut or you'll get no money for your tooth.'
It was her 104th visit for the night and her wings hurt and she was definitely over eager little kids.
Sizzling Starts in the classroom
Take a look at what Seven Steps teachers have been sharing on their social media channels.
For more inspiration, head to our Instagram page.
View this post on Instagram
View this post on Instagram