5 mins
Classroom Activities
Abi Bennett
After the school holidays, lesson planning can be overwhelming so we thought we'd help you start the year off with a bang! 
Save precious planning time and simplify your summer by adding these hand-picked writing resources to your lesson plans. They are simple, fun and will keep the engagement going in your classroom.
Top Teacher Hub writing resources
1. Deconstructed Recount – Free template
Teach students how to write captivating holiday recounts and improve their descriptive writing, so that they show, rather than tell their reader what they did over the break. Get students to brainstorm things they saw, heard, tasted, smelt and felt during the holidays using the below template. 
2. Getting Started Guide for Term 1
The essential guide for Teacher Hub members to simplify Term 1. Let us show you where to get started on Teacher Hub; from managing your school account, to a 30-minute guided tour of Teacher Hub, you'll find everything you need to start the year on the path to writing success.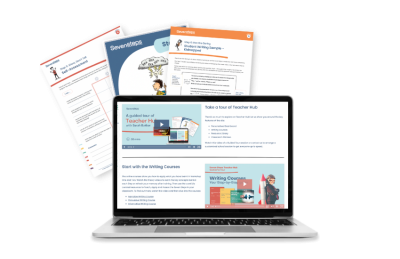 3. Using Multimedia to Teach the Seven Steps
Broaden students understanding of texts by using a variety of mediums to teach the Seven Steps. Check out this list of practical writing activities that use video, audio and images to model the techniques.
4. Writing Prompt – Travel Buddies
This narrative writing prompt challenges students to plan and draft a complete text about going on the trip of a lifetime. You can adapt this activity so students plan a video story about places they'd like to go or where they went over the Christmas holidays.
This Teacher Hub resource includes tips on different ways to use the writing prompt, links to related resources, and thinking questions. It also includes an editable template for your students to write down their thoughts.
5. Game Cards – Convincing the Community
This is a fun persuasive writing game for students that have mastered the individual Steps. It increases student engagement by turning writing into a game and adding some healthy competition. In teams, students are tasked with setting up a new community and have to persuade the other teams that they are more valuable.