Explore ready-made resources and discover how to teach the key concepts behind each Step.
| | | |
| --- | --- | --- |
| See how the Seven Steps help structure and enhance your writing classroom. | Discover what makes Seven Steps writing activities loved by teachers and students! | Download a resource, try it tomorrow and see your engagement skyrocket! |
Lesson plans
This series of sample lesson plans demonstrates how to teach the Seven Steps activities using the explicit teaching model – I Do, We Do, You Do.
Each lesson plan includes relevant links to the Australian Curriculum and NAPLAN marking criteria, plus a learning intention and success criteria to assist with planning and assessment.
Become a Teacher Hub member to access the full range of Seven Steps Lesson Plans.
Think First, Write Second
STEP Step 1: Plan for Success
PURPOSE Teach
RESOURCE TYPE Lesson plan
YEAR 3–6
RELATED
Learn how to brainstorm and select great ideas for a persuasive text.
Students work in groups to come up with several arguments for and against a topic.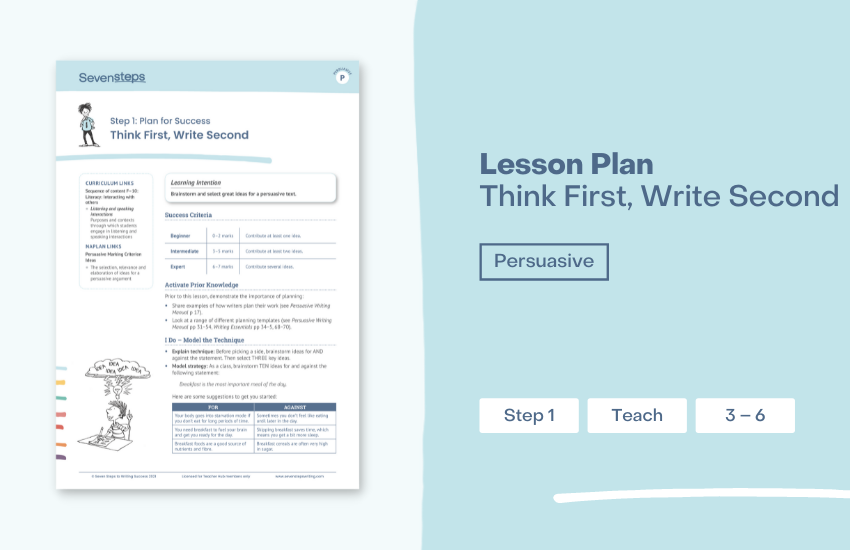 Templates
These templates promote creative thinking and encourage students to have fun with the Seven Steps.
We have a range of templates available for students of all ages and ability levels (see Teacher Hub for more). Students can write or draw on the templates; many are editable PDFs that can be used electronically.
For and Against Topic Brainstorm
STEP Step 1: Plan for Success
PURPOSE Apply
RESOURCE TYPE Template
YEAR F–10
This editable template is left blank to fill with a 'for and against' topic of your choice.
Teach students to brainstorm ideas for and against a topic before picking a side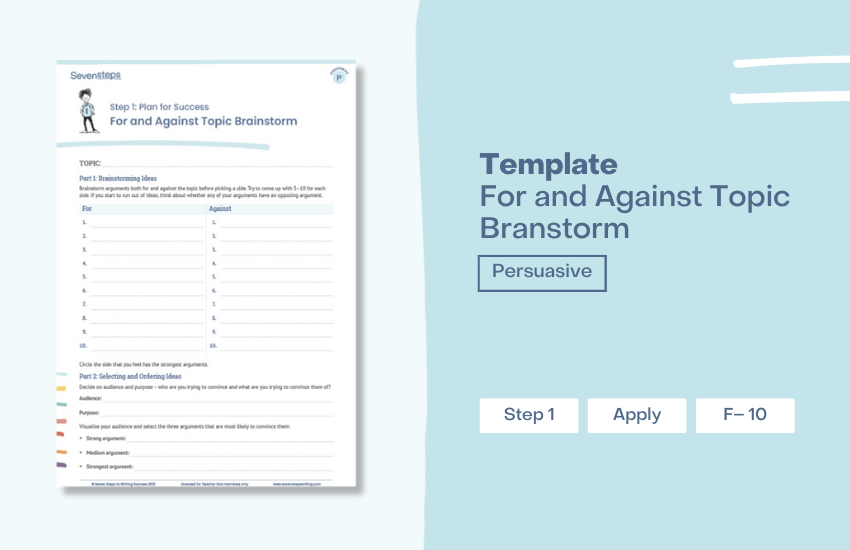 Planning tools
Need tips on how to implement the Seven Steps? We have a selection of planning resources on Teacher Hub to help you with ideas and inspiration.
Writing Improvement Agenda
STEP All Steps
PURPOSE Teach
RESOURCE TYPE Planning
YEAR F–10
RELATED Bucking the trend with the Seven Steps
A sample Term 4 planning document from Allenstown State School in Queensland.
Amalgamates the NAPLAN marking criteria with the Seven Steps in a fortnightly scheme of work.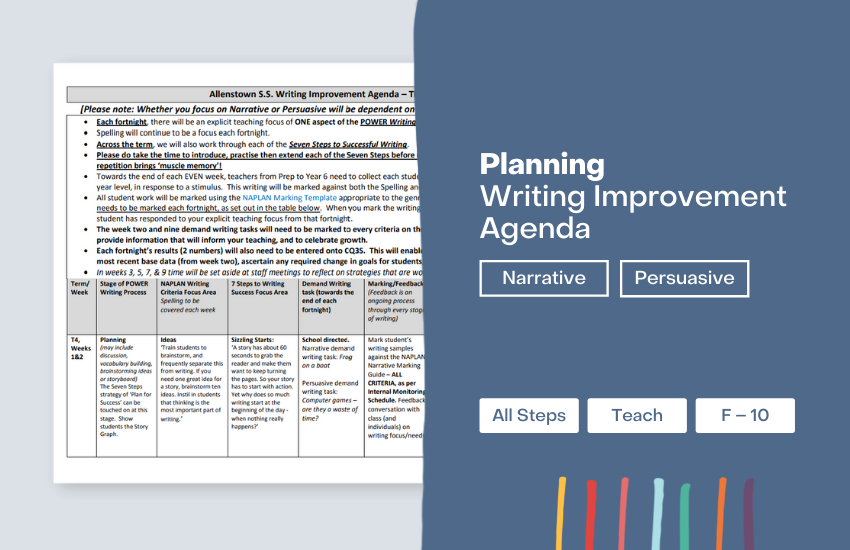 More persuasive resources
Explore more classroom resources and make persuasive writing fun with the Seven Steps!

Writing samples and exemplars
Discover the difference Seven Steps can make with these student writing samples. We also have 'real world' exemplars – discover how professional authors use the Seven Steps in narrative texts.
Picture writing prompts
These visual prompts offer fun and quick writing practice to develop your students' writing skills, one Step at a time.
Other text types
Mastered persuasive writing? Explore more Seven Steps resources for narrative and informative writing!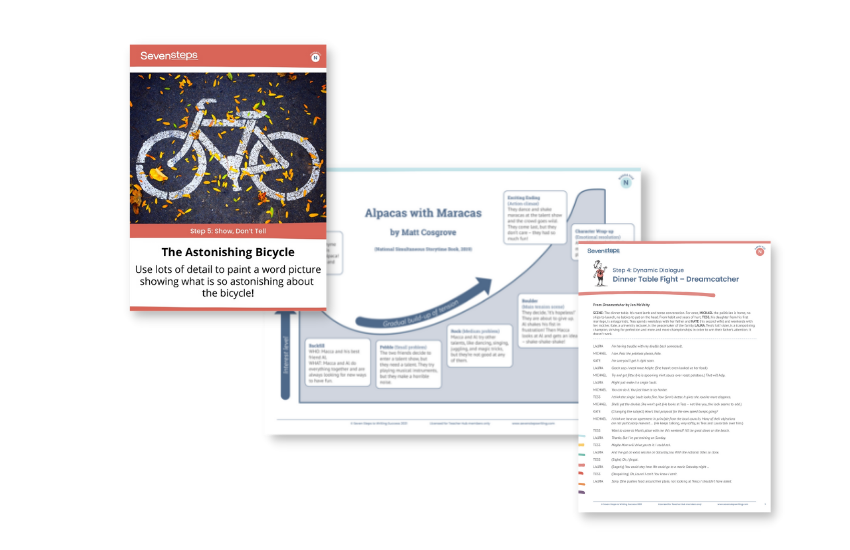 Narrative writing
Lesson plans and activities to help your students create epic tales and become great storytellers.
Informative writing
Lesson plans and activities to help your students write engaging informative texts that bring facts to life.
Persuasive Writing Course
Step-by-Step guide to teaching the Seven Steps for persuasive writing.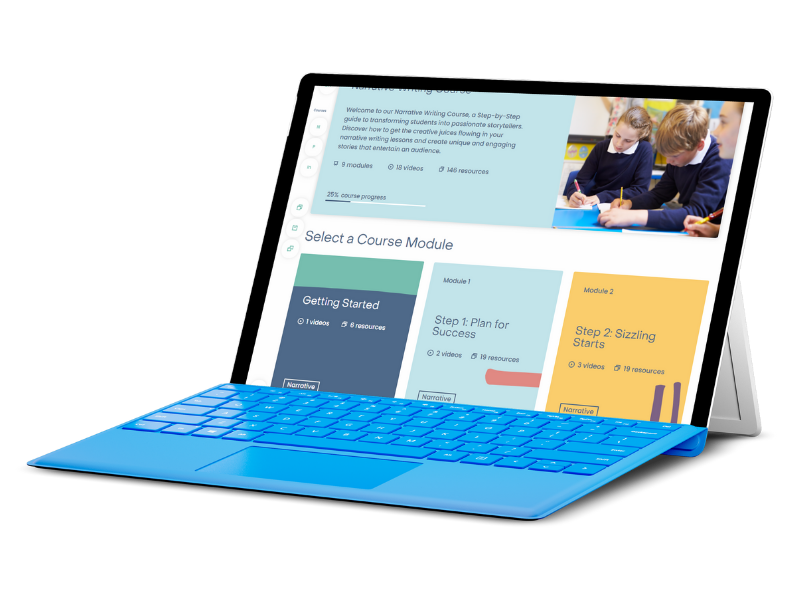 Teacher Hub
Your ultimate support tool for teaching writing
Everything teachers need to learn, teach, apply and assess the Seven Steps.