Great writing begins with a Sizzling Start
All you need to know to start teaching the simplest, easiest and most fun of the Seven Steps – Step 2: Sizzling Starts®.
This is the perfect resource to get started with the Seven Steps … so make sure you bookmark this page!
What is a Sizzling Start?
Let these Seven Steps students introduce you to Sizzling Starts® – the Step that's fun, engaging and all the students love!
'A Sizzling Start® is getting into the action straight away.'
'Sizzling Starts® get the reader involved and hooked!'
'One or two sentences that grab the reader's attention'
'Add all your sound effects like bang, crash, boom, pow!'
'So they want to continue the book and read, read, read!'
Your guide to implementing Step 2: Sizzling Starts®
We're excited you've joined our Sizzling Starts® series. We can't wait to help you start transforming your students' writing.
A story has about 60 seconds to grab the reader and make them want to read on. Find out how to start your story with a bang using a range of simple and effective techniques.
Here you'll find lots of resources – including a training video, activities and writing samples – to help you in the classroom. We'll start with a quick overview of the Seven Steps.
What are the Seven Steps?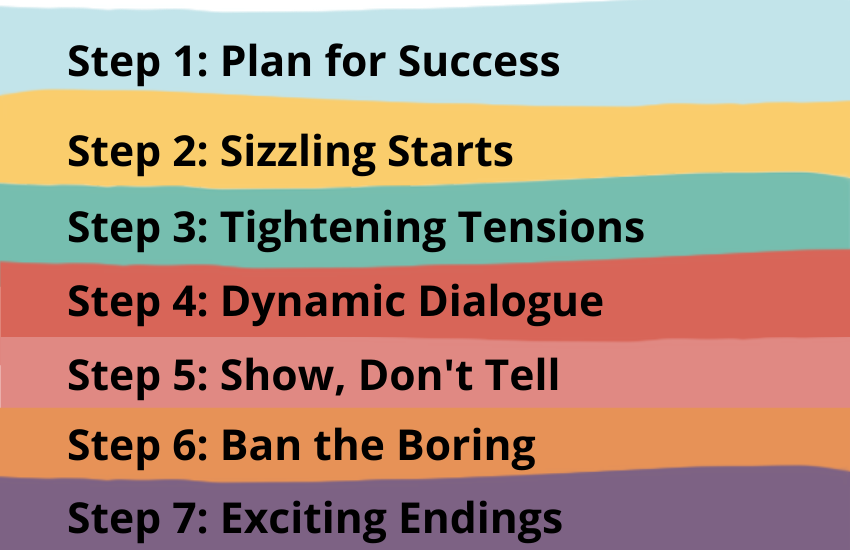 Think of the Seven Steps as the building blocks to great writing. Isolating writing skills into individual steps ensures students don't get 'bogged down' with writing a whole story, recount or persuasive text. Students gain confidence in each building block, then take the next Step and the next. Finally, they put it all together to become creative and engaging writers.
Designed by an author and a former teacher, the Seven Steps program breaks down writing into seven core techniques that can be taught in less than 20 minutes a day. Importantly, you create a vibrant writing classroom and your students' writing results will rapidly improve!
Are you ready to learn the simplest, easier and most fun Step? Let's dive in and get your students' stories starting with a sizzle!
Let's start by learning the key concepts behind Step 2: Sizzling Starts®.
This 5-minute video, extracted from a 9-minute video from the Narrative Writing Course in Teacher Hub, identifies some of the critical concepts required to create dynamic and engaging story starts.
Jen, author and creator of the Seven Steps, introduces you to the 'Moment of Change' and shares some examples that clearly illustrate the concept in action.
Using Step 2: Sizzling Starts® in Narrative Writing
You can see how a Sizzling Start is vital to engage the reader. In books and movies, writers use the opening scene to capture their reader's attention and in the classroom, these same principles apply. By starting at the 'Moment of Change', you can skip the Nullabor Plain of writing that most students start with and jump straight into the action.
Exemplars
Before and After – Sizzling Starts® samples
The best way to learn is by seeing examples, so model how to generate a wide range of ideas and find the most original idea. Demonstrate the power of a Sizzling Start with these exemplars for the three text types:
Text Type
Before
After
Persuasive
Do ghosts exist?
I think ghosts do exist. Once my family were staying in a hotel room and it felt really creepy…
Do ghosts exist? I'd never even thought about it until the night we stayed in the Glendowne Hotel.

It had a swimming pool and a large screen TV – and a cold, cold feeling that seeped into you every time you walked into the room.

We cranked the heater up to full, but no hope there. It was only later we found out the mayor of Glendowne had been murdered in the room just two weeks before…

Narrative
The Cranky Tooth Fairy
Once there was a Tooth Fairy with a bad temper. She always went out and…
'Whaaaaat… Is that the fairy?' the little kid in the bed muttered.

'No!' said the Tooth Fairy. 'Be quiet. And keep your eyes shut or you'll get no money for your tooth.'

It was her 104th visit for the night and her wings hurt and she was definitely over eager little kids.

Informative
Left handed people
Over 10% of the population are left handed. However, most of the tools in our society are set up for right-handed people.
Are you a right-hander? Take this test.

For one day, open every door – the car, classroom, house doors – with your left hand. See how the door swings the 'wrong' way? Tomorrow try cutting paper or using a computer mouse. Awkward, right? That's the world for 10% of us – the left-handers.
Exemplars
Top Sizzling Starts® styles
Let's explore a few different types of Sizzling Starts®.
Below are some of the favourite (and easiest) ways to create a Sizzling Start. There are also loads of examples to help showcase them to your students.
After you run through these examples, run the 'Sizzling Starts® Styles' Action Activity from the Apply section of this page. You can use the activity in class or give it to your students for homework (trust me they'll love it – it includes watching TV).
Sizzling Starts® Style
Text Example
Film Example
Begin with Action
'Five, four, three, two, ONE! The cameras were rolling and I was about to eat a cockroach.'
Angry Birds
Make the Reader Curious
'The beach house was great, but then my cousins arrived with the bacon, the bricks and wearing their usual beanies.'
Ratatouille
Dialogue
'It's just a rat,' I said, breathing hard.
'Rats don't growl,' said Mike.

Batman Lego Movie

Humour
'Ever cheered for your footy team with a pie in one hand and a drink in the other? Don't. When that final goal happened, I wore both.'

How to Train Your Dragon 2

The Moment of Change
'All was going well on the hike until the heat wave happened. I was hot and sweaty and dying for a swim. Then I saw the river. And the sign: Warning! Crocodiles.'

Finding Nemo
Looking for more writing samples? Unlock your free 14-day Teacher Hub Trial and get access to hundreds of writing resources in our Resource Library.
How professional authors use Sizzling Starts®
Learn how authors Hazel Edwards and Susanne Gervay have used Sizzling Starts® in their own work, and how important it is for a piece of narrative writing.
Looks great in theory right? But how do you get your students to write like this?
Next, we're going to give you an Action Activity to start transforming your students' fizzling starts to Sizzling Starts® in as little as 20 minutes a day.
Step 2: Sizzling Starts® Action Activities
Now that you know how to explain the Sizzling Starts® theory, let's jump into our most popular Action Activity – 'The 5 Minute Fast Starts'.
This is one of the best ways to get your students practising the techniques and writing lots!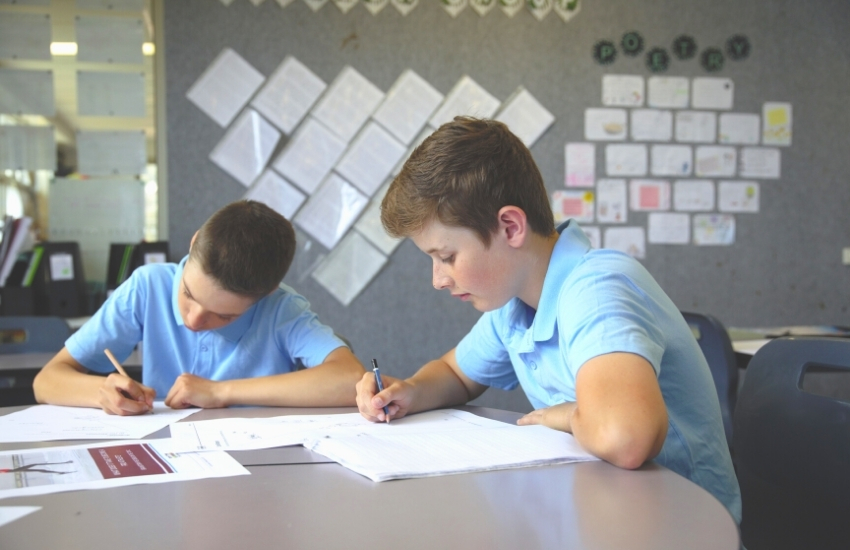 Action Activity: 5-Minute Fast Starts
Read out one of the topics below and give students 1 minute to write a Sizzling Start.
As soon as the minute is up, read out another topic and start the next minute.
After 5 minutes, each student should have 5 different Sizzling Starts®.
Get them to share their favourite in groups of 3–4. This will help them generate more ideas, develop concepts and learn from each other.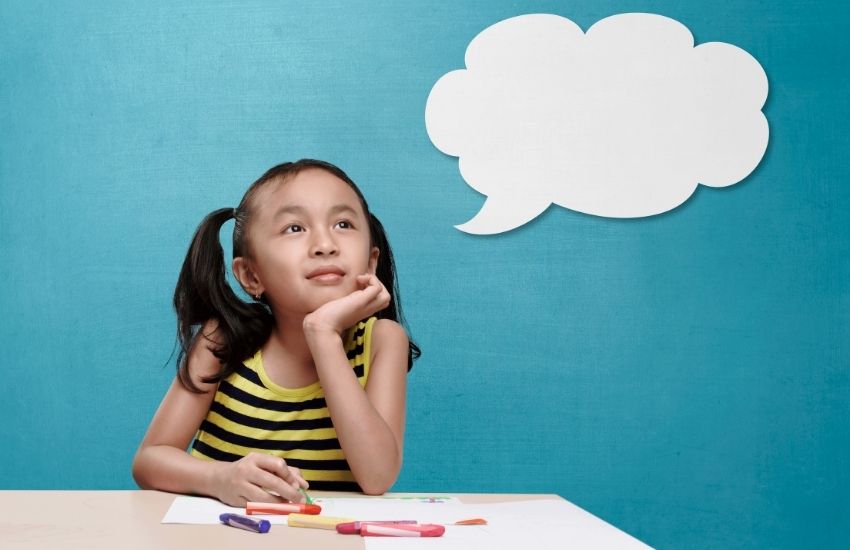 Tips:
Run this every day for an entire week to solidify it into muscle memory.
Don't worry about neat handwriting or spelling just now. The goal is to capture creative ideas fast!
Don't ask them to share all of the Sizzling Starts® they've written, or share with the entire class.
The idea is to practise, practise, practise. Reading everything out doesn't give them the opportunity to make mistakes, play around with ideas or try new things that don't work.
5-Minute Fast Starts Topics
Year Level
Narrative
Informative
Persuasive
F-2

A day at the beach
A dance
Lunchtime fun
Learning to ride a bike
Playing with a pet

An interesting animal
Lunchtime game rules
Something blue
How to walk
Where to find fruit

What makes a good friend?
What makes a better pet – cats or dogs?
Everyone should learn to…
Why my mum and dad are the greatest
Lunchtime is too short

3-6

Almost getting caught
It's not fair
My Grandparents …
A holiday that …
A fight with my parents

Ordering at a restaurant
How to dance
A theme park
Importance of washing your hands
UFOs

Weekends should be longer
Why I should get more pocket money
Should parents always tell the truth to their children
Mornings are better than evenings
If only I had (listened/done) …

7-12

My annoying habit I want to change
A time I got in trouble
The thing I fear most
I learn best when
A haunting dream

The best form of government
Cause and effects of air pollution
How your belongings are organised in your room
Electric cars
Why we work

The biggest problem in education/our school is …
An extra right, kids should have
Our government needs to …
Are rules always right?
I am now old enough to …
Next, discover how you can build on this Action Activity and develop students' Sizzling Starts® even further.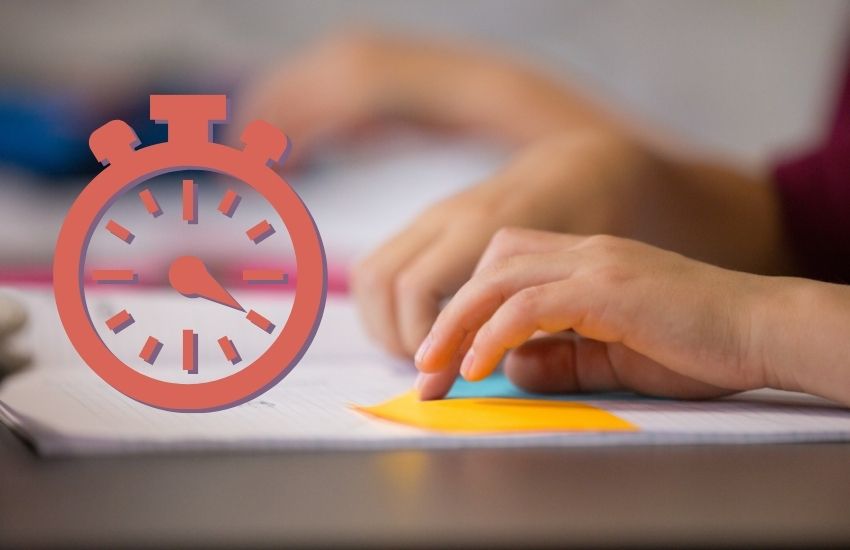 Action Activity: Sizzling Starts® Styles
Now that your students have explored how texts use different styles to begin, it's time to put it into practise.
Go back to Teach: Sizzling Starts® Styles
This Action Activity is designed to develop many different styles of writing and can be used for ANY text type.
Choose one of the topics from the table below.
Give students 1 minute to write a Sizzling Start for the Sizzling Starts® Style 'Action'.
As soon as the minute is up, give students 1 minute to write another one for the next Style 'Intrigue' using the same topic.
Continue until students have written Sizzling Starts® on the same topic for 'Dialogue', 'Humour' and 'Moment of Change'.
After 5 minutes, each student should have a Sizzling Start for each style. Ask them to share their favourite in groups.
Topics
| | | | |
| --- | --- | --- | --- |
| Year Level | Narrative | Informative | Persuasive |
| F-2 | A typical school day | How to build a sandcastle | Blue is the best colour |
| 3-6 | My secret talent | How to win a fight with mum/dad | School days should start later |
| 7-12 | A misunderstanding | Rules of texting | Aliens do exist |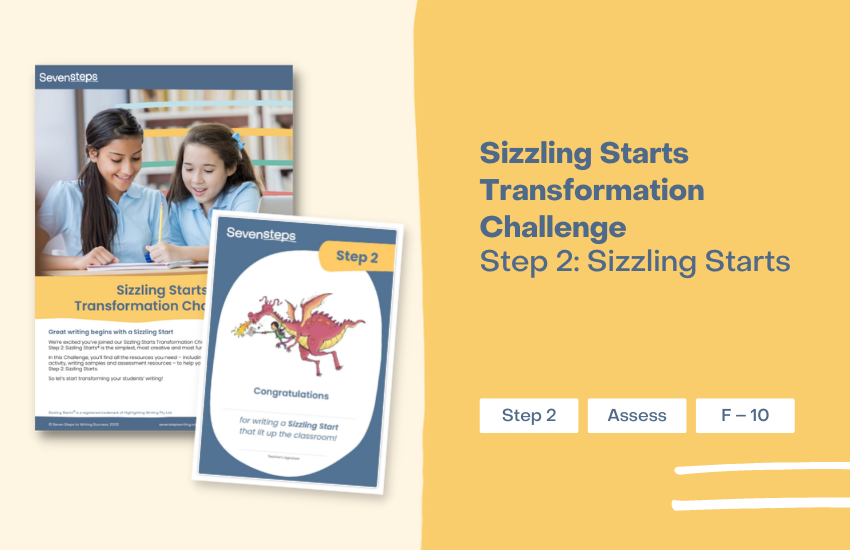 The Sizzling Transformation Challenge
Win a workshop or manual!
Once you've learnt the Step 2: Sizzling Starts theory above, download your free Step 2: Sizzling Starts activity and assessment pack which includes the Sizzling Transformation Challenge PDF.
It's a fun 2-week challenge that helps track your students' writing success. It's simple to do – pre-test your students writing prior to teaching Step 2: Sizzling Starts and follow the instructions with links to all the relevant resources. Celebrate your students' writing success with the printable Sizzling Starts certificate.
Then share your most improved student's before and after writing sample to [email protected] and you'll be in the running to win a Seven Steps workshop or manual (valued up to $300).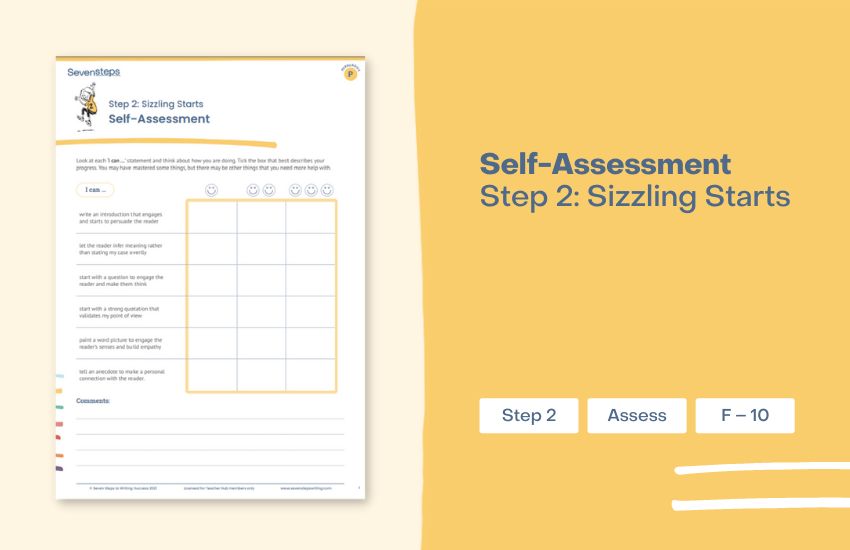 Seven Steps assessment templates
The Step 2: Sizzling Starts activity and assessment pack also includes editable self-assessment rubrics so your students can evaluate their own progress.
Conference with students to identify whether they have mastered Step 2: Sizzling Starts® or whether they need more practice to consolidate their understanding.
What's included in your Step 2: Sizzling Starts® activity and assessment pack:
The Sizzling Transformation Challenge – includes a Sizzling Starts student certificate
4 x Seven Steps Photo Writing Prompts
'Special Power' writing activity template with student samples
Step 2: Sizzling Starts® Self-Assessment Rubric for narrative writing
Step 2: Sizzling Starts® Self-Assessment Rubric for persuasive writing
Only the beginning
So, there you have it. Sizzling Starts® that are exciting and fun for your students to write, share and listen to – and are quick and easy for you to teach, mark and give explicit, actionable feedback that students can implement in their next piece of writing. And they can make a significant difference.
We hope you've enjoyed learning how quickly you can improve students' writing. But don't stop there! Step 2: Sizzling Starts® is only the beginning of the transformation. Master the other steps to radically improve your students' writing and give them the tools to create stories you want to read!