8 min
Classroom Activities
Admin SEVEN STEPS
The Children's Book Council of Australia (CBCA) Book Week will look a bit different this year, but as always it is a celebration of great writing.
In a year of lockdowns, remote learning and cancelled plans, we've probably all turned into slightly curious creatures, or let our minds run a little wild (well, at least some of us!) – so we should be right at home with this year's Book Week theme.
The CBCA Book Week is a great time for educators to come together and celebrate great new Australian literature with their students.
To celebrate and acknowledge the power of great writing, we've come up with some fun writing activities and resources based on the CBCA's shortlisted books for 2020.
Let's end the year with joy and curiosity!
1. Watch the following video of the story being read aloud.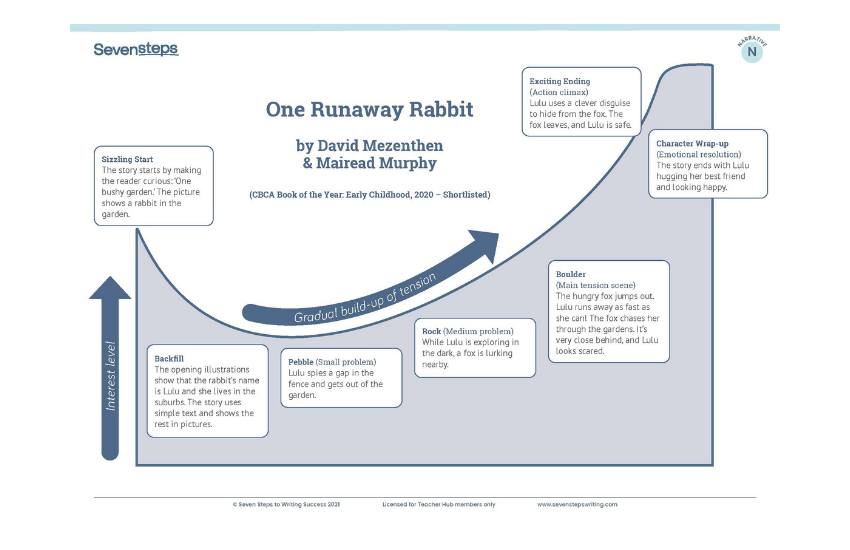 2. As a class, identify the tension scene in this story.
Encourage students to think about what the rabbit and the fox can see, hear, smell, taste, touch and feel during the tension scene.
Use this free Seven Steps resource, One Runaway Rabbit plotted on the Story Graph, to help students track the build-up of tension throughout the story.
Teacher Hub Essentials members – View even more CBCA Award Winners on the Story Graph
Includes the shortlisted titles listed below.
Bat vs Poss by Alexa Moses & Anil Tortop
Goodbye House, Hello House by Margaret Wild & Ann James
My Friend Fred by Frances Watts & A Yi
One Runaway Rabbit by David Mezenthen & Mairead Murphy
Searching for Cicadas by Lesley Gibbes & Judy Watson
We're Stuck! by Sue DeGennaro
When Billy Was a Dog by Kirsty Murray & Karen Blair
3. Ask students to find a friend and act out the scene.
Can they show the audience how the fox and the rabbit are feeling during the tension scene?
Related resources
1. Watch the following video of the book being read aloud.
3. Extend students' knowledge.
Challenge students to identify other hybrid texts in this year's CBCA shortlist – for example, I Need a Parrot by Chris McKimmie has elements of both narrative and persuasive writing.
Related Resources
Writing activities for advanced writers
Text: When the Ground is Hard by Malla Nunn
This novel explores a range of complex themes such as race, class and gender through the eyes of two teenaged girls at boarding school.
1. Watch the following review of the book from Penguin's teen blog tour:
2. Create your own book reviews.
Challenge students to film a review of one of the other books in this year's CBCA shortlist.
Remind students not to give a blow-by-blow account of everything that happens in the story – they should stick to what they enjoyed most about the book and why they would recommend reading it.
For written student examples of book reviews, view the 2019 Seven Steps Writing Competition winners in the Book Review category.
Related resources
It's so important to expose students to great writing as they grow and develop their own voice. We hope you enjoy Book Week 2020 with all the curious creatures and wild minds in your classroom. Parade or no parade, it will still be a lot of fun!
Don't forget to tag us on Instagram or Twitter and use the hashtag #sevenstepswriting to share your Book Week writing activities with the Seven Steps community. Happy writing!