5 min
Classroom Activities
Admin SEVEN STEPS
Looking for some extra inspiration for your writing lessons? Here's some fun ideas to give them a kickstart! Writing prompts are perfect for getting the creative juices flowing and helping students practise their skills! Use the Seven Steps Writing Prompts to help students practise and master one element of writing at a time – an essential strategy to scaffolding students to become confident writers. So, whether you use them to start your lesson off with these quick Step 2: Sizzling Starts activities or you build a whole lesson plan around them, here are our top 4 tips for using the prompts.
Below, we've created a super-sized writing prompt pack (with 50 narrative, persuasive and informative picture writing prompts across each Step) ready for you to download and take straight into the classroom. 

1. A quick way to start your lesson
Get your students engaged straight away with a quick writing prompt to start your lesson.
💡 Show a prompt a day for the Step you are focusing on to build your students' confidence and muscle memory.
Give your students 2 minutes to write a Sizzling Start, Tightening Tension, Exciting Ending, etc.
Ask them to vote for their favourite amongst their classmates
2. Watch videos and brainstorm
If you're a Teacher Hub member, you'll have a variety of extra activities within each of your writing prompt downloads. You can search for them in the Resource Library. Check out the references down the left-hand side of the prompt, to find links to related videos or books.
Watch the videos as a class
In small groups, ask your students to imagine if they were there and note down anything they can see, hear, smell, feel and taste!
Share what they've written down and discuss as a class – they can then use these observations to build a powerful piece of writing.

3. Thinking questions
Within each members' writing prompt in Teacher Hub, you'll see reflection questions for that particular image. For non-members, we've given you a sneak peek at some of them below!
💡 Here's how you can use the reflection questions:
Use them to start an interesting discussion as a class.
Break students into smaller groups to discuss ideas within their group.
Ask students to brainstorm Who, What, When, Where, Why and How while looking at the image. This can help generate lots of ideas!
Step 2: Sizzling Starts
Thinking questions for this prompt:
• What do you love to eat on your birthday?
• What kind of party would be fun?
• What's the craziest disaster that could happen at a birthday party?
• Complete the sentence: 'Oh no, you didn't …'
• Complete it again – look for a fresh idea! (Everyone's first idea is
dropping the cake)
4. Put students 'In the Moment' with the Brainstorming Template
If you have a Teacher Hub member, you'll have an editable 'In the Moment' Brainstorming Template in each of your writing prompts. If you're not a member, you can access a variety of our Teacher Hub writing prompts with a 14-day free trial or sign up for an Essentials subscription to get access to all of our 500+ resources.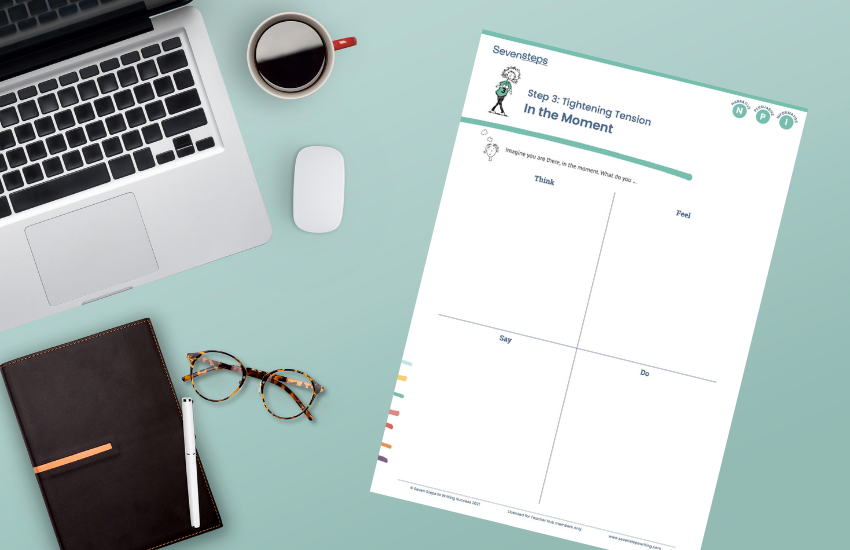 Use the editable 'In the Moment' Brainstorming Template.
Work individually or brainstorm as a class! Ask students to look at the writing prompt and imagine they are there. What do they feel, think, say and do?
Workshop One: Seven Steps to Transform Writing
Your perfect start to teaching the Seven Steps
Learn how to break down writing and build up student confidence.