10 min
Classroom Activities
Abi Bennett
It's our favourite time of year, a time to celebrate great writing.
The Children's Book Council of Australia (CBCA) Book Week is 20 – 26 August – a week to celebrate Australian authors and illustrators and highlight the importance of reading and writing.
This year's theme is Dreaming with eyes open… It's the perfect chance to encourage your students to dream big and let their imaginations fly. Congratulations to all the authors, illustrators and publishers who have done just that in their shortlisted books. 

Inspired by these books, we've created some fun Book Week writing activities and resources for you to enjoy with your students.
CBCA Shortlisted Books on the Story Graph

Take a look at some of this year's CBCA shortlisted books plotted on the Seven Steps Story Graph. 
Compare how these books start – what techniques do they use to grab the reader immediately? How do they build tension to keep the reader on the edge of their seat? And how do they end, is there an action climax followed by a quieter emotional resolution?
For activities relating to these shortlisted books, check out the accompanying Teaching Notes:
Book Week writing activities
These Book Week activities were provided by Seven Steps presenter, Pina Sernio. They are inspired by the CBCA shortlisted book, When the Waterhole Dries Up written by Kaye Baillie and illustrated by Max Hamilton, about a boy in the outback waiting for rain.
Action Activity – Brainstorming Ideas
Brainstorming ideas on different topics helps get students' creative juices flowing. Show students how to push past the first ideas that everyone else has thought of and generate more original ideas.
The Foundation and Year 1 students at Oxley Christian College came up with some great ideas – check out these photos from their brainstorming sessions!
Action Activity – But Then…
Life doesn't always go according to plan; students need to practise brainstorming solutions to problems in order to create a satisfying ending to their stories.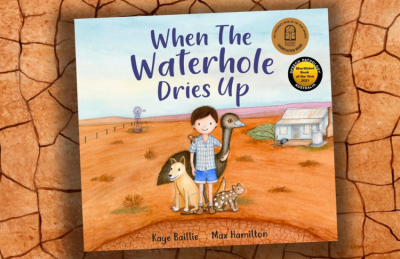 Read the picture book, When the Waterhole Dries Up, written by Kaye Baillie and illustrated by Max Hamilton, to the class.
Leave students in suspense by stopping when you get to the 'but then….' page.
As a class, brainstorm how the story could end. Challenge students to come up with as many endings as they can – the more creative the better.
The Year 1 students at Oxley Christian College had fun coming up with lots of endings.
Did they guess the real ending?
You'll have to read the book to find out!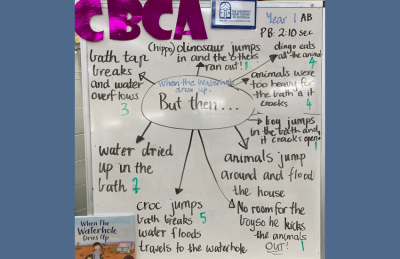 Workshop One: Seven Steps to Transform Writing
Your perfect start to teaching the Seven Steps
Learn how to break down writing and build up student confidence.