Welcome
This is the one-stop shop for literacy and school leaders.

Find all of the information you need to start rolling out the Seven Steps at your school.
The simple and engaging approach
that's transforming writing in
over 4,800 schools
Outcomes of the whole-school approach
Become a Seven Steps School and implement a framework for teaching writing that…
Creates fun and engaging writing classrooms that students love
Increases student engagement
Builds a common language for your students and teachers in writing
Saves lesson planning and research time
Delivers a curriculum-aligned and evidence-backed approach
Inspires passionate teaching
Develops writing lessons that encourage collaboration and verbalisation
Improves writing results
Promotes a cycle of growth with award-winning resources
Best practice pedagogy paired with




award-winning training
'We absolutely love this program. It has transformed writing in our school.
My teachers are actually excited about teaching writing now
and we love your Teacher Hub resources so much. Thank you.'
Deb Featherby, Nazareth Catholic College
South Australia
Training
Eye-opening, engaging and practical
Join us at our award-winning Workshop One – an immersive training experience that's guaranteed to spark real change in your school.
Our expert presenters deliver the perfect balance of theory, practical application and evidence (not to mention, the best tips and tricks!), so teachers come away confident and excited to roll the Seven Steps out in their classrooms.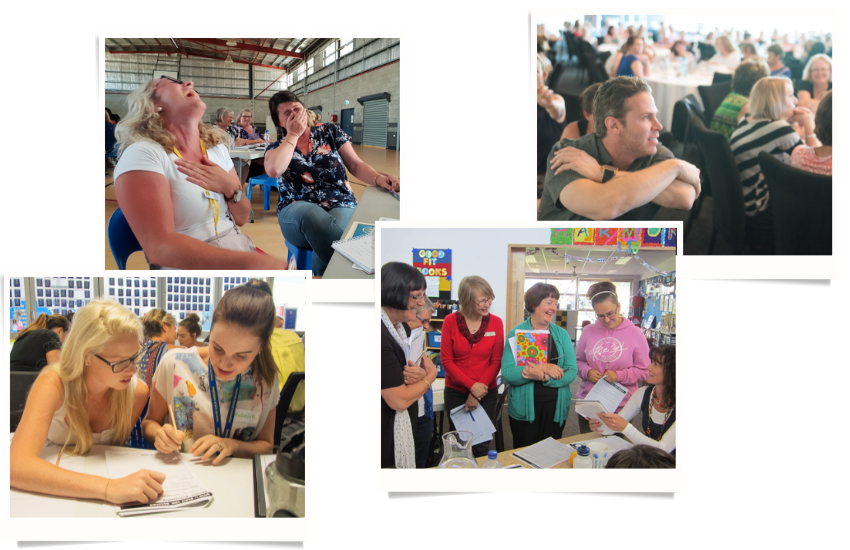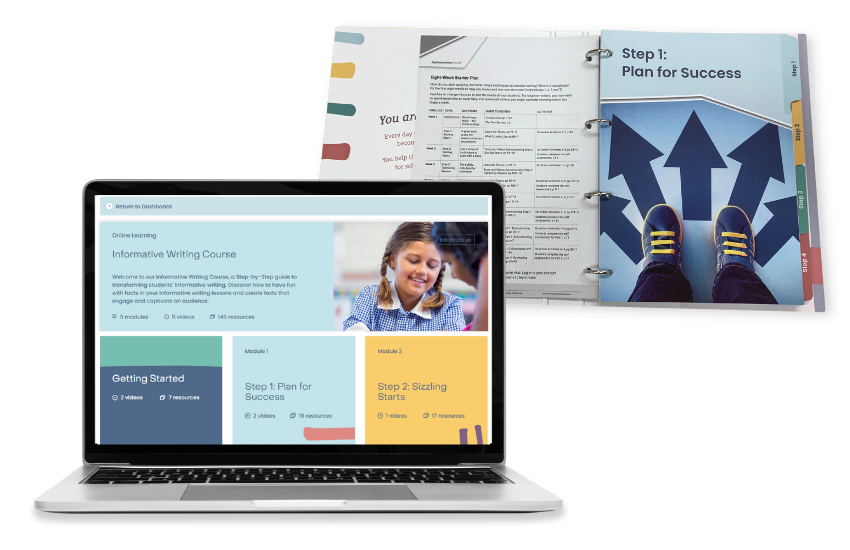 Resources
Designed by educators for educators
It's easy to learn, teach, apply and assess the Seven Steps with our award-winning resources – online member site Teacher Hub and the writing manuals (available in print and digital format).
Your school will have a Step-by-Step guide to rolling out the Seven Steps across text types, as well as access to classroom-ready writing resources and assessment tools.
That's all the support you need to easily develop implementation plans, build a common language and continuously improve student writing and engagement.
A whole school approach makes the greatest impact
Read or listen to these stories from real principals, literacy leaders and other school leaders who have implemented the Seven Steps in their schools around Australia.
'Brilliant. This needs to be every school's writing program.'
'I am able to see success in the implementation of the Seven Steps across the whole school – we have seen improvement in student writing and in our writing culture. Students are excited about writing!'
Primary Curriculum Leader
Real Student Results
69% of students improved by more than one NAPLAN band
In just 10 weeks, the majority of students taught the Seven Steps improved by the equivalent of 2 years in writing ability!
'Marking NAPLAN this year, the Seven Steps flair in students' writing was certainly noticeable. I could pick the Sizzling Starts with Show, Don't Tell. I just wish there were more of them!'
Teaching/Learning Coordinator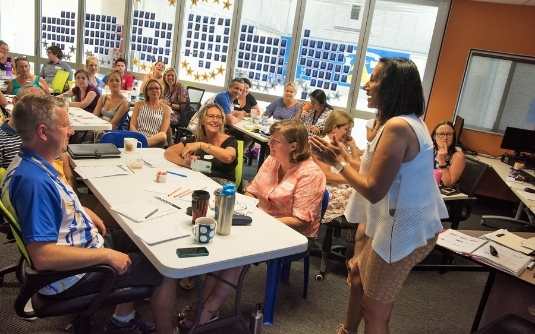 Engaging professional learning
Bring our expert Seven Steps presenters to you. We offer full-day training at your school or the option to break it into three live Zoom sessions.
When teachers are inspired,
amazing things happen
'Seven Steps to Writing Success is one of the best professional learning activities
my staff have been involved in. I'm still hearing a buzz about the Seven Steps in the staff room
and we're seeing tangible results in student writing.'
Cindy Gardiner, Principal
Bilgola Plateau Public School
New South Wales
Evidence and research
The Seven Steps are based on best-practice pedagogy and supported by years of educational research. Learn about the principles that underpin the Seven Steps.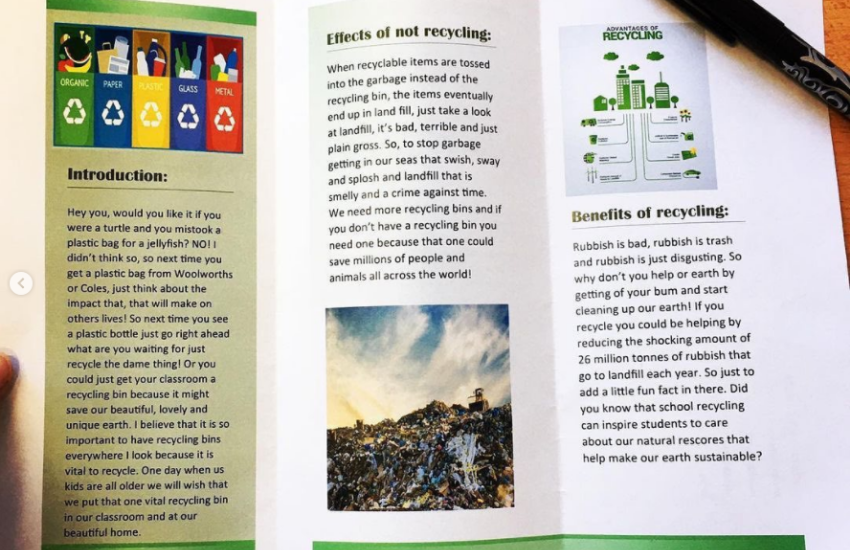 This is what our persuasive writing unit was building to all term. 'All classes should have a recycling system!'
We used an adapted version of the @sevenstepswriting Plan for Success template. Once drafts were written we practised self and peer editing.
Once the editing process was finalised students chose one of three brochure options to create these amazing, informative and eye-catching persuasive texts.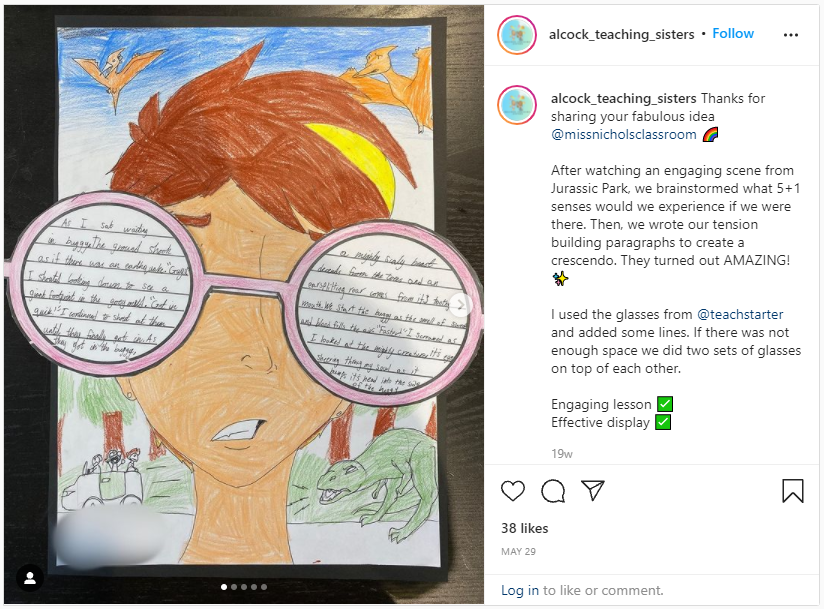 After watching an engaging scene from Jurassic Park, we brainstormed what 5+1 senses would we experience if we were there. Then, we wrote our tension building paragraphs to create a crescendo. They turned out AMAZING!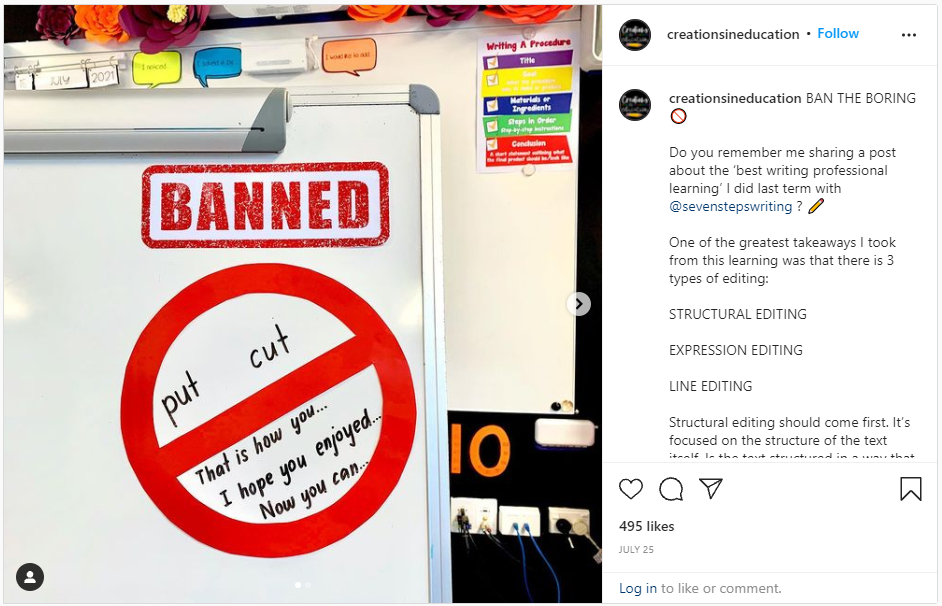 Do you remember me sharing a post about the best writing professional learning I did last term with @sevenstepswriting?
One of the greatest takeaways I took from this learning was that there are 3 types of editing:
STRUCTURAL EDITING
EXPRESSION EDITING
LINE EDITING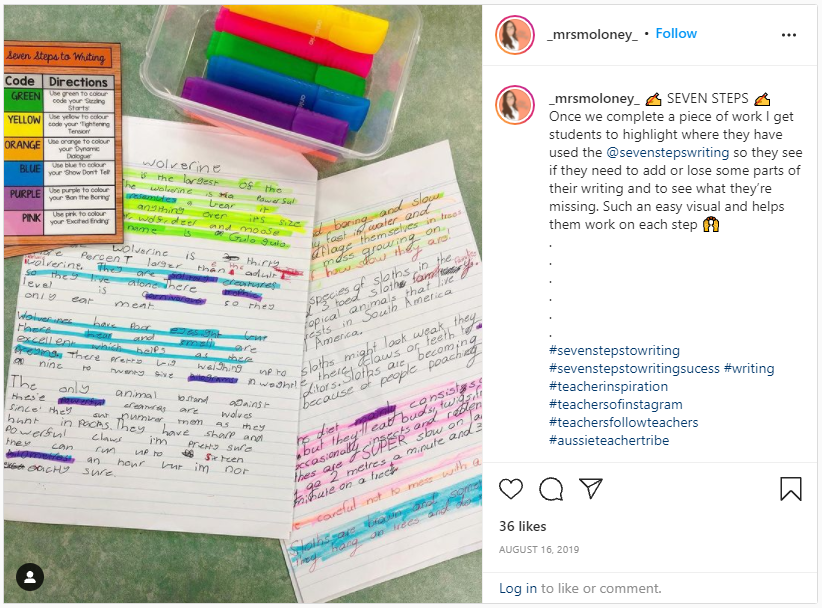 Once we complete a piece of work I get students to highlight where they have used the @sevenstepswriting so they see if they need to add or lose some parts of their writing and to see what they're missing. Such an easy visual and helps them work on each step.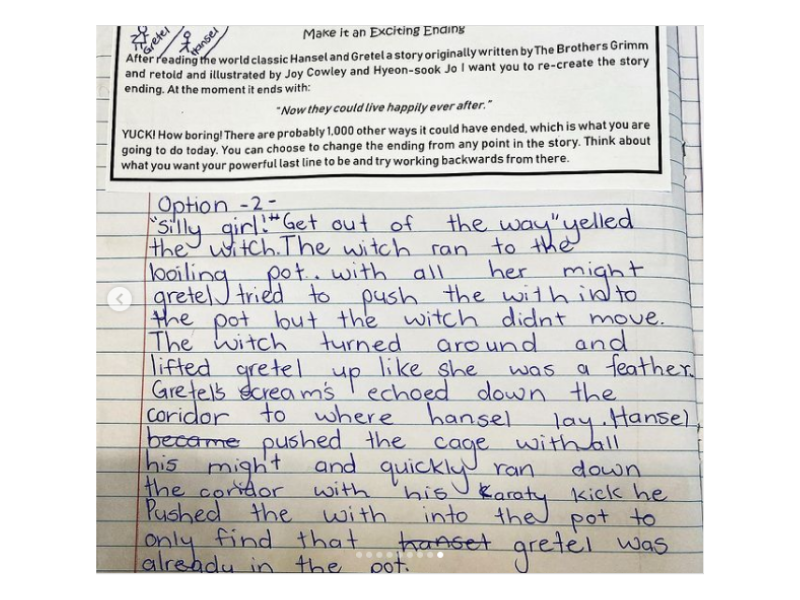 'Silly girl! Get out of the way!' yelled the witch. The witch ran to the boiling pot. With all her might Gretel tried to push the witch into the pot but the witch didn't move. The witch turned around and lifted Gretel up like she was a feather. Gretel's screams echoed down the corridor to where Hansel lay. Hansel pushed the cage with all his might and quickly ran down the corridor with his karate kick he pushed the witch into the pot to only find that Gretel was already in the pot.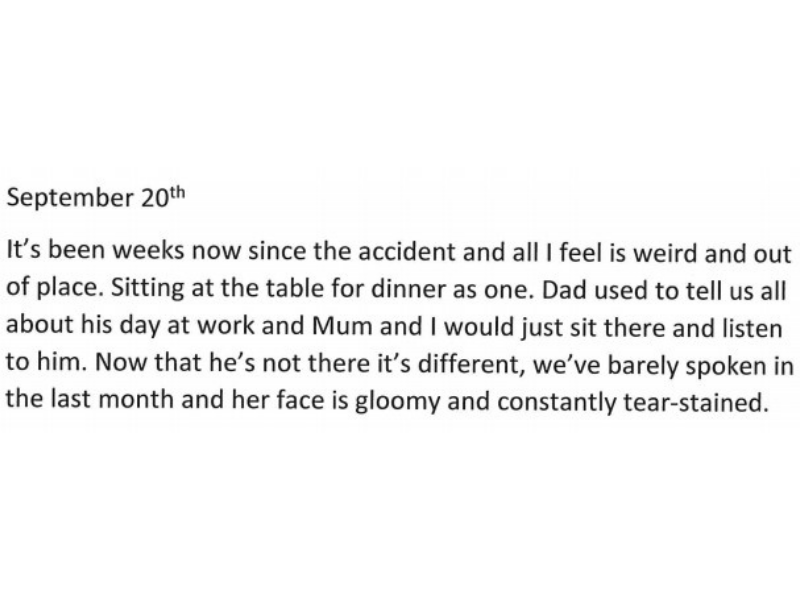 September 20th
It's been weeks now since the accident and all I feel is weird and out of place. Sitting at the table for dinner as one. Dad use to tell us all about his day at work and Mum and I would just sit there and listen to him. Now that he's not there it's different, we've barely spoken in the last month and her face is gloomy and constantly tear-stained.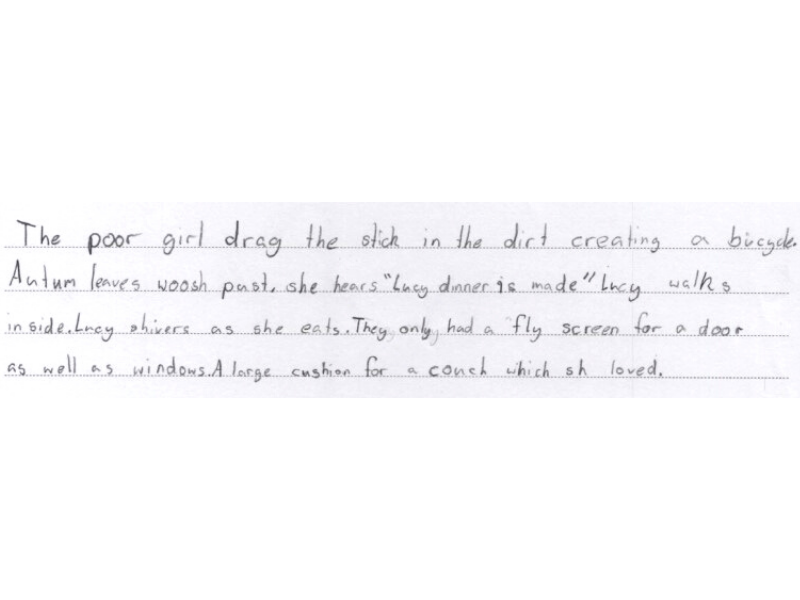 The poor girl drag the stick in the dirt creating a bicycle. Autumn leaves woosh past, she hears 'Lucy dinner is made' Lucy walks inside. Lucy shivers as she eats. They only had a fly screen for a door as well as windows. A large cushion for a couch which she loved.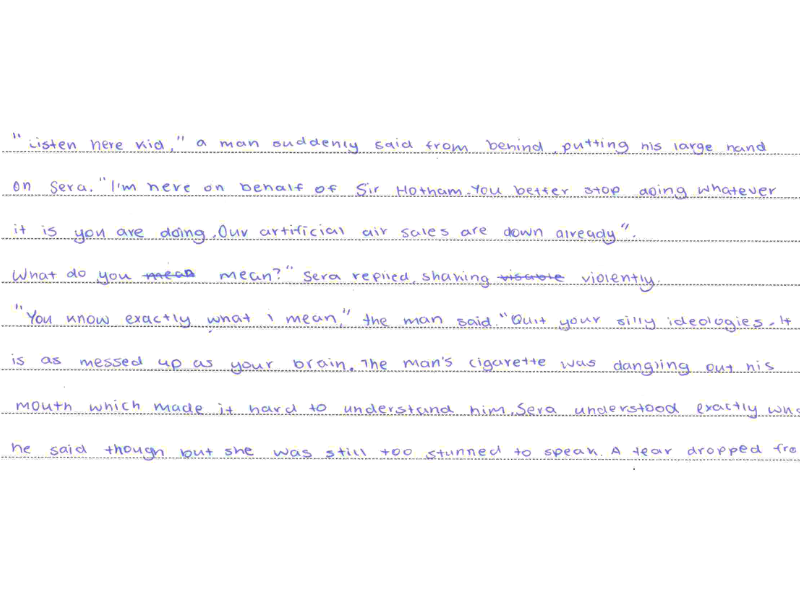 'Listen here kid,' a man suddenly said from behind, putting his large hand on Sera. 'I'm here on behalf of Sir Hotham. You better stop doing whatever it is you are doing. Our artificial air sales are down already.'
'What do you mean?' Sera replied, shaking violently.
'You know exactly what I mean,' the man said. 'Quit your silly ideologies. It is as messed up as your brain.' The man's cigarette was dangling out his mouth which made it hard to understand him. Sera understood exactly what he said though but she was still too stunned to speak.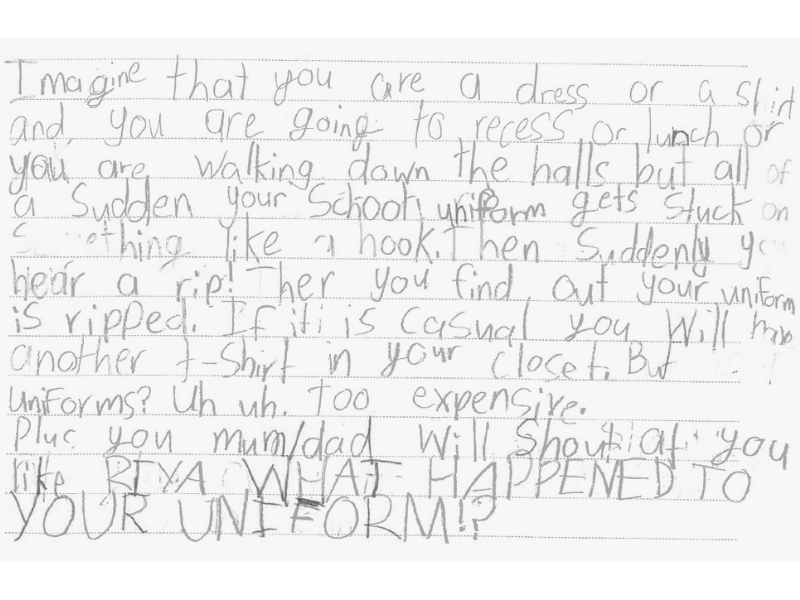 Imagine that you are a dress or a shirt and you are going to recess or lunch or you are walking down the halls but all of a sudden your school uniform gets stuck on something like a hook. Then suddenly you hear a rip! Then you find out your uniform is ripped. If it is casual you will have another t-shirt in your closet. But uniforms? Uh uh. Too expensive.
Plus your mum/dad will shout at you like RIYA WHAT HAPPENED TO YOUR UNIFORM?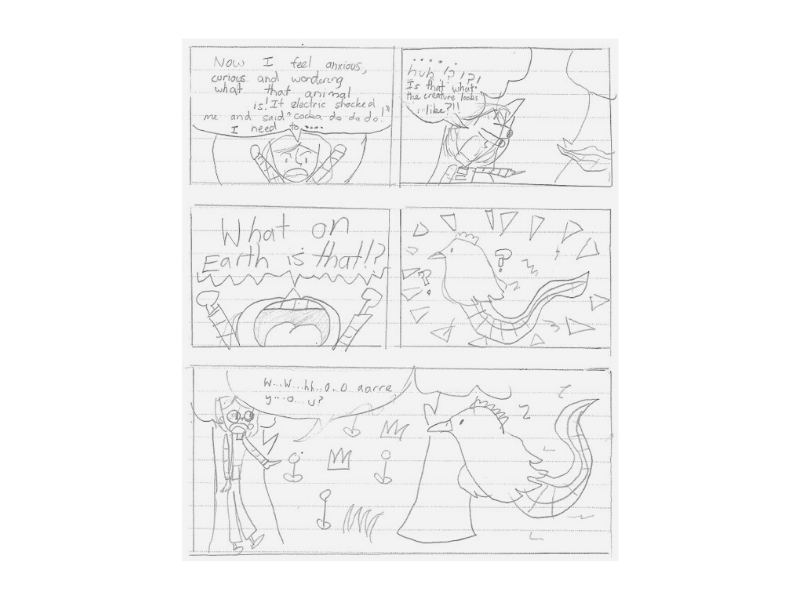 'Now I feel anxious, curious and wondering what that animal is! It electric shocked me and said "cocka do da do!" I need to …'
'…huh!?!?! Is that what the creature looks like?!!'
'What on Earth is that!?'
'W … W … hh … o … o aarre y … o … u?'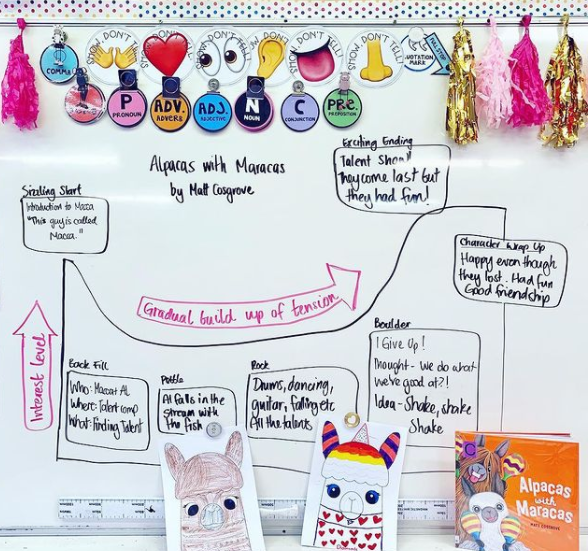 This week was all about the National Simultaneous Storytime #nss2019 We absolutely loved unpacking Alpacas with Maracas using the @sevenstepswriting story graph template, followed by our @teachstarter funky alpacas!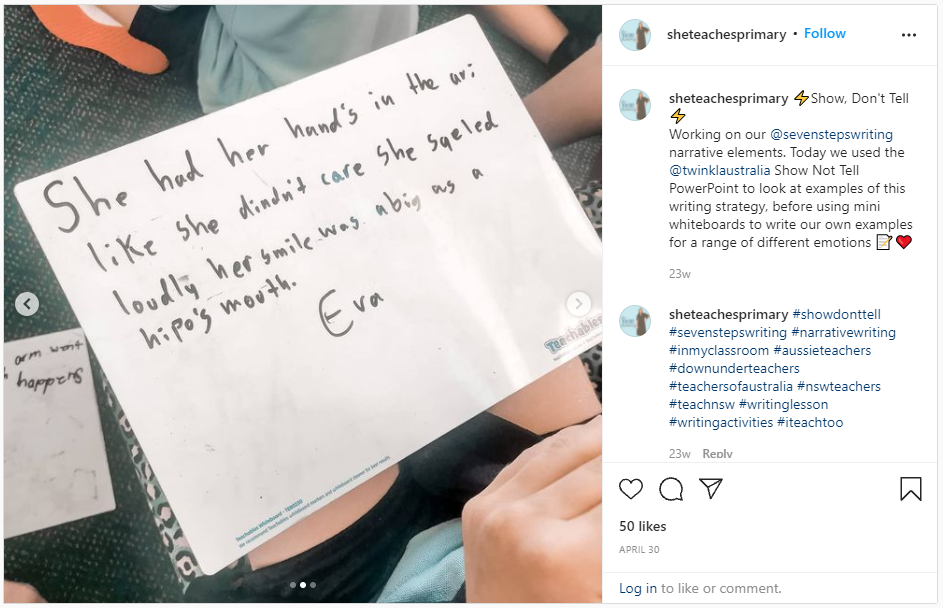 Working on our @sevenstepswriting narrative elements. Today we used the @twinklaustralia Show Not Tell PowerPoint to look at examples of this writing strategy, before using mini whiteboards to write our own examples for a range of different emotions.
From Workshop attendees
90% of Seven Steps teachers rated their workshop 9 or 10 out of 10!
'Our School Subscription has been invaluable in upskilling our staff (many beginning teachers) with the tools to use Seven Steps in the classroom.'
'We have used Teacher Hub to roll out the Seven Steps across our school with positive feedback and results on all fronts!'
Frequently asked questions
Does Seven Steps align with the Australian or State Curriculum?
Our focus at Seven Steps is on the creation of great writing. Every education jurisdiction in Australia considers writing extremely important, and all educators want students to become the best communicators they can be.
Each state and territory expects its students to write narrative, persuasive and informative texts, to get plenty of practice, and to learn to communicate in written, verbal and visual means. The Seven Steps strongly support these aims, with a focus on students practising the component steps of writing in an accessible way – sometimes in words, sometimes in verbal and visual language.
Do the Seven Steps address or improve spelling and grammar?
While Seven Steps doesn't specifically have a spelling and grammar course or series, we've seen vast improvements in all areas of writing when teaching the Seven Steps.
We thought Carly Brien (a Year 7 teacher from Henry Kendall High School) summed it up nicely:
'I really think that the students' spelling, grammar and punctuation improve because they are spending so much more time just writing! Usually students don't write in such volume like in Seven Steps and that has made all the difference.'
Are the Seven Steps helpful for Indigenous or ESL students?
 There are quite a few Seven Steps schools with a high percentage of Indigenous or EAL students who have achieved great success with the Seven Steps.
One of the loveliest stories came from a school that told us they scheduled their Seven Steps activities first thing in the morning every day. And yes, their literacy scores went up, but the fascinating outcome they did not expect was that their truancy rate halved!
Does Seven Steps cover analytical writing?
Our resources do not currently cover how to use the Seven Steps to write analytical essays responding to prompts about novels, films, poetry and other cultural productions such as art. We do touch on techniques such as compare and contrast in our new Informative Writing Manual, but not in the context or depth that would be required when teaching analytical writing with Year 9 and 10 students.
How do we use Seven Steps with other writing programs?
Unlike many other programs, Seven Steps focuses on the authorial, big picture skills of planning and drafting a text. We focus on the creative, fun side of writing in a structured way that teaches students critical thinking strategies about writing: what to say, how to say it, when to make certain decisions, and how to engage and hold a reader's attention.
You can slip the short, fun Seven Steps activities into your weekly writing program, or you can use it with complementary programs that focus on other aspects of literacy, such as sentence structure, grammar and spelling.
The Australian Curriculum and every state curriculum or syllabus require students to learn both authorial and secretarial skills with the aim of being clear, competent communicators. The Seven Steps improve students' authorial writing skills – and you can be confident that our approach fits with other programs as well as meeting the curriculum.
For more information, see the following blog post: Seven Steps and the Australian Curriculum