Get started today
Join more than 45,000 teachers who are transforming writing classrooms with the Seven Steps!
'The difference in my students' writing has been outstanding. My class now cheers when I tell them it's writing time! Thank you for changing the way I teach writing.'
Ready for a simple approach to improve student writing?
Do any of these sound familiar?
Student after student turning in: 'On the weekend, I…' or '…and then I woke up.'
Class begins with a groan and ends with pencils just as sharp as when class started!
Disengaged and overwhelmed students.
Then it's time to break down writing.
It's time to introduce short, fun and engaging writing activities to ignite your students' passion and creativity.
It's time to explore ideas, empower students and nurture a love of writing!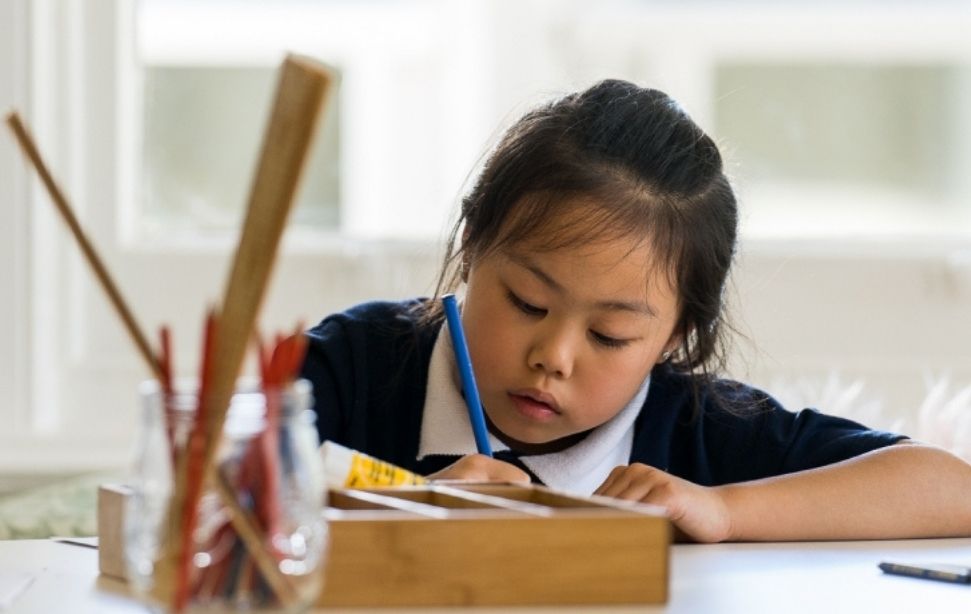 Create an engaging and inspiring writing classroom
Imagine a vibrant writing classroom, where every student is engaged and contributing ideas.
When they write, there's no hesitation or resistance. Students of all abilities and levels are confident and on task.
They share their work with excitement, and don't want to put down their pencils!
This is what a Seven Steps classroom looks like.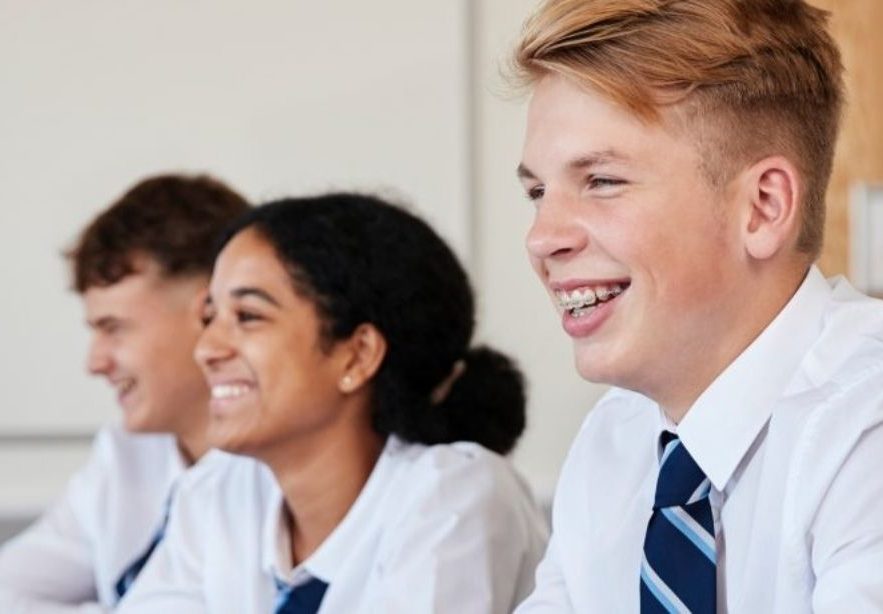 Join over 45,000 teachers who are transforming writing classrooms with the Seven Steps.
Learn how the Seven Steps can help you develop your students' writing skills, improve results and increase confidence and enjoyment in writing.
Hear from real teachers and students, and check out stories from real classrooms…
'Seven Steps has really changed my view of creative writing. I now love writing so much that I want to be an author. Thank you very much!'
'I'm overjoyed with the writing outcomes and knowledge my students are showing. It's amazing to see them so engaged. The support this program offers is just outstanding. You've inspired me to be a better teacher!'
Interested in a whole-school approach?
Implement a framework for writing that enables collaboration, creates a common language, saves time and inspires passionate teaching.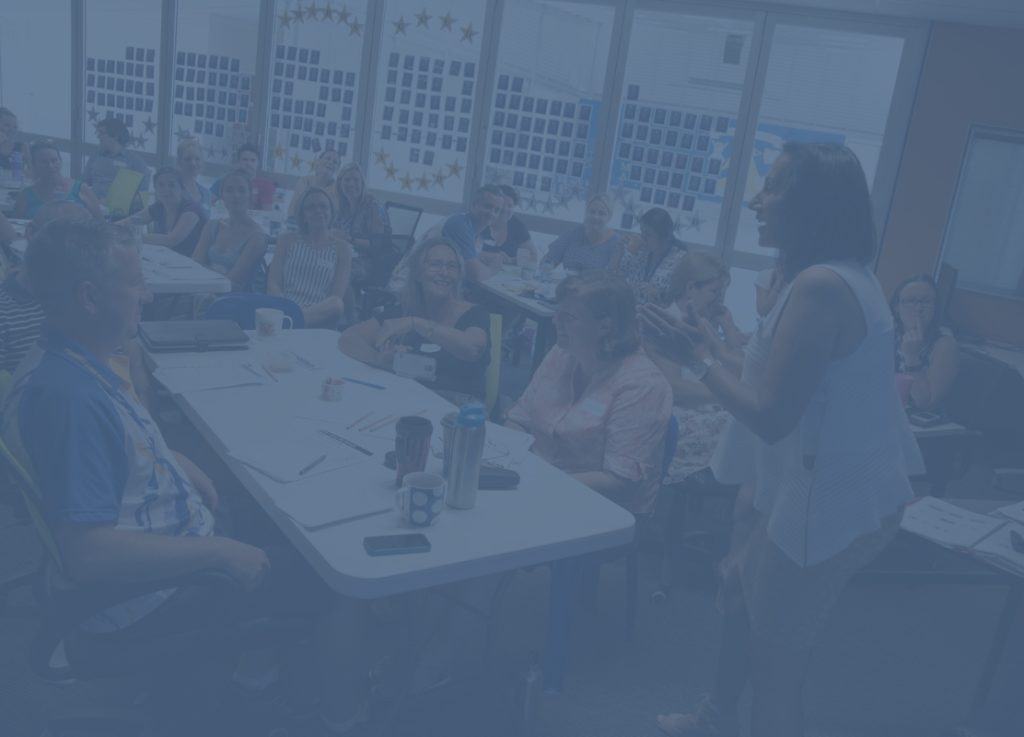 Transform writing at your school
Start with an inspiring and practical workshop, pair it with award-winning resources and see writing data soar!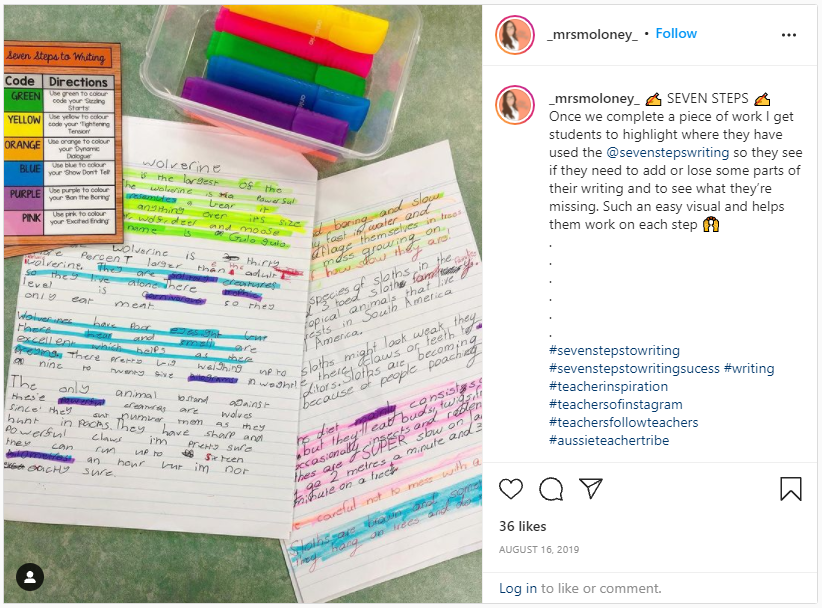 Once we complete a piece of work I get students to highlight where they have used the @sevenstepswriting so they see if they need to add or lose some parts of their writing and to see what they're missing. Such an easy visual and helps them work on each step.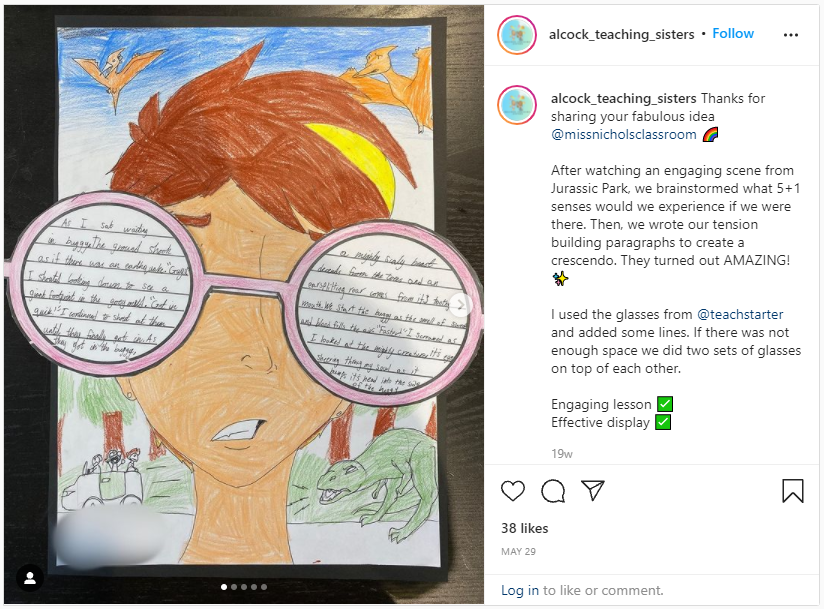 After watching an engaging scene from Jurassic Park, we brainstormed what 5+1 senses would we experience if we were there. Then, we wrote our tension building paragraphs to create a crescendo. They turned out AMAZING!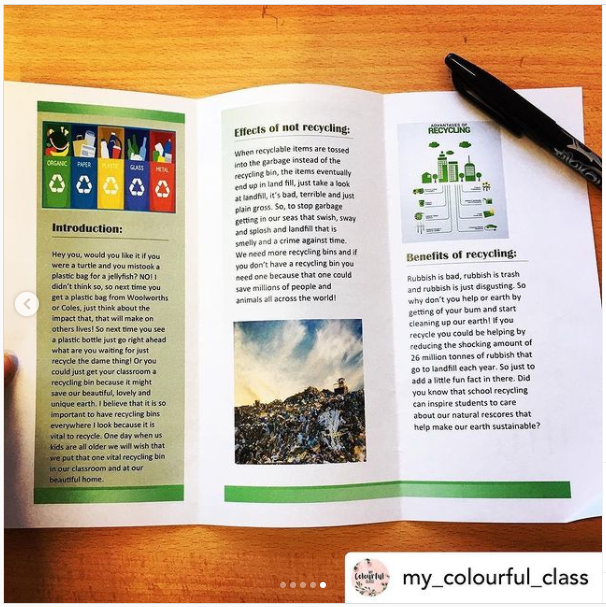 This is what our persuasive writing unit was building to all term. 'All classes should have a recycling system!'
We used an adapted version of the @sevenstepswriting Plan for Success template. Once drafts were written we practised self and peer editing.
Once the editing process was finalised students chose one of three brochure options to create these amazing, informative and eye-catching persuasive texts.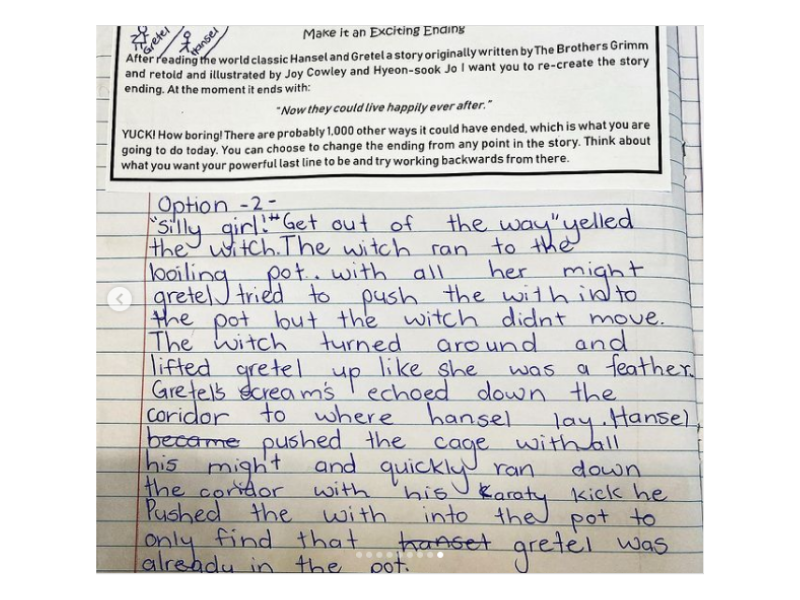 'Silly girl! Get out of the way!' yelled the witch. The witch ran to the boiling pot. With all her might Gretel tried to push the witch into the pot but the witch didn't move. The witch turned around and lifted Gretel up like she was a feather. Gretel's screams echoed down the corridor to where Hansel lay. Hansel pushed the cage with all his might and quickly ran down the corridor with his karate kick he pushed the witch into the pot to only find that Gretel was already in the pot.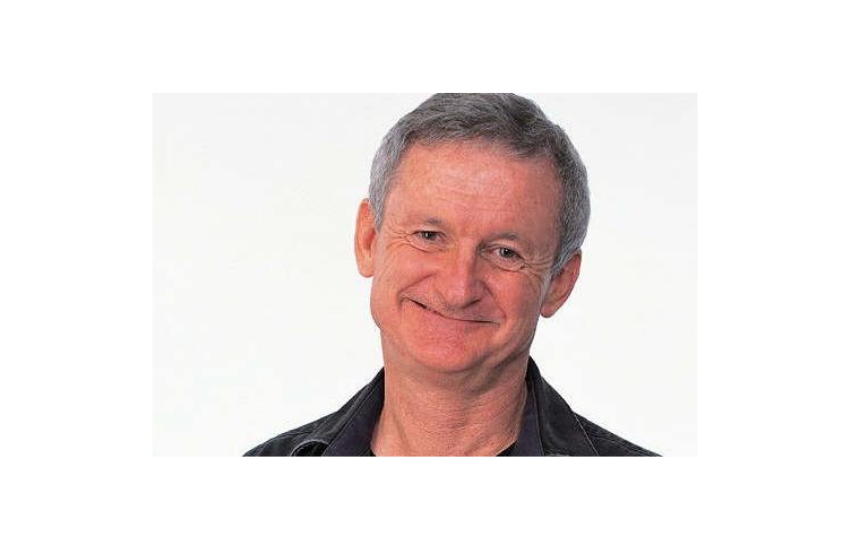 I always have the ending defined well before I start. Any short story should have a 'wham' at the end.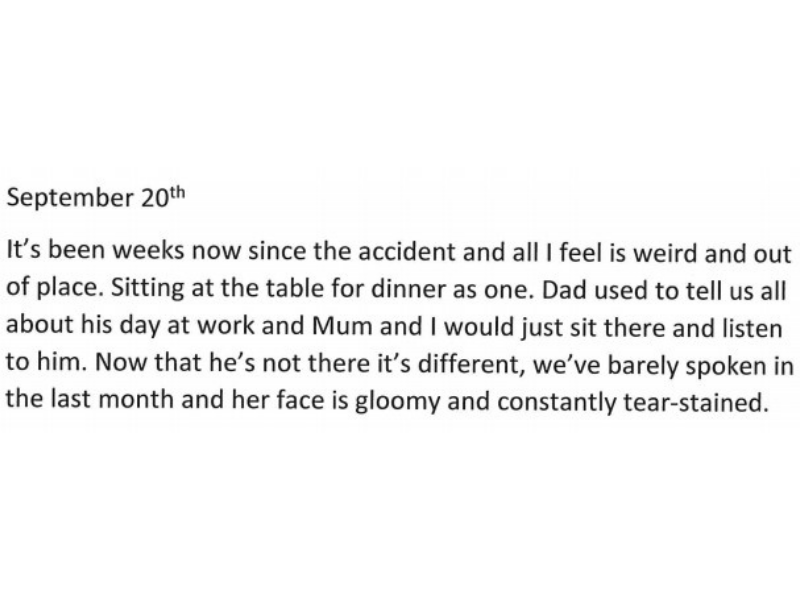 September 20th
It's been weeks now since the accident and all I feel is weird and out of place. Sitting at the table for dinner as one. Dad use to tell us all about his day at work and Mum and I would just sit there and listen to him. Now that he's not there it's different, we've barely spoken in the last month and her face is gloomy and constantly tear-stained.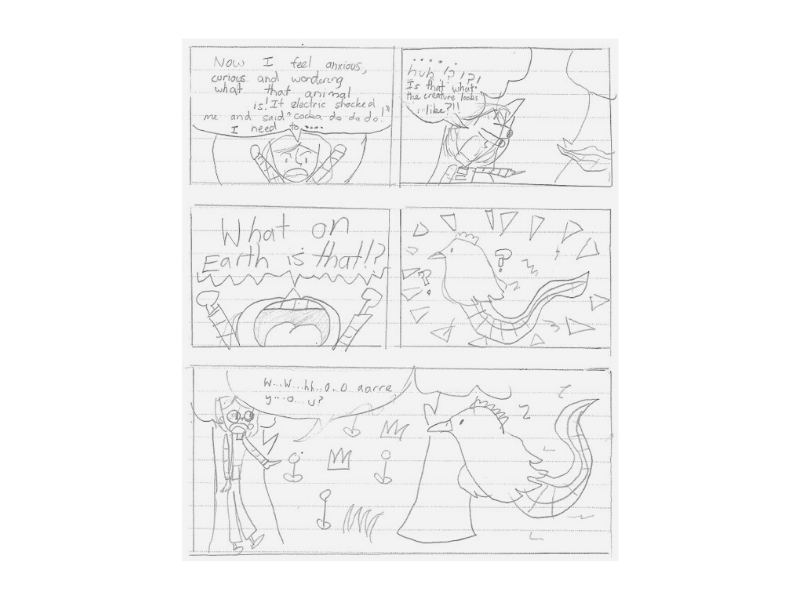 'Now I feel anxious, curious and wondering what that animal is! It electric shocked me and said "cocka do da do!" I need to …'
'…huh!?!?! Is that what the creature looks like?!!'
'What on Earth is that!?'
'W … W … hh … o … o aarre y … o … u?'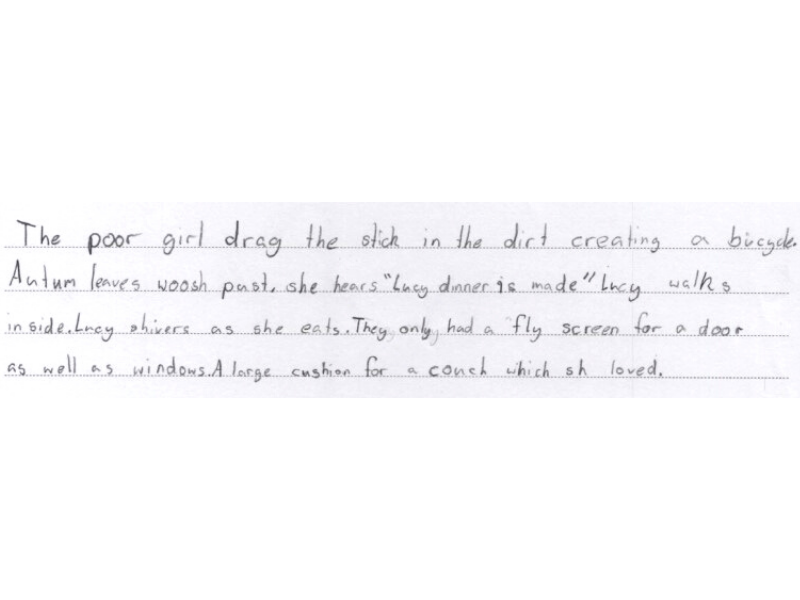 The poor girl drag the stick in the dirt creating a bicycle. Autumn leaves woosh past, she hears 'Lucy dinner is made' Lucy walks inside. Lucy shivers as she eats. They only had a fly screen for a door as well as windows. A large cushion for a couch which she loved.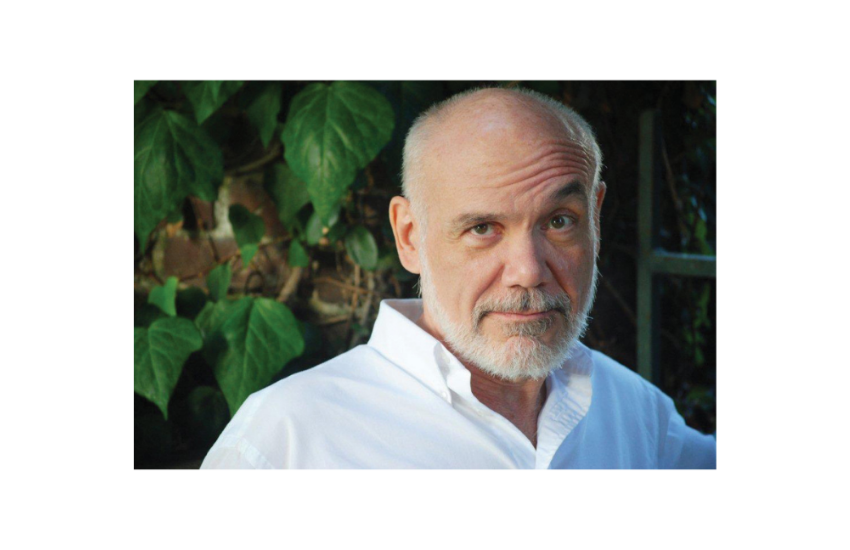 Don't tell me Mr Jacobs is a mean man. Have him kick the cat and I'll figure it out on my own.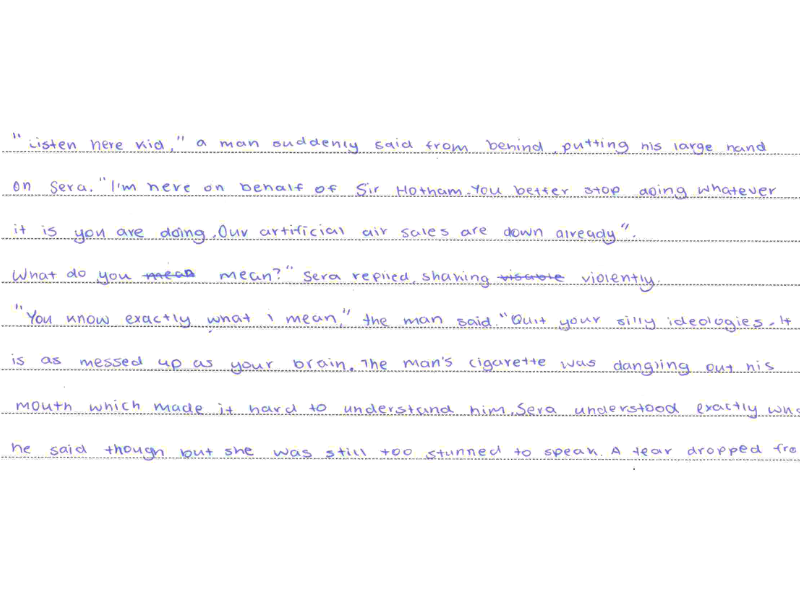 'Listen here kid,' a man suddenly said from behind, putting his large hand on Sera. 'I'm here on behalf of Sir Hotham. You better stop doing whatever it is you are doing. Our artificial air sales are down already.'
'What do you mean?' Sera replied, shaking violently.
'You know exactly what I mean,' the man said. 'Quit your silly ideologies. It is as messed up as your brain.' The man's cigarette was dangling out his mouth which made it hard to understand him. Sera understood exactly what he said though but she was still too stunned to speak.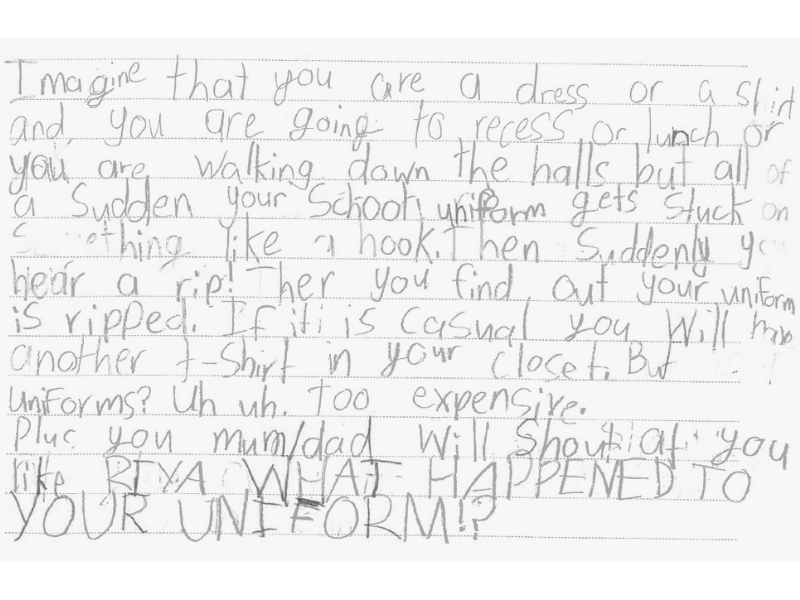 Imagine that you are a dress or a shirt and you are going to recess or lunch or you are walking down the halls but all of a sudden your school uniform gets stuck on something like a hook. Then suddenly you hear a rip! Then you find out your uniform is ripped. If it is casual you will have another t-shirt in your closet. But uniforms? Uh uh. Too expensive.
Plus your mum/dad will shout at you like RIYA WHAT HAPPENED TO YOUR UNIFORM?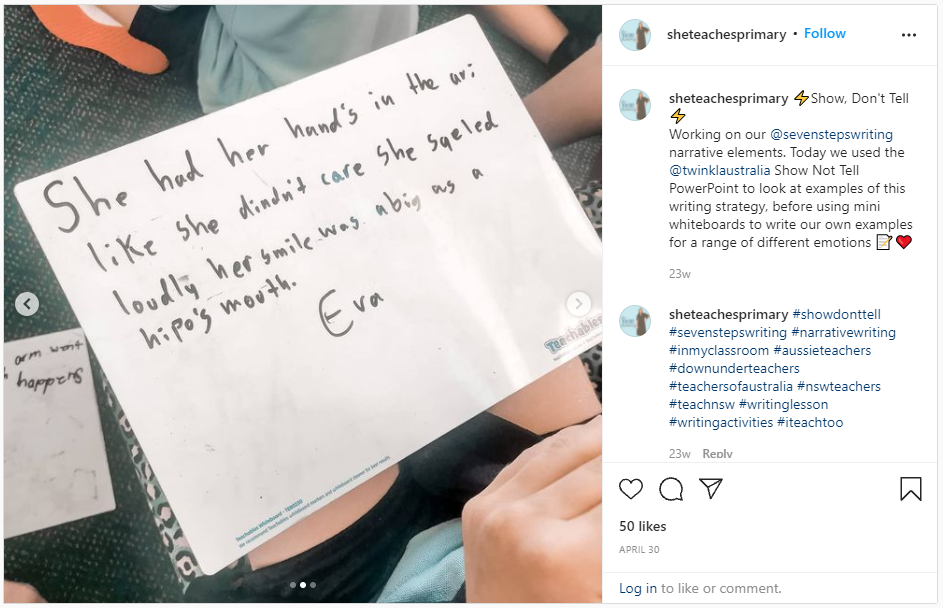 Working on our @sevenstepswriting narrative elements. Today we used the @twinklaustralia Show Not Tell PowerPoint to look at examples of this writing strategy, before using mini whiteboards to write our own examples for a range of different emotions.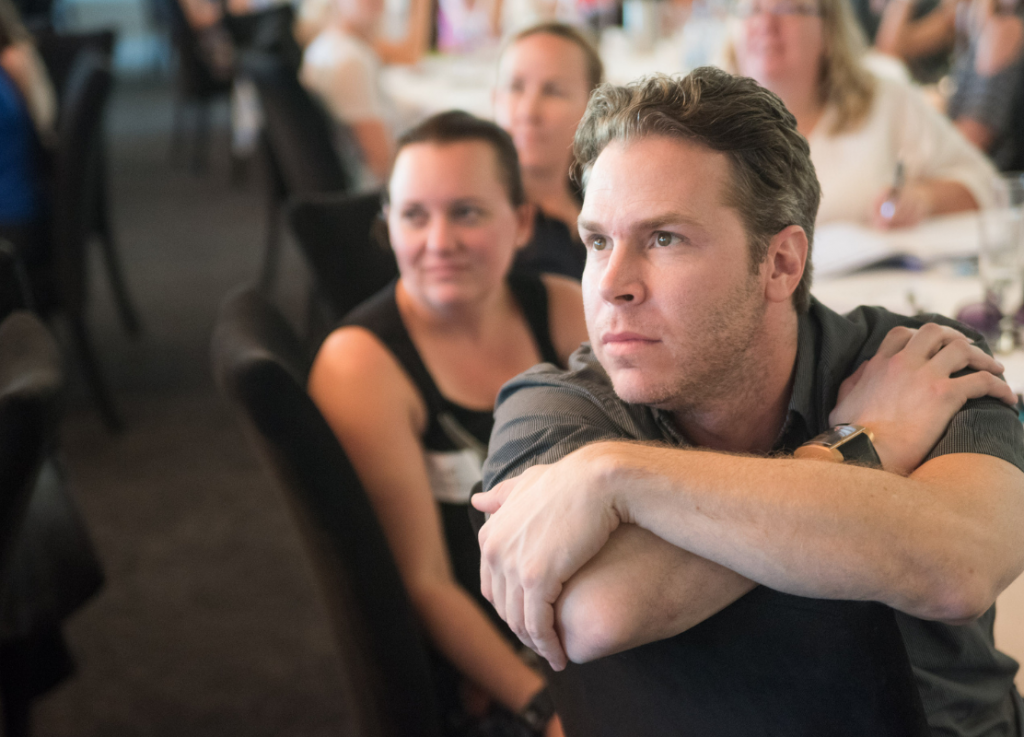 Workshops
Learn it one day, teach it the next.
Fun and interactive, you'll leave ready to empower students to reach their full potential!
Online sessions also available.
Teacher Hub
Your ultimate support tool for teaching writing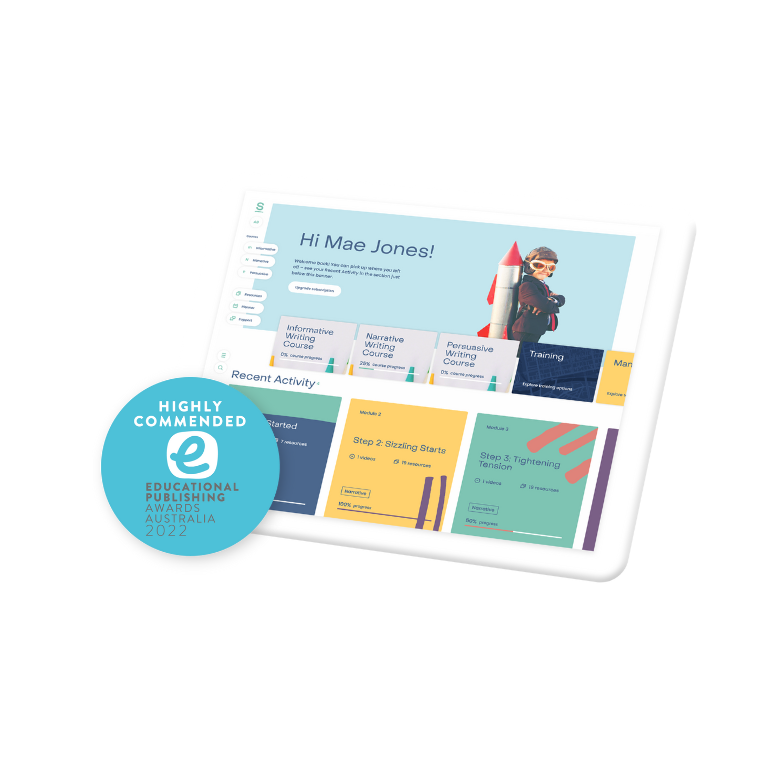 Individual and school options
Workshop reviews
90% of Seven Steps teachers rated their workshop 9 or 10 out of 10!
Teacher Hub reviews
'A great variety of practical and instructional information to motivate and enhance the teaching of writing.'

Karen Deacon, Principal
Workshop reviews
'Diane was outstanding - full of engaging ideas to use in the classroom. The activities were engaging and kept us thinking creatively.'

Annette Stinson, Teacher
FAQs
What's the best way to get started with the Seven Steps?
The perfect way to learn the Seven Steps is in our powerful, interactive and fun Workshop One: Seven Steps to Transform Writing. There, you'll learn all Seven Steps and how to get started back in the classroom the very next day. Workshop One is available either as a face-to-face workshop held around Australia, or online through three 90-minute Zoom sessions.
If you can't make it to Workshop One, Teacher Hub is another great solution. With in-depth online writing courses and over 500 simple and effective activities, resources and videos at your fingertips, Teacher Hub can make lesson planning quick and easy! Unlock your free trial today to try on-demand access to everything you need to learn, teach, apply and assess the Seven Steps.
Are the Seven Steps suitable for my year level?
The Seven Steps program was designed by an author for real-life writing, and was originally aimed at adults. So the Seven Steps are practical and helpful for anyone looking to write better – whether they are four or 100!
Our training and resources are designed to enable teachers to understand the theory through rapid-fire activities and examples that they can take back to their classroom the next day. As such, we've got resources that can be used with pre-writers, secondary students and all ages in between.
My students haven't started writing yet. Would the Seven Steps still be useful?
Literacy research in the early years has suggested that when children are encouraged to share their ideas through drawing, talking, acting and writing, they become more confident and involved writers.
Therefore, the Seven Steps approach is designed so teachers can teach pre-writers the early concepts, theories and techniques of great writing.
Students don't need to be able to write yet. They can learn how to tell a story verbally, draw one or cut out pictures and paste them on paper. Being able to read and write isn't a necessity to tell a great story.
Beginner Writers Manual (formerly the Early Years Manual)
How do we use Seven Steps with other writing programs?
Unlike many other programs, Seven Steps focuses on the authorial, big picture skills of planning and drafting a text. We focus on the creative, fun side of writing in a structured way that teaches students critical thinking strategies about writing: what to say, how to say it, when to make certain decisions, and how to engage and hold a reader's attention.
You can slip the short, fun Seven Steps activities into your weekly writing program, or you can use it with complementary programs that focus on other aspects of literacy, such as sentence structure, grammar and spelling.
The Australian Curriculum and every state curriculum or syllabus require students to learn both authorial and secretarial skills with the aim of being clear, competent communicators. The Seven Steps improve students' authorial writing skills – and you can be confident that our approach fits with other programs as well as meeting the curriculum.
For more information, see the following blog post: Seven Steps and the Australian Curriculum
Do the Seven Steps address or improve spelling and grammar?
While Seven Steps doesn't specifically have a spelling and grammar course or series, we've seen vast improvements in all areas of writing when teaching the Seven Steps.
We thought Carly Brien (a Year 7 teacher from Henry Kendall High School) summed it up nicely:
'I really think that the students' spelling, grammar and punctuation improve because they are spending so much more time just writing! Usually students don't write in such volume like in Seven Steps and that has made all the difference.'
Are the Seven Steps helpful for Indigenous or ESL students?
There are quite a few Seven Steps schools with a high percentage of Indigenous or EAL students who have achieved great success with the Seven Steps.
One of the loveliest stories came from a school that told us they scheduled their Seven Steps activities first thing in the morning every day. And yes, their literacy scores went up, but the fascinating outcome they did not expect was that their truancy rate halved!
Can the Seven Steps help with my special needs students/class?
The Seven Steps approach has been able to engage students who are unable to succeed in typical schooling due to special needs or difficult circumstances. We're touched by some of the responses we get.
'We have students referred to our school that have experienced significant trauma in their lives that impedes their ability to access and succeed in mainstream schooling … since implementing the Seven Steps we have seen increased engagement, participation and improvement from our students in writing. Thank you!' – Stuart Jamieson, MacKillop Family Services.
Ready to start transforming student writing?
Try Teacher Hub for free for 14 days