5 mins
Classroom Activities
Rebecca Hill
Get ready to Read, Grow and Inspire with these new resources for Book Week 2023!
It's that time of year again when we get to spend a WHOLE week thinking, doing and talking all things books. Who doesn't relish the dress-up parades, the themed activities and the dazzling displays? It's a week-long party for novice readers and book fiends alike. Not to mention our dedicated teacher librarians having their moment in the sun!
This year, Book Week falls during the week of 19–25 August, with the theme Read, Grow, Inspire. And given that the Seven Steps approach is all about inspiration and growth, we are here for it. 
Nurturing a love of reading will in turn improve students' writing skills. Integrating the Seven Steps into your reading program by examining the techniques in action in existing texts helps consolidate students' understanding before they experiment with the techniques in their own writing. Reading circles are a fun way to do this and promote real engagement with books in the classroom.
Reading circles
Reading circles can work across any year level, subject area and literacy level – from emerging to gifted readers. And Book Week is the perfect opportunity to try them in your classroom.
What is a reading circle? Imagine a book club, then take away the wine and cheese, and add in some structure. In a nutshell, a small group of students all read the same text while each taking on a specific role – e.g. Plot Summariser or Character Captain. This provides an accessible framework for students to engage in critical thinking while reading and discussing the book. 
Use reading circles to read, grow and inspire
There's no single approach for running reading circles but collaboration is always at its heart. Here are our tips for helping students to read, grow confident about what they've read and be inspired to read more:
Model the roles and structure so everyone knows what's expected, but then step back and let students take charge of their own discussions. The aim is for students to bounce ideas off each other in order to deepen their understanding of the text.
Allow students to choose their book from a range of options within their reading level and then group them based on their selection. You'll get better buy-in this way and students will feel more ownership in the learning process.
Keep the groups small (4–6 students) so everyone has a voice, including students who might hesitate to contribute in other settings.
Encourage students to swap their roles each session so they get a chance to see the text from multiple perspectives and respond in a variety of ways.
Work your way around the groups during reading sessions to provide support during group discussions and gauge students' understanding.
Download your free Book Week resource
The good news is that we've created a fab new reading circles resource – with a distinctly Seven Steps flavour – for you to use in your classroom. Normally only available to Teacher Hub Essentials members, we're thrilled to share a free sample download with you just in time for Book Week. 
Your free sample includes 3 ready-to-go reading circles templates for the roles of:
Plot Summariser: Students summarise the important parts they've read in dot points on the story graph.
Sizzle Spotter: Students identify the Sizzling Starts techniques and describe their impact on the reader.
Show Scene Analyst: Students find examples where the author shows, rather than tells the reader what's happening in the story and explain their effect on the reader.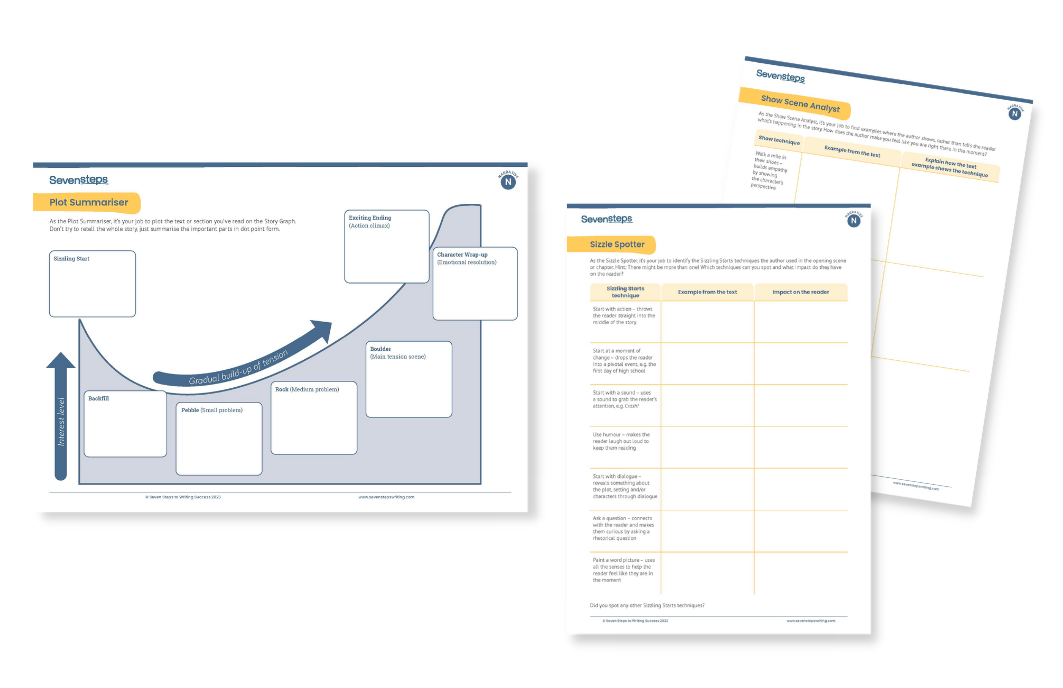 But that's not all! 
We've given this set of free templates the Book Week treatment by completing an extra set using one of the CBCA shortlisted Picture Books of the Year, Frank's Red Hat by Sean E Avery. This book is an absolute delight, including myriad themes to explore with students of all ages. The illustrations alone will have you in stitches (the eyes say it all!) and extra layers reveal themselves with each reading. (Don't miss the hilarious twist on the last page!)

You can use these completed templates to model the reading roles for students before they have a go themselves or to guide discussion about the book with your class.
Want even more?
Teacher Hub Essentials members can access the full Reading Circles resource which provides templates for 10 different reader roles, giving students a broad range to choose from. For a limited time this resource will be available to Trial members as well so sign up today for a 14-day free trial of Teacher Hub.
Reading Circles
STEP Putting It All Together
PURPOSE Apply
RESOURCE TYPE Read to Write resources
YEAR F–10
Explore examples of the Seven Steps techniques in action in existing texts
Consolidate students' understanding of the Seven Steps through reading
See reading circles in action …

Collaboration at its finest!
Seven Steps presenter Deb Larmer from Our Lady of the Pines Catholic Primary School has shared some photos of her students plotting Frank's Red Hat on the Seven Steps Narrative Story Graph. Great work Marcus, Hartegh, Lily, Ella and Marty! 🤩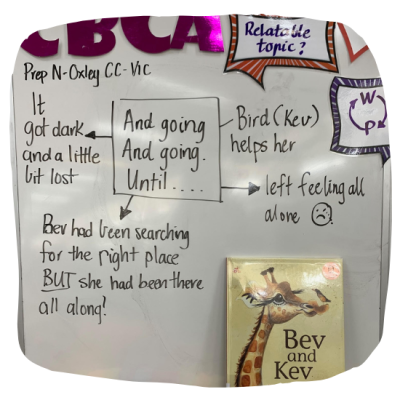 Seven Steps presenter Pina Sernio has shared the brainstorming activity she completed with her students.
Using the CBCA Shortlisted book Bev and Kev, Pina asked students to come up with alternative endings. 🥰
You'll find this activity and lots of other ideas below ⬇️
Try some extra writing activities for Book Week
There are so many brilliant ways to explore texts with your students. Here are a few ideas for you to try during Book Week or any other week! 
Make a comic strip or storyboard with captions showing the main events of the story. Download this free editable Storyboarding Template
Use the first line from the book as inspiration to brainstorm ideas for a Sizzling Start. [Sign up for a Teacher Hub Trial to try this resource: Action Activity – Borrowing Beginnings]
Read the book backwards – i.e. read the last paragraph first, then the penultimate … and the first paragraph last. This is great for looking at the structure of a text.
Write an alternative ending to the book. [Teacher Hub Essentials members: Try these resources: Writing Challenge – Finish It |  Template – Endless Possibilities]
Create a new character. [Teacher Hub Essentials members can use this Action Activity – Creating Characters]
Turn a scene from the book into a film script.
Write a poem about the book.
Check out even more Book Week activities from previous years:
Book Week 2021 – Escape to another world
Workshop One: Seven Steps to Transform Writing
Your perfect start to teaching the Seven Steps
Learn how to break down writing and build up student confidence.