5 min
Classroom Activities
Admin SEVEN STEPS
Let's start by saying that writing can be hard!
Writing an entire piece can be an almighty task. There's so much thinking involved and students often don't know where to start. It's no wonder you have so many reluctant writers.
But improving your students' writing and their confidence can be just as daunting.
What does 'good' writing look like?
How do you give explicit feedback?
How do you get students to take the feedback on board?
Don't worry, you're not alone.
The enormity of building students' confidence, and motivating reluctant writers while challenging advanced writers can be overwhelming. The solution?
6 teaching tips for your classroom
1. Break down the task
Reduce the cognitive load for yourself and your students, and keep it simple. This means students publish their work at the sentence and paragraph level initially, and slowly progress as their skills improve. The results will be far better in the long run.
2. Focus on one skill at a time
Your students have an innate love for stories and storytelling like they do for games and sports. We need to harness this and combine them.
Keep your writing activities short and the energy high. Watch students' engagement and confidence soar.
Switch from writing the whole piece to improving students' writing skills, one at a time.
You'll start to see amazing results!
3. Make your writing lessons noisy, fun and short
To quickly build confidence in reluctant writers, and inspire unique writing from your students, there are three words to focus on. Noisy, fun and short. If you can describe your writing classroom using these three words, you already have a motivated and engaged group of young writers!
A noisy writing classroom, with lots of laughter and humour, means your students are brainstorming, collaborating and learning through play.
Fun is a best-seller with students. If they're having fun, they'll start to love writing! When students enjoy their writing classes, they'll start to learn and improve.
One of the best ways to create a fun writing space with engaged students is through short writing activities.
4. Have your students write often

Give your class plenty of opportunities to write with different topics or forms of text (brainstorming, short stories, poems, comics, etc). Let them write lots of things, then ask them to choose what THEY think is the best and then share it.
When students are writing often, they'll succeed often and their confidence will surge!
5. Not all writing activities have to include writing!
For non-writers or emerging writers, let them draw or speak instead of writing words. Scribe for them, if it will help.
Try the fun and simple drawing and writing activity for introductions (Step 2: Sizzling Starts). Or use the Through the Window creative writing template.
Step 2: Sizzling Starts
Book Week Activity & Student Samples
Topic: You wake up to discover you have developed a special power overnight.
Created by Rosie Russell, Churchlands Primary School, WA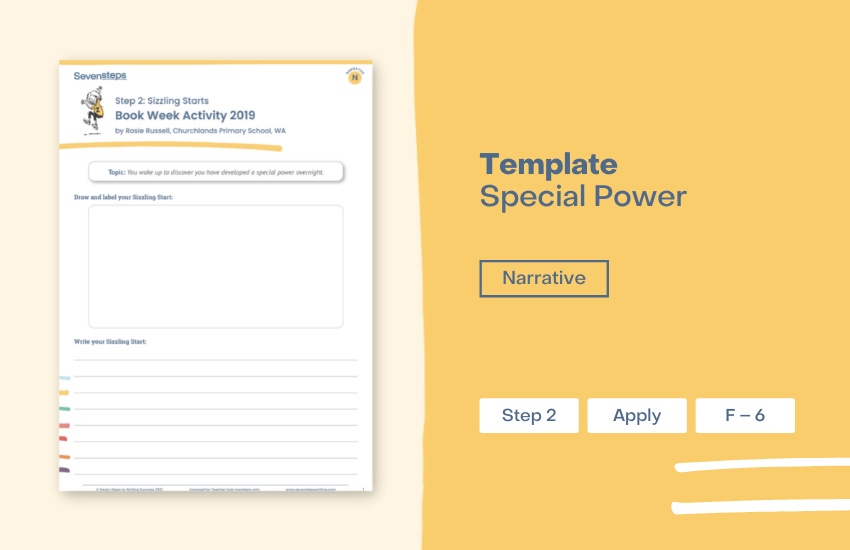 Through the Window
Develop your younger students' creativity with this fun writing template.
Use the prompt given or write your own. Your students will have a blast as they learn to write in an engaging way.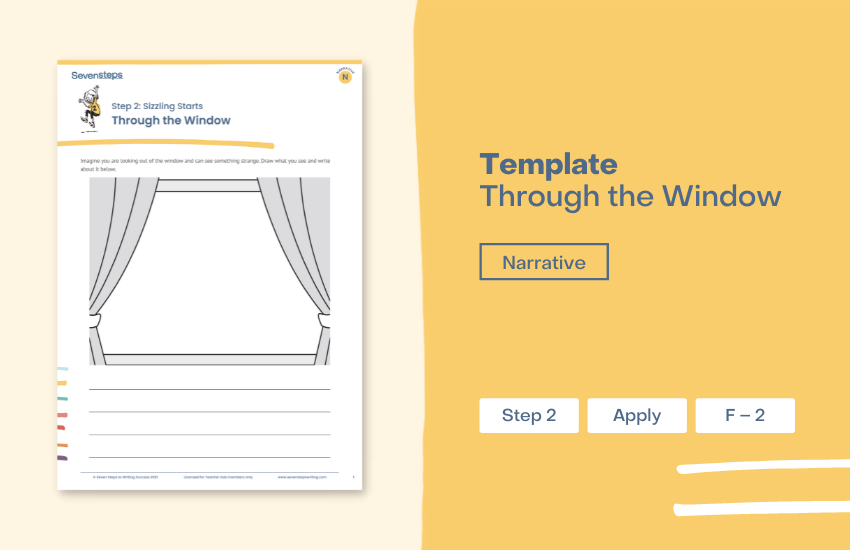 6. Celebrate with your students!
Create a Wow Wall, hand out certificates, extra perks and benefits!  Scroll to the bottom of our Narrative Competition Winners announcement post to the Highly Commended section for some examples of badges you could hand out.
Outcomes of this approach
Gives students a chance to identify and fully understand each writing skill.
Creates an opportunity to practise daily.
Students write across various topics, themes and text types.
Increases the chances of students mastering an individual skill.
Quickly builds their confidence, because they see their improvements every day.
Allows you to scaffold students' learning to cater to varying levels of ability.
You can have fun in your writing classroom!
Here are some ground rules:
Teach and practise writing techniques and skills BEFORE writing whole pieces.
Practise ONE skill at a time.
Practise daily with lots of repetition.
When practising a skill, value creativity over spelling and grammar.
Use short, fun writing activities.
Revisit and revise throughout the year to consolidate understanding.
To use the teaching technique of chunking to its fullest, it's important to understand which aspects of writing to focus on. This is where the Seven Steps comes in!
To learn how to chunk writing tasks and make your writing lesson simple, fun and effective, come along to Workshop One: Seven Steps to Transform Writing.
Workshop One: Seven Steps to Transform Writing
Your perfect start to teaching the Seven Steps
Learn how to break down writing and build up student confidence.