4 min
Classroom Activities
Carmen Donges
It's that time again – the year just speeds by, doesn't it? Almost as fast as a … sloth? In 2023, we're joining Spike the sloth in her big race for National Simultaneous Storytime!
Readers all across Australia will come together on Wednesday 24 May at 11:00 am to read The Speedy Sloth, written by Rebecca Young and illustrated by Heath McKenzie.
This event is run each year by the Australian Library and Information Association (ALIA) to promote the value of reading and literacy. Schools, libraries, childcare centres and other children's facilities will read this year's picture book simultaneously all over the country. It's a campaign that we truly value so join us in celebrating this day!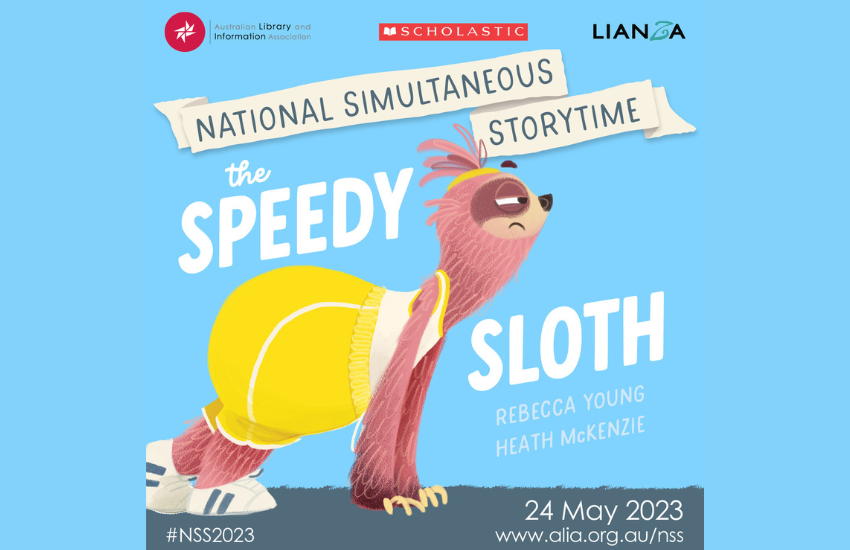 It was finally time for the event of the year,
Spike couldn't believe it—
THE GREAT RACE was here!
The other sloths said it couldn't be done,
but Spike didn't care, she was ready to run!
The Speedy Sloth
The Speedy Sloth follows Spike on her big day as she competes against all the other animals in The Great Race. With a fun rhyming scheme and a deeper message about winning and what that means, it's an enjoyable story for all ages.
In anticipation of this fantastic event, here's three fun sloth-themed resources for your classroom. Use them to inspire great writing!
3 writing activities for National Simultaneous Storytime
1. The Speedy Sloth on the Narrative Story Graph
STEP Step 1: Plan for Success
PURPOSE Teach
RESOURCE TYPE Story graphs
YEAR F–6
We've plotted The Speedy Sloth on the Narrative Story Graph for you. Use it to demonstrate how this picture book follows the basic narrative structure. Does it have a Sizzling Start and an Exciting Ending?
Challenge more advanced students to plot The Speedy Sloth on the blank Narrative Story Graph template and compare it with the version above.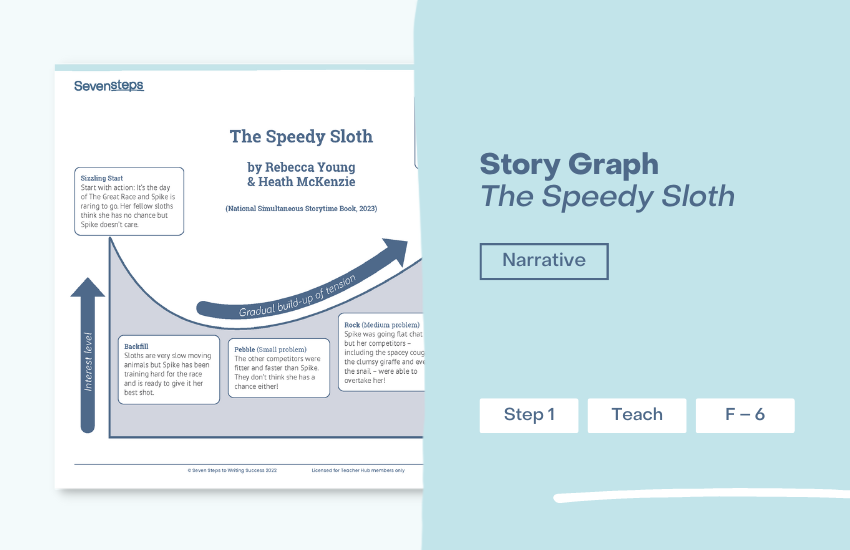 2. Writing Prompt – A Letter from the Jungle
As part of the event, the organisers of National Simultaneous Storytime have teamed up with The Sloth Conservation Foundation and adopted a sloth called Nacho who lives in Costa Rica.
Read about Nacho and his daily life in this report.
Then use the new writing prompt below to inspire students to write a Sizzling Start to a persuasive text from a sloth's perspective.
STEP Step 2: Sizzling Starts
PURPOSE Apply
RESOURCE TYPE Writing Prompt
YEAR F–6
Get students to imagine they are a sloth whose home is being destroyed by urban development. Then ask them to write the introduction for a letter to persuade humans to protect their jungle home.
Have students read their Sizzling Starts to each other, maybe even using a sloooow sloth voice!
3. Writing Prompt – The Big Race
STEP Step 7: Exciting Endings
PURPOSE Apply
RESOURCE TYPE Writing Prompt
YEAR F–10
The Speedy Sloth shows how an ending can be exciting without being predictable. Even though Spike comes last, she still feels like a winner because she's achieved so much.
If you're a Teacher Hub Essentials member, you can use this prompt to get students writing their own Exciting Ending to a narrative text about a big race.