4 min
Classroom Activities
Elyse Arnel
It's the most wonderful time of the year! As we are nearing the end of the school term, we've curated five student (and teacher) favourite festive writing activities. They'll keep your students engaged, learning and laughing!
Let's focus on fun, flexible and festive activities to keep the creativity flowing in your classroom.
Ask your students to imagine that it's the night before Christmas, and they are looking through a window. Are they looking outside at Santa packing his sleigh? Or are they looking into Santa's workshop and watching the elves make toys? Let their imagination run wild!
Students can use the template to draw what they see, then write about it below.
Don't forget to capture the reader's attention with a Sizzling Start, and paint a word picture with Show, Don't Tell.
Picture prompts are a great starting point for telling a story.
Give students five minutes to sequence these festive images on the Seven Steps Narrative Story Graph to create a Christmas story.
Ask a few volunteers to share their story with the class. The same 5 images will create a whole range of different story ideas!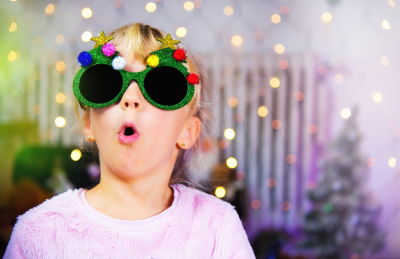 Log into Teacher Hub to access exclusive supporting content for these Christmas writing prompts including:
five ways to use a writing prompt
thinking questions
'In The Moment' graphic organiser to help students writing more descriptive
related media links.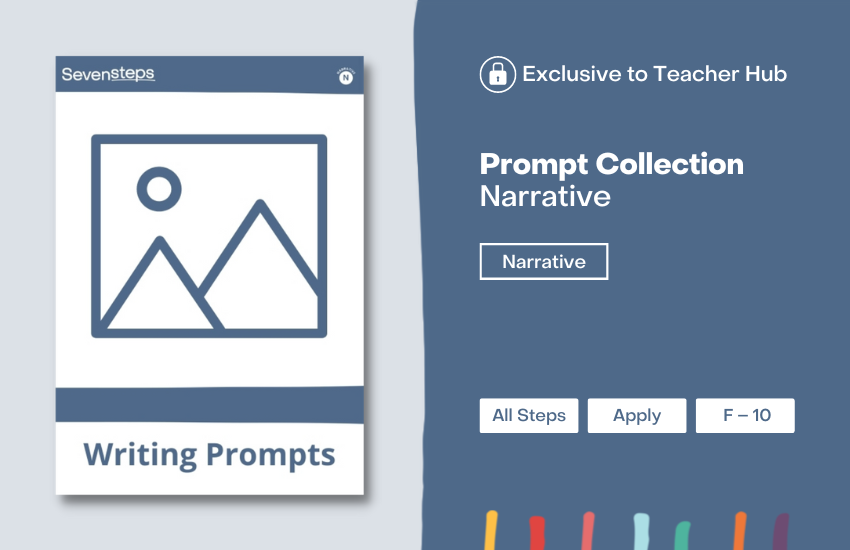 4. Christmas ads on the Story Graph
One of the best ways to learn is to see examples. This brilliant Christmas ad by Sainsbury's, in partnership with HarperCollins Children's Books and world-renowned author and illustrator Judith Kerr, is based on Judith's much loved character, Mog.
You can watch the video below and download the PDF where we plotted the advertisement on the Narrative Story Graph.
Mog's Christmas Calamity charted on the Story Graph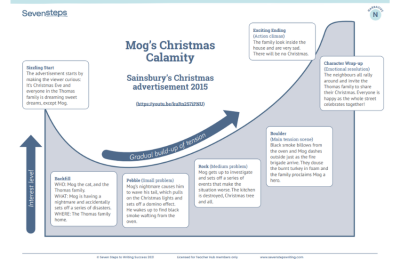 Activity:
Ask your students to find great Christmas advertisements and plot them on the Narrative Story Graph to consolidate their understanding of text structure.
This Story Graph has been extracted from a collection in Teacher Hub. Sign up for your free 2-week trial of Teacher Hub to access it today!
5. A festive twist on persuasive writing
Adapted from this activity available to Teacher Hub Essentials members.
Action Activity – It's Debatable
Remember, Step 1: Plan for Success. It's important to brainstorm arguments both for and against a topic before picking a side.
Divide the class into groups and ask them to discuss the following topic:
Christmas is better than your birthday!
Give each group two minutes to brainstorm reasons for the statement. Then give them another two minutes to brainstorm reasons against it.
Ask half the groups to pick their three best reasons for, and the other half to pick their three best reasons against. Pair up the groups and get them to share their reasons with the class. Vote on who is the most convincing in each instance.
Workshop One: Seven Steps to Transform Writing
Your perfect start to teaching the Seven Steps
Learn how to break down writing and build up student confidence.