We shift the 'groan'.
Do your students groan when you tell them it's writing time? We flip that around – Seven Steps students only groan when you tell them to stop writing!


Seven Steps is Inspiring
The Seven Steps approach brings fun into writing and nurtures students' creative and inquisitive nature.
Participants leave our workshops empowered with their heads full of ideas and excitement towards their writing classroom.
Teachers love how simple the Seven Steps are to teach and roll out in their classrooms.
The visible and rapid progress in writing continually motivates teachers and students.
Teachers are creating 'wow' moments every week with their students! See our tagged posts on Instagram.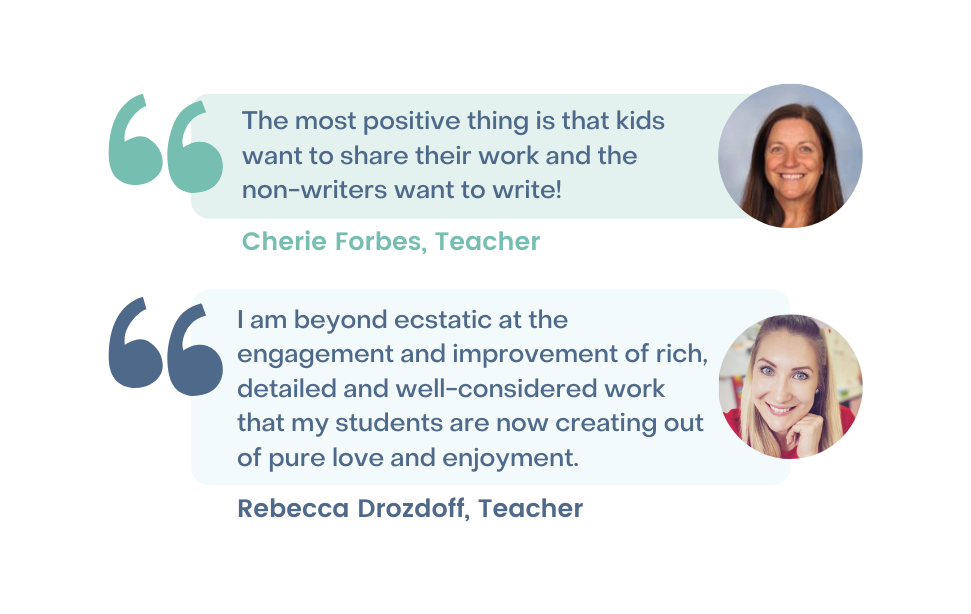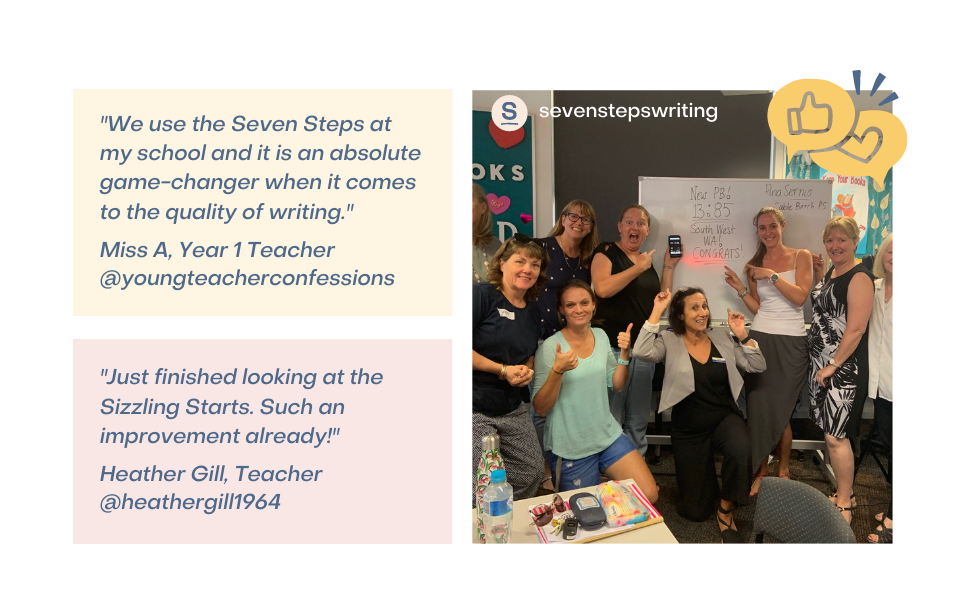 Seven Steps is Trusted
The Seven Steps is Australia's largest writing literacy educator.
Since our first workshop in 2005, we've trained over 45,000 teachers!
Whole-of-School transformations happen when adopted by all classes:
69% of students improved by more than one NAPLAN band
The Seven Steps techniques and activities cover aspects of all three strands in the Australian Curriculum – Language, Literature and Literacy.
We've been inspiring teachers for over 15 years, at workshops around Australia and via our online platform.
Teachers from over 50% of schools in Australia have learned the Seven Steps! That's why we're Australia's largest provider of written literacy education.
The Seven Steps methods have been used to teach over 2 million young Australians since 2005.
Seven Steps is
Growth-oriented
There's something special that happens when schools start using the Seven Steps as a team of passionate educators. Planning and review sessions take on a life of their own and with a consistent message and approach students improve year on year across various writing text types and forms.
Teachers love the simplicity and demonstrable results in all levels of writing through a whole-school adoption.
We have systemised the techniques that professional authors use, making them simple and accessible to teachers and students.
The Seven Steps provides professional development training, resources and support throughout your teaching career.